CLACX Year in Review
Latest Issue (2021-2022)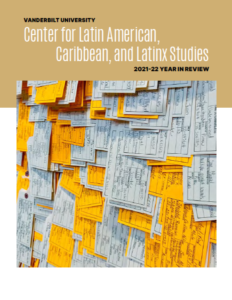 Director's Corner
Somos 62M+. The US Latinx population exceeds that of all but two Latin American countries (Brazil and Mexico), and yet for too long, this reality has remained beyond the purview of Latin American Studies. Why? How? While certainly a part of US history and culture, our experiences are also deeply about Latin America and the Caribbean. These diasporic realities and sensibilities animate my role in CLACX's academic and public-facing work. I want us leading conversations about the relationships between the fields of Latin America, Latinx, and Caribbean. We are taking such steps through a new course of study, and a renewed emphasis on Latinx student engagement. We are also expanding institutional partnerships in the US South through a focus on Latin American-Caribbean-Latinx studies curriculum building. In Nashville, we are amplifying these conversations among K-12 educators, mindful that Latinx students now account for thirty percent of Metro Nashville Public Schools.
I am encouraged by the many steps taken by the new CLACX team. I love it that we have expanded our roles in student and public engagement, and are using these initiatives to create new courses and hire faculty that connect back to such efforts. CLACX faculty and staff, for example, now advise four Latinx undergraduate and graduate student groups; it also sets a tone that several of us hold leadership positions in national associations: Gretchen Selcke as president of the Latinx section of LASA, Avery Dickins de Girón with the Guatemalan Scholars Network, Colleen McCoy as chair of an award competition with the Library of Congress, and I am in the president-elect of the Conference of Latin American History.
I want to express my heartfelt gratitude to Dean Geer and the dean's office of the College of Arts and Science for believing in this project, and supporting our ambitions. To Provost Raver for her commitment, and strong letters of support, and to Chancellor Diermeier for championing our public-facing work.
Hasta pronto,
Celso Thomas Castilho, Director
Past Issues
CLAS Brochure