Immersion
CLACX Immersion Experiences
Immersion offers an exciting opportunity to explore one's passion, satisfying a thirst for knowledge that expands upon focused study toward degree completion.
An immersion sequence includes courses and the development of projects that will foster critical thinking about contemporary and historical problems, stimulate and inspire cultural production, engender a national and international lens on a culture that is indelibly changing the face of this country, and to develop in-demand professional skills and connections, while providing an enriching and transformative intellectual experience.
While students can design their own immersion experiences as three-course sequences that culminate in development of an individual project within a supportive workshop environment, below are some immersion opportunities designed by CLACX faculty that may prove helpful:
For more specific information about immersion opportunities through CLACX, contact Gretchen Selcke.
Immersion Spotlight: Jaime Pérez, Class of 2022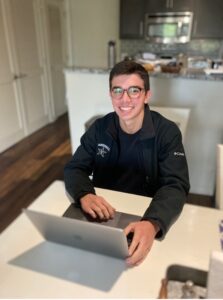 Major: Medicine, Health, and Society
Minor: Business
September 10, 2020
Hello everyone! My name is Jaime Pérez and I was born and raised in Guaynabo, Puerto Rico. I am currently a junior at Vanderbilt, where I am majoring in medicine, health, and society and a member of the school's Association of Latin American Students (ALAS). Because of my fluency in Spanish (I am a native speaker) and English, and my dedication to service and to the Latinx community, I volunteer at the Shade Tree Clinic (STC) in Nashville. The STC is a Vanderbilt University Medical Center-run clinic that provides free care to people without health insurance in Tennessee. A significant percentage of those who receive care are members of the Latinx community who have come to the United States in search of a better life, but are not proficient in English and may have difficulties communicating with healthcare providers; this is where I come in.
As a volunteer translator, my role is to facilitate communication between the doctors and medical students providing the service and the non-English dominant patient receiving care. I serve as the patient's voice for everything they want to say and I share the medical care providers' thoughts; I work as the in-between for some very important conversations. I also help patients check-in, move around the facility, and complete any other requests that are asked of me.
For this school year, I hope to give you all a glimpse into what I do and all the great work that goes on at the Shade Tree Clinic. I hope to write a blog once month when I am at the clinic. Finally, I also want to shine a light on those we serve at the Shade Tree Clinic.
Read more about Jaime's Immersion Project here.