CLACX Fall Welcome and Open House 2023
clacx fall welcome and open house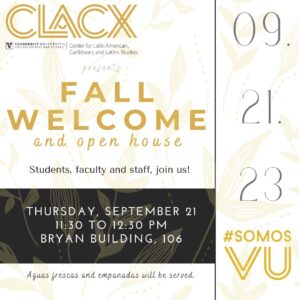 Dear Students, Staff, and Faculty,
We are thrilled to invite you to our CLACX Fall Welcome and Open House!
Join us for a delightful gathering filled with engaging conversations, delicious empanadas, and refreshing drinks as we kick off the new academic year.
This will be an amazing opportunity for you to meet and greet fellow students, staff, and faculty members who share a passion for Latin American, Caribbean and Latinx studies. Learn more about the exciting research, courses, and opportunities that CLACX has to offer, and find out how you can get involved. Build valuable connections with your peers and colleagues, fostering a sense of community within CLACX.
And, of course, savor the flavors of Latin America with a mouthwatering selection of empanadas and quench your thirst with a variety of drinks.
We look forward to welcoming you to Bryan Building 106 for this exciting event. Whether you're a seasoned CLACX friend or new to our community, your presence will make this gathering even more special.
If you have any questions or require additional information, please feel free to contact us at luisa.mattos.da.costa@vanderbilt.edu
Let's come together, celebrate our shared interests, and make this Fall Welcome and Open House a memorable one!
Sincerely,
CLACX team