French Honors Program
Candidates for Honors in French who meet college requirements must maintain a 3.5 grade-point average in all French courses and complete 36 hours in French, including the requirements for the 30-hour major. They must complete a minimum of one semester of study at an approved program in a French-speaking country. During the senior year, candidates must complete one 7000-level course, which can be counted as part of the major. (French 7010 and 6030 may not be taken as part of the Honors Program.
A senior thesis is required. During the second semester of the junior year, candidates submit an application to the departmental Honors Committee, indicating the topic of the thesis and the approval of their thesis advisor. During the senior year the student is required to register for French 4998 and 4999 in order to complete the thesis. An oral examination on the thesis and its area is to be completed during the final semester of undergraduate study.
Those interested in this program should see the Director of Undergraduate Studies in French to discuss the requirements and the ways the program can meet their needs.
Please use the form below to apply for the Honors program in French:
2023 Honors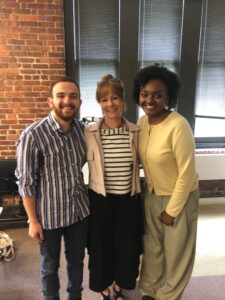 2023 French Honors Students
Donyea V. James
and
Pouya Mehr
with their advisor
Nathalie Debrauwere-Miller
Donyea Viola James
Pouya received Honors in French for her theses, L'intersectionnalité et ses applications françaises.
Advisor:  Nathalie Debrauwere-Miller 
Pouya Ejtemaei Mehr
Pouya received Honors in French for his theses, Emprisonné.e.s par la Puissance: Une analyse de la conception et l'application du genre dans la société française du XIXème siècle à travers Monsieur Vénus de Rachilde..
Advisor:  Nathalie Debrauwere-Miller
2021 Honors
                                         2021 French Honors Students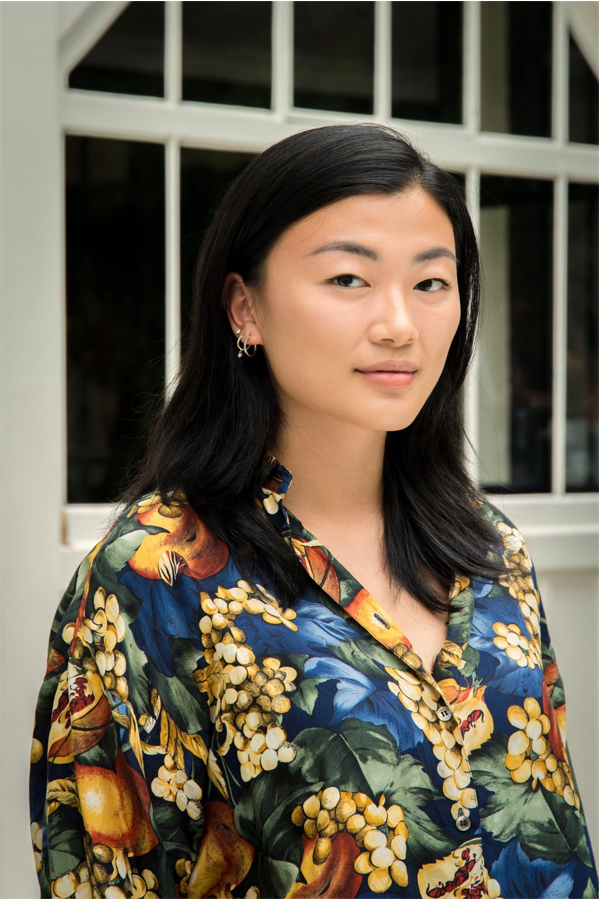 Klara Kaiyan Lou
Klara received Honors in French for her theses, Les systèmes d'inégalités économiques à travers le prisme du cinéma : Une étude comarative entre la France et les Etats-Unis. (Systems of economic inequality through the prism of cinema: A joint study between France and the United States.)
Advisor:  Lynn Ramey
2019 Honors Students
Pictured are:
Selina He and Victoria Herring  with their thesis advisor Professor Nathalie Debrauwere-Miller
and Audrey Hommes with her thesis advisor Professor Virginia M. Scott.
Selina He
Selina received High Honors for her thesis Renouer avec un corps-chair.
(La danse et le corps dans Mes Mémoires (1933) de Jane Avril, la chorégraphie de Roméo et Juliette (1990) de Angelin Preljocaj, et Le film Girl (2018) de Lukas Dhont)
Advisor:  Nathalie Debrauwere-Miller
Victoria Herring
Victoria received High Honors for her thesis Signes avant-coureurs des années folles. (La représentation de l'antisémitisme dans David Golder (1929) d'Irène Némirovsky et Silbermann (1922) et Le Retour de Silbermann (1931) de Jacques de Lacretelle)
Advisor:  Nathalie Debrauwere-Miller
Audrey Hommes
Audrey received High Honors for her thesis, Une mosaique française, analyzing the five novels written by  contemporary French writer, Faiza Guène.
Advisor:  Virginia M. Scott
2017 Honors Student
John Simpson
John received High Honors for his thesis Un Paradoxe inquiétant. (La représentation exacerbée de la peur dans Soumission de Michel Houellebecq et 2084: La fin du monde de Boualem Sansal)
Advisor:  Nathalie Debrauwere-Miller