Career Outcomes
Your Success Story is Waiting. CMA majors conceive, research, and execute individual as well as collaborative projects. These are executive and team-building skills that transfer to a wide array of post-graduate careers. Our students learn how to identify their strengths, amplify the talents of their peers, pursue mutual accountability, and seek out peer review with the goal of producing the best work through the most ethical methods.  The Vandy-in-Hollywood internship program also gives students an opportunity to experience the entertainment industry and to pursue careers in Hollywood after graduation.
Alumni Stories
Ashley Zeiger Peak '12
Creative Director and Brand Strategist
Vanderbilt's CMA program ignited an undiscovered passion for me that has forever changed the trajectory of my career and life. Originally set on a pre-med track, as a freshman I took a seminar called Document Nashville, in which we explored both social issues of the city and non-fiction filmmaking in practice. At the end of that term with my first documentary film screened, I was hooked into a program that evolved and challenged me in critical consciousness, active citizenship, and film theory and production. The cast of faculty and other majors created a familial ecosystem that stretched me to develop both as a thinker and a creator. With the support and recommendations of my professors in the CMA program, I was awarded the Keegan Traveling Fellowship to pursue non-fiction filmmaking in a global context through an equal exchange dialogue the year after graduation. After that powerful year of filmmaking and travel, I wanted to be working again with a team, which I become so fond of through my production classes at Vanderbilt. For the past 8 years I have been working within social-impact focused startup companies to build their brands through visual storytelling and a compelling brand narrative. I am forever grateful for the CMA program and faculty who exercised a pedagogy of inquiry-based learning and experiential collaboration that allowed me to explore and develop creatively.
Dean Mengaziol '11
Manager of Program Research and Media Analytics, NBCUniversal
I started in the Cinema and Media Arts program unsure of what I wanted to pursue, drawn mostly by a hobby of creating and consuming media. The program turned out to be perfect for someone like me because I was introduced to various schools of thought and encouraged to explore. My professors nurtured a space for all ideas to grow, and the program's balance between theoretical scholarship and practical production experience widened my skillset. Collaborating on creative projects and ideas with peers bonded us together, and many of my classmates remain my dearest friends to this day. I fondly remember planning and launching the Vanderbilt Film Festival, which was a chaotic and enriching communal experience that I'll always cherish. I emerged from the program with both applicable production skills and a honed critical lens.
Bill-kande Badi '19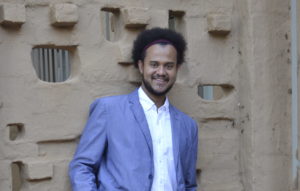 Feature Film Producer and Director
On my very first day as a CMA student my professor referenced two films – Aguirre: the Wrath of God and Mission Impossible: Ghost Protocol. Beyond both having fantastic subtitles, I thought these films could not have had less in common. One represented a world of arthouse cinema I had only just started exploring. The other represented a mainstream cinema that my pretentious teenage self had piously rejected. The way in which Professor James McFarland discussed these films on equal footing exemplifies the approach that the program takes towards cinema as a whole – all forms of cinema are worth studying and creating. Instead of trying to force students into any particular mould, the program provides a space in which they can explore their interests and grow into the filmmakers and film scholars they'd like to be.
Carter Hulings '14
Emerging Media and Creative Manager, Dreamscape Immersive
Dreamscape Immersive is a virtual reality company that combines the emotional impact of Hollywood storytelling with the visceral thrill of theme park rides. At Dreamscape, Hulings is develops stories and experiences, creates new intellectual property, and identifies opportunities in VR, AR, real-time game engines, and new media formats that expand the way narratives can be performed. Building on the theory, practical skills, and interests he developed as a student in the Cinema and Media Studies program at Vanderbilt, Carter is exploring the transposition and evolution of cinematic and classic, linear storytelling into new, technology-enhanced art forms across the expanding field of interactive entertainment.
Prior to his time at Dreamscape, Carter helped to build Sony Pictures VR, an immersive incubator within Sony Pictures Entertainment, and developed and distributed such titles as SPIDER-MAN: FAR FROM HOME VR and GROUNDHOG DAY: LIKE FATHER LIKE SON. He also spent a number of years in feature film development at New Regency (GONE GIRL, THE REVENANT, BIRDMAN) and Parkes + MacDonald Productions, where he worked on films including FREE SOLO, which won the Academy Award for Best Documentary in 2019.