Film Theory and Visual Culture Seminar
Hosted by Vanderbilt's Robert Penn Warren Center for the Humanities and coordinated by CMA faculty, this seminar meets three or four times a semester to hear presentations by visiting scholars or by Vanderbilt's own faculty and graduate students. The topics are wide-ranging and include the following areas of inquiry: film, visual culture, art history, literature, cultural studies, as well as theories of the image, philosophies of perception, aesthetics and critical theory, media histories, and the history of vision. Attendees should RSVP for individual meetings through the Robert Penn Warren Center website.  All seminars are free and open to the Vanderbilt community.
Upcoming Seminars
FALL 2022
Kate Rennebohm (Social Sciences and Humanities Research Council of Canada, Concordia University) presents "The Mediations of Self-Viewing and the Ethics of Reviewing in Cinema's Early Years"
Friday, Oct 21 at 12:30-2:30pm
IN PERSON at the Robert Penn Warren Center
Abstract: The mediated nature of self-engagement has played a major, if largely unconsidered, role in the historical development of different ethical-political paradigms. This talk describes the emergence of one such paradigm in the early 20th century: an ethical framework I term "reviewing." Ascribing moral and political benefits to the act of watching oneself, reviewing takes shape in response to the opportunities for self-viewing found in a globally popular genre of early cinema called "local cinema," which saw cameramen shoot footage of crowds before displaying it for them. Challenging the long-standing assessment of this genre as an inconsequential and short-lived novelty of the cinematic medium, I show here that cinematic self-viewing was not an aberration in its moment. Rather, this genre crucially intensified a focus on the self that had exploded across western countries in the latter half of the 19th century—a result, in part, of proliferating advertising practices, health regimens, and political regimes that centered the self. As the writings of contemporary thinkers demonstrate, cinematic self-viewing was understood not (only) as a mere amusement, but rather as an essential, morally-fraught site for engaging or "working on" oneself; that is, for reviewing. Upon showing reviewing to be born here—fomenting a set of concerns that would influence ethical thought and political praxis across the 20th century—this talk finally addresses questions of the paradigm's non-neutrality, showing it to be caught up in the colonial and racializing dynamics of the modern period from its earliest appearance, even individuals hoped it could undermine or surmount such dynamics.
Bio: Kate Rennebohm is a Social Sciences and Humanities Research Council of Canada Postdoctoral Fellow at Concordia University, Canada, prior to which she was a Visiting Faculty member at Harvard University. Her work investigates the intersection of film theory and philosophy, visual studies, media theory, and ethical and political philosophy, and she is currently working on a book project titled "Reviewing the Self-Image: Ethics, Politics, and Moving Image Media." Her work has been published in October, Moving Image Review & Art Journal, Cinema Scope, and the edited collection Movies with Stanley Cavell in Mind. She is the co-editor of the recent Screen dossier "Projecting Cavell: New Contexts, New Questions" and her essay on "enforced skepticism" is forthcoming from Critical Inquiry.
Past Seminars
SPRING 2022
Michelle Cho (University of Toronto) presents "Anonymous, QAnon, Tik-tok Teens, K-pop Fans"
Friday, Jan 28 at 12:30- 2:00pm on Zoom
Abstract: By analyzing strands of online discourse concerning Kpop fans' politicization, from speculations that Kpop fan accounts were primarily bots, to a revival of Anonymous, to "woke" zoomers, to sophisticated cyberwarriors capable of disarming QAnon, this paper makes no promise to settle the question of which of these labels is true. Nor does it try to answer that question with a genealogy of K-pop centered fan activism or philanthropy. Instead, I focus on two areas elucidated by the fan discourse generated by these speculations on Kpop fandom's collective capacities for political action: first, the affect-driven, crowd response of K-pop fans' interventions, and how this figuration of the digital mass sharpens our critique of the default publicity of nonetheless privatized platforms like Twitter, Tumblr, and Tik-tok; and second, new frameworks of the foreign that necessarily revise our conceptions of parasociality and mediated intimacy with a focus on transnational platform infrastructures and transcultural affective flows.
Bio: Michelle Cho is Assistant Professor of East Asian Popular Cultures and Cinema Studies at the University of Toronto.  She's published on Asian cinemas and Korean television, video, and pop music in such venues as Cinema Journal, the International Journal of Communication, Asian Video Cultures, and Abjection Incorporated. Her first monograph analyzes millennial South Korean genre cinemas, and her current project theorizes "vicarious media" in K-pop and its fandoms. Her writing on K-pop, fandom, and media convergence can also be found online at flowjournal.org, pandemicmedia.meson.press, and The Los Angeles Review of Books. 
---
Weihong Bao (University of California-Berkeley) presents "Hermeneutics of Doubt: Atmospheric Knowing and an Ecology of the Mind"
Friday, Feb. 25 at 12:30- 2:00pm on Zoom
Abstract: This talk dwells on atmosphere as a mediating, climatic environment to consider climate as the nexus of mind, medium, and society. Atmosphere, I argue, opens up our inquiry of climate from an objective entity to a constellation of aesthetic, infrastructural, and epistemological operations. I situate this richer notion of climate in China during the Second World War and its immediate aftermath, by focusing on "doubt" as a unique atmosphere caught in the transnational traffic in media practices, psychological war, and genre film. Through an intimate conversation between aesthetics and technology, between hermeneutics and media ecology, the talk conducts an experimental climatology to consider climate not simply as a physical milieu but a method. Such a climatology–bringing together infrastructural analysis, aesthetic design, and social political project–will allow us to engage "global climate change" and "affective climate change" as interconnected and integrated projects of sustainability.
Bio: Weihong Bao is Associate Professor of Film and Media & East Asian Languages and Cultures, UC Berkeley. She has published widely on comparative media history and theory, early cinema, war and modernity, affect theory, propaganda theory and practice, and Chinese language cinema of all periods and regions. Her book Fiery Films: The Emergence of an Affective Medium in China, 1915-1945(University of Minnesota Press, 2015) received honorable mention for the Modernist Studies Association Best Book Prize in 2016. She is currently working on a new book, "Background Matters: The Art of Environment in Modern China" as well as a special issue on "Medium/Environment" (Critical Inquiry). She is the editor-in-chief for The Journal of Chinese Cinemas and co-edits the "film theory in media history" book series published by Amsterdam University Press.
---
FALL 2021
James McFarland (Vanderbilt University – German, Cinema & Media Arts) presents "George A. Romero's Knightriders and the Utopian War Machine"
Sept. 17, 12:30pm
IN PERSON at the Robert Penn Warren Center
Abstract: There is nary a zombie to be found in Knightriders, George A. Romero's 1981 follow-up to his hugely successful zombie movie Dawn of the Dead (1978). Centered on an itinerant troupe of motorcycle daredevils staging Arthurian-inspired jousting tournaments in rural Pennsylvania, Romero's favorite among his own works was a commercial flop and soon disappeared from movie screens. Yet in retrospect, the bizarre anachronism that powers the movie, and its skeptical interrogation of charismatic authority, spectacular entertainment, and voluntary collaboration, reveal a surprisingly cogent critique of American sovereignty just at the moment its democratic legitimation was entering into terminal decline. Using Deleuze and Guattari's opposition between state apparatus and war machine, as well as Hannah Arendt's idea of constituent power as collective empowerment, this talk examines Romero's oblique modernism to discern beneath the film's overt ridiculousness a daringly surreal appropriation of the cinematic apparatus in the interest of an actual utopian potential that the nihilistic consolidation of commodity capitalism would soon effectively extinguish, but that deserves to be recalled and reconsidered in our disillusioned day and age
Bio: James McFarland is an Associate Professor of German and Cinema and Media Arts at Vanderbilt University, the author of Constellation: Friedrich Nietzsche and Walter Benjamin in the Now-Time of History, and co-editor of Hannah Arendt's The Modern Challenge to Tradition and Eichmann in Jerusalem for the Critical Edition of the Works of Hannah Arendt.
---
Nicholas Baer (University of Groningen – Film Studies) presents "'Films of Thought': On Hegel, Adorno, and the Good of Cinema"
Oct. 29, 12:30pm
Zoom discussion of a prerecorded presentation, which will be made available the week before for pre-viewing
Bio: Nicholas Baer is Assistant Professor of Film Studies in the Department of Arts, Culture, and Media at the University of Groningen in the Netherlands. He co-edited the award-winning The Promise of Cinema: German Film Theory, 1907–1933 (University of California Press, 2016) and Unwatchable (Rutgers University Press, 2019). Baer has published on film and media, critical theory, and intellectual history in journals such as Cinéma & Cie, Film Quarterly, Leo Baeck Institute Year Book, Los Angeles Review of Books, Public Seminar, and October, and his writings have been translated into six languages. During the 2021–22 year, he will be a Junior Fellow at the Alfried Krupp Institute for Advanced Study in Greifswald, Germany.
---
Caetlin Benson-Allott (Georgetown University – English, Film & Media Studies) presents "Expanding the Scene of the Screen: Material Cultures of Film and Television"
Nov. 12, 12:30pm
IN PERSON at the Robert Penn Warren Center
Abstract: Film and television create worlds, but they are also of a world, a world that is made up of stuff, to which humans attach meaning. Think of the last time you watched a movie: the chair you sat in, the snacks you ate, the people around you, maybe the beer or joint you consumed to help you unwind—all this stuff shaped your experience of media and its influence on you. The material culture around film and television changes how we make sense of their content, not to mention the very concepts film and television. But while scholars have spent decades studying how human identities, human bodies, and various technologies influence media reception, little attention has been paid to the material culture around the viewer and their screens. Focusing on the material cultures of film and television reception, my new book, The Stuff of Spectatorship, argues that the things we share space with and consume as we consume television and film radically alter viewers' sense of themselves, their media, and their world.
Bio: Caetlin Benson-Allott is Professor of English and Film & Media Studies at Georgetown University. She is the author of The Stuff of Spectatorship: Material Cultures of Film and Television (University of California Press, 2021), Remote Control (Bloomsbury, 2015), and Killer Tapes and Shattered Screens: Video Spectatorship from VHS to File Sharing Television (University of California Press, 2013). She is also Editor of JCMS, the scholarly publication of the Society for Cinema and Media Studies, and writes a regular column on politics, platforms, and contemporary media for Film Quarterly.
---
SPRING 2021
Randall Halle (University of Pittsburgh) presents "The Kippbild in Film, Music Video, and Games"
Feb. 19
Abstract: Is it a Rabbit or a Duck, an old lady or a young maiden? The Kippbild, a German term from Gestalt psychology, designating those "images that suddenly switch," has a long history. We can find bistable or reversible figures, optical illusions of this form in antiquity. The Kippbild captured the popular imagination and has been at the center of philosophical and psychological investigations. The Kippbild points to fundamental processes of perception, the activity of the mind in completing our world. It entertains because it gives us a sense of play in the moving image—and it did so before the projected moving image took on its modern form. The multistability of the Kippbild as a property of the moving image has been deployed in various projects by moving image artists from the Absolute Film of the 1920s to art installations like Unsettled Work / Eine unerledigte Arbeit (Fischli and Weiss 2000-2006), from video games and to music videos by groups like Chairlift (Evident Utensil), and Kanye (Welcome to Heartbreak) to 3D projects and beyond.
As it investigates the Kippbild, this presentation explores the possibilities of cinema beyond montage. It asks you to consider what other effects inhere in the moving image? What other possibilities has cinema developed for affecting its spectators? This presentation is part of a larger exploration of visual intelligence under the heading Visual Alterity: Seeing Difference Differently.
Bio: Randall Halle (Klaus W. Jonas Professor of German Film and Cultural Studies) is the Director of the Film and Media Studies Program at the University of Pittsburgh. His books include Visual Alterity: Seeing Difference in Cinema (forthcoming March 2021) and The Europeanization of Cinema. His essays have appeared in journals such as New German Critique, Screen, Camera Obscura, German Quarterly, and Film-Philosophy.
---
Cáel M. Keegan (Grand Valley State University) presents "Critical Love and the Bad Trans Object?"
March 5
Abstract: As the transgender community has gained a new cultural voice in the past decade, trans activists and audiences have demanded greater authenticity in media writing, casting, and direction. The emergence of mainstream transgender identity politics has resulted in a new set of conditions that must be met for transgender media objects to be considered "good." "Good" transgender media objects cast transgender actors as transgender characters. "Good" transgender media objects are authentic, progressive, and diverse. Good transgender media objects are Pose (2018-) and Tangerine (2015)—not The Silence of the Lambs (1990) or The Rocky Horror Picture Show (1975).
And yet, as the number of "good" transgender objects has risen, so too has the violence directed against transgender bodies: Five years after Time magazine heralded Laverne Cox's role on Orange is the New Black (Netflix 2013-19) as a transgender civil rights "tipping point" (Steinmetz), anti-transgender murder and hate crimes are on the rise globally. Rights and protections that were provisionally extended to us during the first decade of the 21st century have been dramatically rescinded in many countries. Transgender people have become the new (old) gender scapegoats of a whiplash conservative retrenchment, carried out at a dizzying pace.
In this context, one has to wonder: Of what value is cultural recognition, when it can so easily be weaponized against us? Or, as transgender studies scholar Eric Stanley puts it, "What are the stakes of familiarity, when familiarity breeds contempt?" In the wake of widening calls for more and better transgender representation, this talk confronts the dual paradox of "good" trans objects that might still support bad political outcomes, and "bad" trans objects that might still hold possibilities for articulating unrealized trans imaginaries. Through a praxis of critical love, we might resist the imposed disposability of the transgender archive and arrive at new methods to recuperate the "bad" media objects of the transgender past.
Bio: Cáel M. Keegan is Associate Professor of Women, Gender, and Sexuality Studies at Grand Valley State University. He is a cultural theorist of transgender/queer media who is interested in how the aesthetic forms queer and transgender people have created shape our popular lifeworlds. His first book, Lana and Lilly Wachowski: Sensing Transgender (University of Illinois Press, 2018) traces how the Wachowskis' cinema invented a 21st century trans aesthetic of the senses that disrupted our conventional schemas of race, gender, space, and time. His second book project, The Edge of the Real: Mass Culture and the Transgender Imaginary explores the invention and formal qualities of the transgender cultural imaginary that transformed North American mass media over the second half of the 20th century. Keegan is Special Editor for Arts and Culture at Transgender Studies Quarterly and Senior Co-chair of the Queer and Trans Caucus of the Society for Cinema and Media Studies. In 2019, his essay "Getting Disciplined" was awarded the National Women's Studies Association's Trans Caucus prize for best essay in transgender studies.
---
Elena Gorfinkel (King's College London) presents "The Weary of the Screen"  
April 16
Abstract: There is a paradox that animates a variety of recent moving image "sleepworks," one which points to the transformation of contemporary mediated experience in relation to the radiance of multiple screens, at all hours of the night, a reality that has been made even more apparent in the past year of geographically flattening and temporally coextensive simultaneities of digital experience. This talk considers film and moving image works that probe the tension between profuse light, sleep spaces and screen media, in which the potentials of "sleeping in the cinema" are navigated in domestic architectures, moving image installations and public spaces. Charting the problem of the exhausted, worn-down subject of contemporary capitalism's regime of perennial illumination in the blue light of the screen's electric emanations, it pursues what it might mean to sleep in the light of weariness. Can the project of "harmonizing with exhaustion," following on "Bifo" Berardi's prescription, occur through an encounter with, rather than a retreat from, screen presence? Charting across ambient durational sleep media on YouTube, Apichatpong Weerasethakul's Sleepcinemahotel, Zhou Tao's Red and Blue, Pedro Neves Marques' Digital Animals: Dream Sequences, Lucy Clout's ZZZ, and Tulapop Saenjaroen's People on Sunday,  this talk will trace the negotiation of sleep's terms of possibility in this engagement with screen light and nocturnal darkness, restlessness and restoration.    
Bio: Elena Gorfinkel is a scholar and critic based in London. She is Senior Lecturer in Film Studies at King's College London, and author of Lewd Looks: American Sexploitation Cinema in the 1960s (Minnesota, 2017), as well as co-editor of Global Cinema Networks (Rutgers, 2019) and Taking Place: Location and the Moving Image (Minnesota, 2011.) Her current book project "Aesthetic Strike: Cinemas of Exhaustion" was awarded an Andy Warhol Foundation Art Writers Grant in 2018. She is also working on two short books, on Barbara Loden's Wanda (BFI Film Classics), and "The Theory of the Prop" with John David Rhodes. Her criticism can be found in Sight & Sound, Cinemascope, Art Monthly, Another Gaze and other publications. Her website: elenagorfinkel.com
---
FALL 2020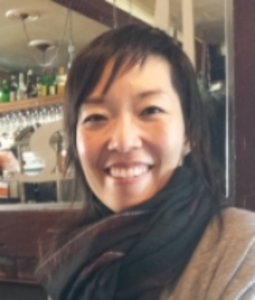 Yuriko Furuhata (McGill University) presents "Manufacturing Perfect Weather: Cold War Geopolitics and Climatic Media"
Friday, Oct. 30, 12:00- 1:00 p.m.
Abstract: In the past few years, film and media studies has witnessed "environmental" and "elemental" turns. This has led to an expanded understanding of media, beyond the narrower purview of telecommunication and storage technologies, and towards thinking about the material and infrastructural operations of natural, chemical, and synthetic "elements" as part of media environments. This talk presents a genealogical account of today's media environments by offering a transpacific take on the intertwined developments of geoengineering, architecture, and networked computing in Japan and the United States in the mid-20th century. To do so, I focus on air conditioning and weather control as a set of cultural techniques. I will refer to these as "climatic media." Climatic media reflects a desire to secure a livable future environment, whether through engineering the atmosphere itself, or engineering the built structures. My argument is that in the 20th century the technological control over the weather through climatic media took a central stage. To this end, this talk will look closely at mediatic techniques of controlling natural elements in order to manufacturing artificial weather and artificial climate.
Bio: Yuriko Furuhata is Associate Professor and William Dawson Scholar of Cinema and Media History in the Department of East Asian Studies and an associate member of the Department of Art History and Communication Studies at McGill University. She works in the areas of film and media studies, architecture, visual arts, and critical theory. Her first book, Cinema of Actuality: Japanese Avant-Garde Filmmaking in the Season of Image Politics (Duke University Press, 2013), won the Best First Book Award from the Society of Cinema and Media Studies. Her second book, entitled Atmospheric Control: Transpacific Experiments of Climatic Media (forthcoming Duke University Press) explores geopolitical connections across environmental art, weather control, climate engineering, and cybernetic architecture in Japan and the United States.
---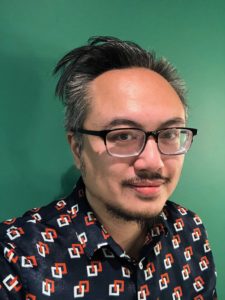 Iggy Cortez (Vanderbilt University) presents "Deathlessness: Nocturnal Economies as Media Ecologies in Leos Carax's Holy Motors."
Nov. 20
Of interest: Holy Motors is available to stream through Vanderbilt's subscription to Kanopy.
Abstract: Through its ceaselessly mutating narrative and obsessive references to film history, Leos Carax's Holy Motors has been viewed as an elegy for photochemical cinema that thematizes its own conditions of digital production in the broader context of networked capitalism. This talk assesses the undertheorized significance of the night in Carax's film as a visual threshold for digital cinematography; a symbolic conceit for technological remediation; and a visual metaphor for the permeability of geographic, temporal, and intersubjective borders. In a certain reading, the film's focus on nighttime reflects how this temporal domain has become associated with a range of processes that disrupt normative cycles of laboring and rest through the ubiquitous activities of communication technologies. Such activities range from the "sleepless" persistence of our online personae, our involuntary participation in data surveillance, and the value-investing effects of digital consumption. But Holy Motors, I argue, does not limit its attention to prevailing but politically narrow narratives that merely describe the deep and putatively intractable structures of 24/7 capitalism. The film instead mobilizes the night to provoke reflection on cinema's specific affordances that arise not despite but in response to digital convergence. Through this lens, the night serves as a locus for reclaiming perceptual acuity towards encounters with the world that resist optical certainty, totalizing comprehension, or rapid consumption. Through these symbolic and perceptual coordinates, the nocturnality of Holy Motors refuses to reproduce the dominant cognitive conditions of capitalist participation and rejects the transformation of social presence into quantifiable categories for networked knowledge and control. This talk will thus explore how cinematic nighttime, as both a horizon of darkness and site of envelopment, reflects two central paradigms for conceptualizing the broader media ecology in which film operates today: "the atmospheric," a term denoting the saturating pervasiveness of modern technologies, and "opacity," a concept alluding to both the indecipherable tactics of "surveillance capitalism" as well as activist strategies that refuse uninterrupted exposure to extractive forms of categorization and assessment. As a result, if the night symbolizes the digital image's purported lack of material closure or distinction from digital technics, Holy Motors harnesses a distinctly nocturnal and digital aesthetic that thematizes anxieties regarding the loss of gendered and racialized privileges in European art cinema while also queering cinema's existing cultural and technological genealogies.
Bio: Iggy Cortez is Mellon Assistant Professor in Cinema & Media Arts. His research and teaching interests include world art cinema, critical race studies, diasporic thought, the visual and sensory culture of digital media, and questions of sexuality, cinematic performance, and embodiment. He is currently at work on a book project on nighttime as a conceptual and sensory threshold across recent world cinema. Through a global range of films by Apichatpong Weerasethakul, Leos Carax, Diao Yinan, Mati Diop, Barry Jenkins, and Tsai Ming-liang, among others, this project looks at the relationship between technologically-mediated perception and the affective and sensory dimensions of the historical present. His article "Licking for the Nation: Auntie Genealogies in Apichatpong Weerasethakul's Rak ti Khon Kaen (Cemetery of Splendour)" is forthcoming in the Journal of Cinema and Media Studies (formerly Cinema Journal) and a second article "Incestuous Wanderlust: 35 Shots of Rum's Atmospheres of Circulation" will appear in Camera Obscura. With Ian Fleishman, he is also co-editing a volume of essays on the relationship between negative affect, cultural politics, and acting through the lens of Isabelle Huppert's performances.