Film Theory and Visual Culture Seminar
Hosted by Vanderbilt's Robert Penn Warren Center for the Humanities and coordinated by CMA faculty, this seminar meets three or four times a semester to hear presentations by visiting scholars or by Vanderbilt's own faculty and graduate students. The topics are wide-ranging and include the following areas of inquiry: film, visual culture, art history, literature, cultural studies, as well as theories of the image, philosophies of perception, aesthetics and critical theory, media histories, and the history of vision. Attendees should RSVP for individual meetings through the Robert Penn Warren Center website.  All seminars are free and open to the Vanderbilt community.
Upcoming Seminars
FALL 2020
Friday, Oct. 30, 12:00- 1:00 p.m.
Yuriko Furuhata (McGill University).
"Manufacturing Perfect Weather: Cold War Geopolitics and Climatic Media"
Friday will be a discussion of a pre-circulated video presentation.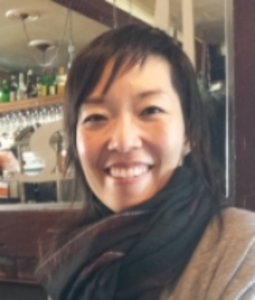 Abstract: In the past few years, film and media studies has witnessed "environmental" and "elemental" turns. This has led to an expanded understanding of media, beyond the narrower purview of telecommunication and storage technologies, and towards thinking about the material and infrastructural operations of natural, chemical, and synthetic "elements" as part of media environments. This talk presents a genealogical account of today's media environments by offering a transpacific take on the intertwined developments of geoengineering, architecture, and networked computing in Japan and the United States in the mid-20th century. To do so, I focus on air conditioning and weather control as a set of cultural techniques. I will refer to these as "climatic media." Climatic media reflects a desire to secure a livable future environment, whether through engineering the atmosphere itself, or engineering the built structures. My argument is that in the 20th century the technological control over the weather through climatic media took a central stage. To this end, this talk will look closely at mediatic techniques of controlling natural elements in order to manufacturing artificial weather and artificial climate.
Bio: Yuriko Furuhata is Associate Professor and William Dawson Scholar of Cinema and Media History in the Department of East Asian Studies and an associate member of the Department of Art History and Communication Studies at McGill University. She works in the areas of film and media studies, architecture, visual arts, and critical theory. Her first book, Cinema of Actuality: Japanese Avant-Garde Filmmaking in the Season of Image Politics (Duke University Press, 2013), won the Best First Book Award from the Society of Cinema and Media Studies. Her second book, entitled Atmospheric Control: Transpacific Experiments of Climatic Media (forthcoming Duke University Press) explores geopolitical connections across environmental art, weather control, climate engineering, and cybernetic architecture in Japan and the United States.
Friday, Nov. 20. 12:00- 1:00 p.m.
Iggy Cortez (Vanderbilt University): "Deathlessness: Nocturnal Economies as Media Ecologies in Leos Carax's Holy Motors."
Friday meeting will be a discussion of a pre-circulated video presentation.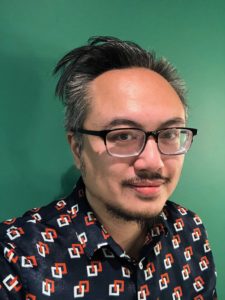 Abstract: Forthcoming
Bio: Iggy Cortez is Mellon Assistant Professor in Cinema & Media Arts. His research and teaching interests include world art cinema, critical race studies, diasporic thought, the visual and sensory culture of digital media, and questions of sexuality, cinematic performance, and embodiment. He is currently at work on a book project on nighttime as a conceptual and sensory threshold across recent world cinema. Through a global range of films by Apichatpong Weerasethakul, Leos Carax, Diao Yinan, Mati Diop, Barry Jenkins, and Tsai Ming-liang, among others, this project looks at the relationship between technologically-mediated perception and the affective and sensory dimensions of the historical present. His article "Licking for the Nation: Auntie Genealogies in Apichatpong Weerasethakul's Rak ti Khon Kaen (Cemetery of Splendour)" is forthcoming in the Journal of Cinema and Media Studies (formerly Cinema Journal) and a second article "Incestuous Wanderlust: 35 Shots of Rum's Atmospheres of Circulation" will appear in Camera Obscura. With Ian Fleishman, he is also co-editing a volume of essays on the relationship between negative affect, cultural politics, and acting through the lens of Isabelle Huppert's performances.
---
Past Seminars