Pi Delta Phi

La Société d'Honneur Française Nationale
Pi Delta Phi a pour but de reconnaître et de signaler le mérite dans l'étude de la langue française, de la littérature et de la civilisation francophone chez les étudiants américains est de favoriser le développement des liens entre les peuples américains et ceux de langue française.
Pi Delta Phi is the National French Honor Society. The purpose of this Society is (1) to recognize outstanding scholarship in the French language and its literature, (2) to increase the knowledge and appreciation of Americans for the cultural contributions of the French-speaking world, and (3) to stimulate and to encourage French and francophone cultural activities.
The Vanderbilt Chapter, inaugurated in 1990, is Kappa Lambda.  Students with a cumulative GPA of 3.2 and a French GPA of 3.6 who have taken at least 4 classes at the 2500 level or above may apply for membership in Pi Delta Phi.
For more information on Pi Delta Phi, please visit their website .
IMPORTANT DATES:
Oct. 15, 2023: Deadline for applications
Oct. 21, 2023: New initiates announced
Oct. 31, 2023: Deadline for dues
TBD: Initiation Ceremony and Reception,
2022 Pi Delta Phi Initiates: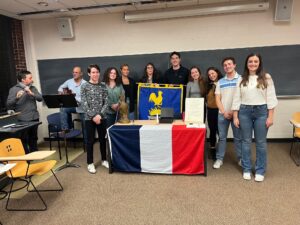 New Initiates: Nikolas Bochorishvili, Sara Brown, Izzy Chapman, Fiona Cherry, David Cornea, Sam Curtis, Chloe Hord, Ana Key, Warren Levy, Anna-Grace Lilly, Pouya Mehr, Hannah Noh, Rayne Swanson, Alexander Waugh.
Professors Finet and Miller provided French Music
2021 Pi Delta Phi Initiates: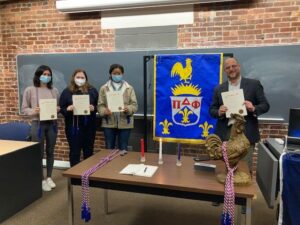 Hannah Mikita, Ifeyinwa Nwachukwu,  Zoe Antell and Professor Paul Miller.
Not pictured: Jake Keating, Leah Taylor, Tokunbo Faparusi,
2020 Pi Delta Phi Initiates: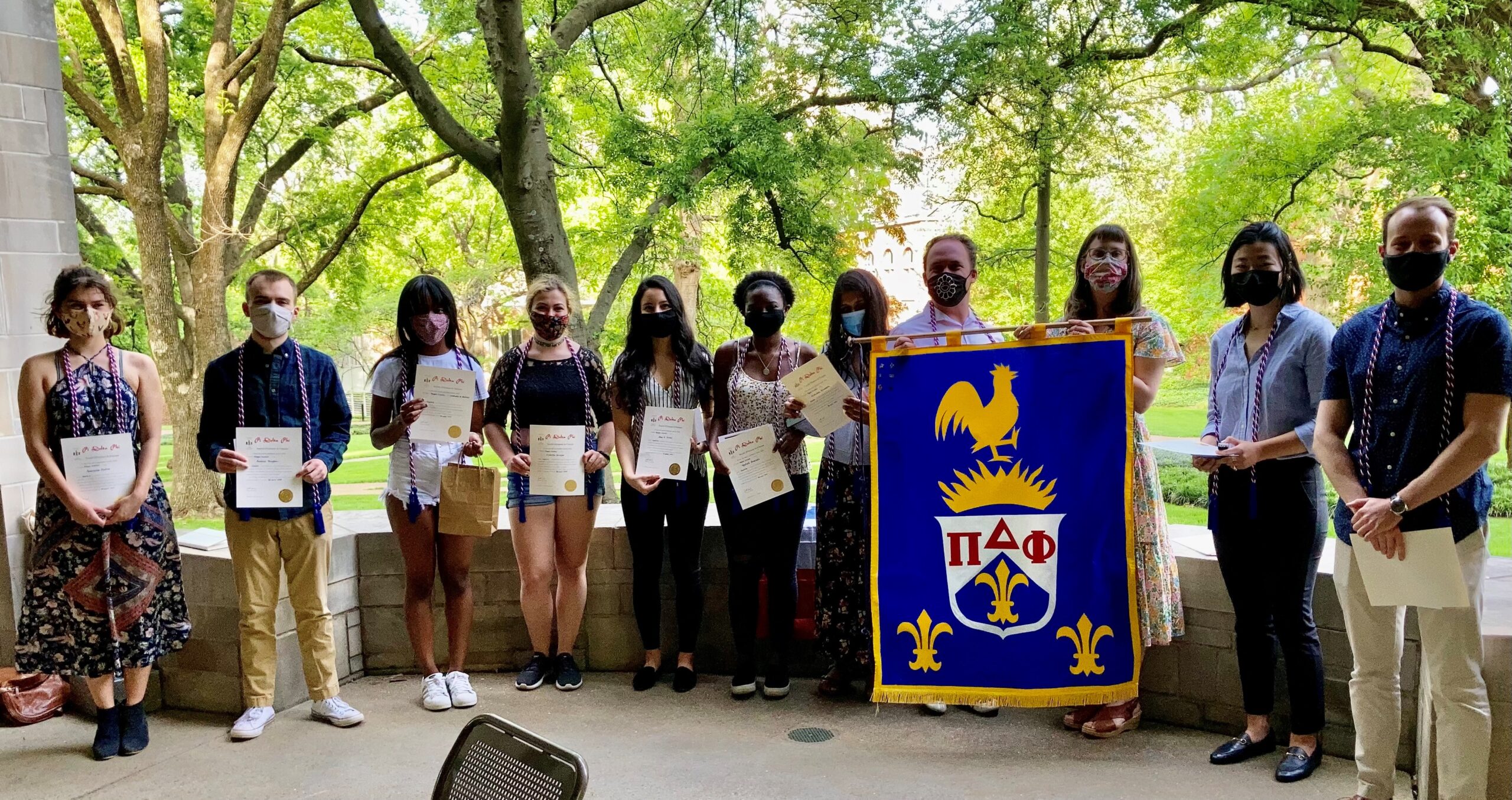 Gabriella Badmus, Carlota Martinez-Don, Theodore Hill, James Weiny, Klara Lou, Hafsah Diakhate, Anastasia Mullins, Nidhishree Kamalesh, Ana Torres, Isabelle Krieger, Andrew Doughan
Also pictured: Professor Raisa Rexer
2019 Pi Delta Phi Initiates: 

Marcus Bennett,  Zachary Buchta, Noah Butler, GeGe Clements, Elizabeth Fashakin, Leoncia Gillespie, Deniz Gungor, Brian Hills, Kira Hinchey, Caroline Jones, Schuyler La Barge, Grace LaFrentz, Madeleine Nicholson, Kesean Tyler
Also pictured: Professor Raisa Rexer and President Kyle Gavulic
2018 Pi Delta Phi Initiates: 

Abigail S. Bell
Tajeira C. Bonner
Nathalie R. de Benedetti
Benjamin J. Farhi
Kyle A. Gavulic
Charles Hackemer
Victoria M. Herring
Audrey E. Hommes
Theo E. Kandel
Madeleine M. Sherburn
Christina E. Wang
Yunshu Yang
Also pictured: President Maya Hardrick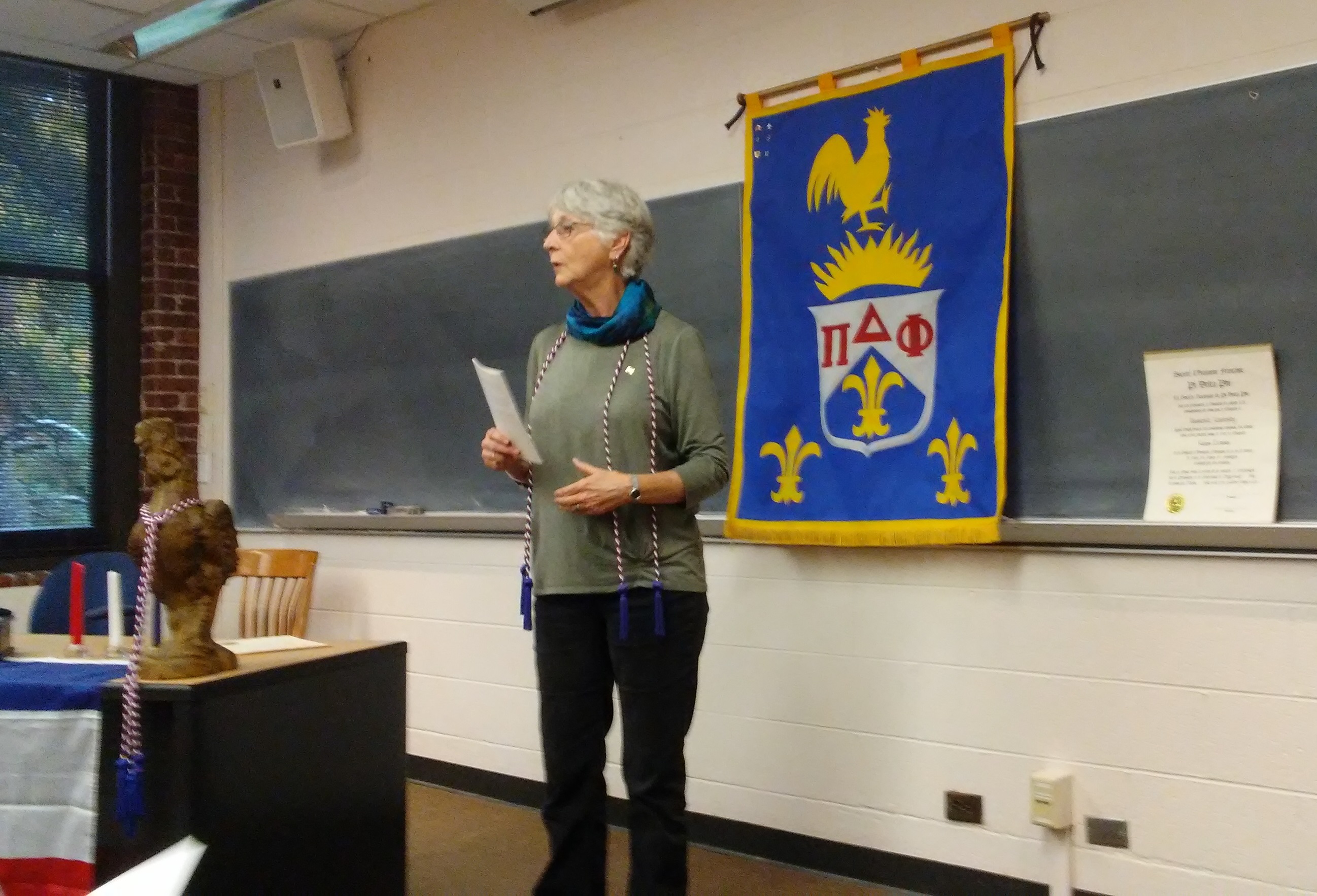 Madame Scott
emcees her last
Pi Delta Phi Ceremony.
2017 Pi Delta Phi Initiates: 
Dylan Ashbach
Adrienne Brauch
David Castor
Maya Hardrick
Nicole Jenkinson
Milan Joshi
Clee Malfitano
Kristen Mancini
Saquib Rahman
John Robey
Elizabeth Winter
2016 Pi Delta Phi Initiates:
Jacob Abell
Richa Bijlani
Alexandra Nickerson
Marissa Davis
Kristen  Nordham
Meredith Bradshaw
Agnes Bell
Emma Hollingsworth
Niina Kurki
Alexa LaBarbiera
Meghan McGinley
Robert Barsky, Honorary
Also pictured: President Hannah Resnick and Exchange Student Alexandra Astier.
2015 Pi Delta Phi Inductees
Lauren Alexandra Brooks
Renzo Antonio Costa
Sophia Karyn Cramer
Michael Paul Frankland
Bonnie Marie Griffin
Mary E Gwin
Lucy J Hall Hartley
Olivia Ruth Huddleston-Boatman
Ariane Marie Huet
Changlin Ke
Margaret C King
Katharine Patricia Linek
Emmett Zane McKinney
Madison Erin McMurray
Caroline P Nicholas
Hannah Melody Resnick
Gianna R Strand
Kate Slater Thomson
Gideon Ticho
Paige Christine Wilson