Immersion
Immersion Is… an opportunity for undergraduate students to pursue their passions and interests through experiential learning. Each student takes a project from proposal to completion in and beyond the classroom with the guidance of a Vanderbilt faculty member.
Please visit our Honors page for more information about Honors in Economics, the department's most popular Immersion option.
Immersion Stories
THOMAS HUM '23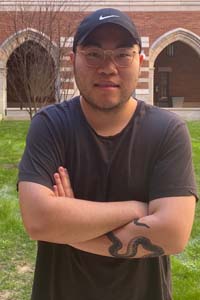 Thomas Hum's Immersion project, planned for Spring 2022, will plunge him not only academically into studying the developing economies of China and Singapore, but also physically into the homes of families in the towns he will visit.  As a participant in the School for International Training, he will travel to and study the growing financial centers of Southeast Asia, while living in homestays where the families speak Mandarin Chinese. This experience will allow him to not only earn credit for courses abroad and learn more about these developing economies, but also to be immersed in different cultures and improve his foreign language skills. Towards the end of the program, Thomas will participate in an internship in Malaysia which will give him hands-on work experience in the banking and financial sectors of Southeast Asia. At the conclusion of his semester abroad, Thomas plans to produce a short film comprised of video clips, video journal entries, and photos that will document how he spent his Immersion experience.
Fiona Bultonsheen '20
Fiona Bultonsheen majored in Economics with a minor in Arabic. While at Vanderbilt, she participated in two Immersion-style experiences: study abroad and an internship. Her study abroad was funded by a U.S. State Department Critical Language Scholarship, which allowed her to study Arabic in Amman, Jordan. Over the summer prior to her senior year, Fiona also interned in financial services consulting at Capco, with a focus in capital markets and retail banking. These two experiences not only enriched Fiona's experience at Vanderbilt, they helped her land a full-time job at Capco, where she now works as an associate consultant.