Career Outcomes
Your Success Story Is Waiting. Strong analytical and critical thinking skills and a deep understanding of markets are what attract employers to Economics majors. Our majors go on to positions in business and finance, banking, consulting, government, and other industries. The major also provides a strong foundation for students who wish to pursue graduate degrees in economics, business, or public policy, as well as those who enter professional programs in business, law, or medicine. Within a few years of graduation, about two-thirds will go on to earn MBAs, and about a fifth will go on to law school. 
Alumni Stories
Fiona Bultonsheen '20
Associate Consultant, Capco
Fiona Boultonsheen majored in Economics with a minor in Arabic. While at Vanderbilt, she was awarded a Critical Language Scholarship through the U.S. State Department to study Arabic in Amman, Jordan. Over the summer prior to her senior year, Fiona interned in financial services consulting at Capco with a focus in capital markets and retail banking. Fiona returned to Capco after graduation as an associate consultant in Charlotte, North Carolina. She hopes to be a part of a project within the firm's partnership with Bankers without Borders and develop her interest in empowering individuals through fintech in developing countries.
Jacob Vest '20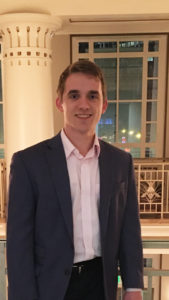 Analyst, Cornerstone Research
Jacob Vest double-majored in Economics and Math, with a minor in music. As one of the elite cohort of Honors students, Jacob focused his thesis on the optimal design for carbon tax policies. He also investigated the effects of such policies on the composition of U.S. energy sources and their associated emissions. Jacob now works at the economic consulting firm Cornerstone Research, where he plans to stay for a few years before applying for graduate school.
Mariam Sanusi '19
Professional Fellow, Vanderbilt University
Mariam Sanusi graduated with a double major in economics and art. She came to Vanderbilt as a transfer student from California, looking for smaller class sizes and a close-knit community. At Vanderbilt, Mariam got involved with the Women in Business student organization, served in the Undergraduate Senate, and worked as an R.A. "My professors always offered help, even when they didn't have to, and went above and beyond for me," she says. Through the Vanderbilt Professional Fellows program, Mariam is now working on projects for the university as she builds professional experience in finance.