M.A. Aid and Awards
Financial Aid
Graduate financial aid is generally reserved for Ph.D. students. However, some aid may be available from the following sources:
Awards
James S. and Rosemary Worley Award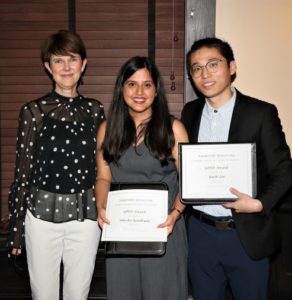 Established in 1997 by GPED alumni and friends and family of Emeritus Professor James S. Worley and his wife Rosemary, this award is given annually to an outstanding student or students in the first-year class.
Worley served as GPED director for 25 years and is credited with building the program to its position of strength. Under his leadership, the GPED more clearly defined its mission, and the program developed strong and lasting relationships with people and governments around the world.
This prize is awarded based on academic merit, dedication to the GPED program, and commitment to economic development.
William Edward Ferguson Jr. Award
The Ferguson Award was endowed by William Edward Ferguson Jr., Registrar of the Graduate School (1967-1992) and longtime friend of the GPED. Established in 2003, this prize rewards a commitment to community service and volunteerism and is presented to a first-year GPED student.
Internships
The M.A. program periodically receives internship and job opportunities, and we forward these to our students. We also organize information sessions and workshops, tailored to our M.A. students, with the Vanderbilt Career Center.
M.A./GPED students are also active in the Turner Family Center for Social Ventures, part of the Owen Graduate School of Management.
Student Jobs
Most M.A./GPED students find campus jobs. On-campus job postings are listed on the HireADore website. Past students have worked:
As graduate research assistants for various Vanderbilt faculty, labs, or schools
In campus libraries
As tutors for other GPED students
In the program office
Research assistant and tutoring positions are usually reserved for second-year students. Students seek out job opportunities on their own. For more information, see the Student Employment website.