Language Practice
The Vanderbilt Center for Languages provides an attractive variety of opportunities for students to practice their language skills outside of the classroom.  Activities like these play an essential role in advancing their language skills, facilitating interesting exchanges and getting to know students with similar interests and experiences.
Language Tables
Co-hosted by faculty and students, weekly language tables offer regular conversational practice with native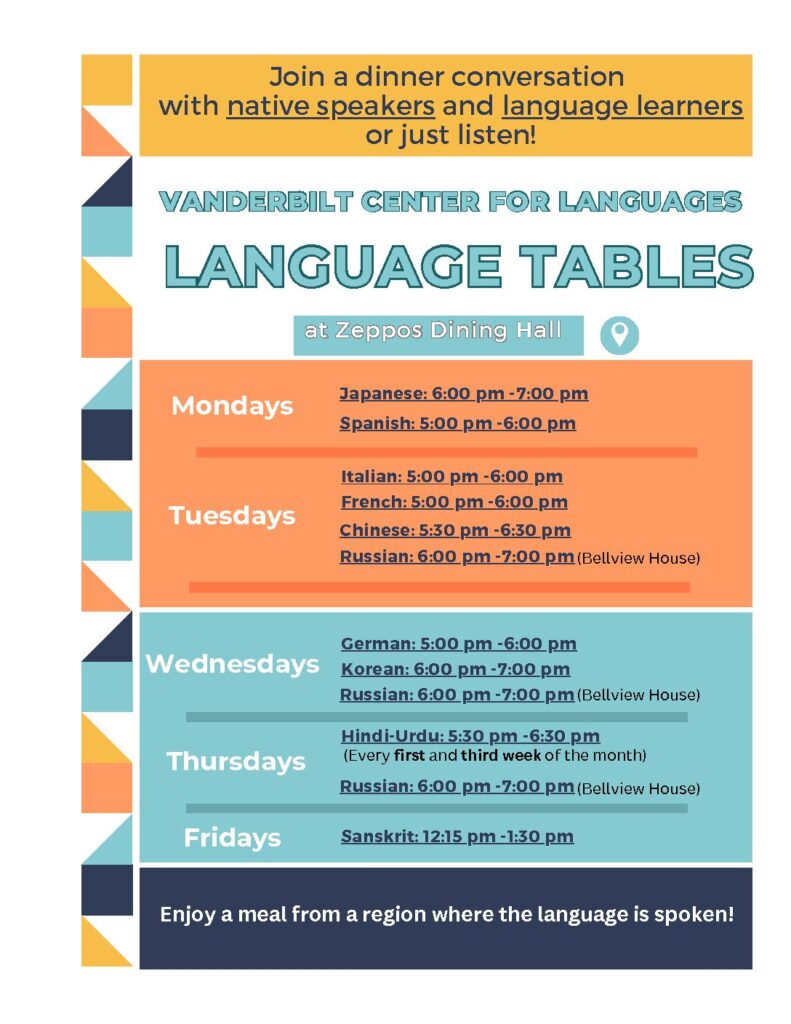 speakers and language learners of all proficiency levels. Language Tables are held in the following languages:
Arabic
Chinese
French
French Tagalog
German
Haitian Creole
Hebrew
Hindi-Urdu
Sanskrit
Italian
Japanese
K'iche' Maya
Korean
Portuguese
Russian
Spanish
At these informal, drop-in sessions, participants come together to talk, learn, practice, and build community. Language Tables can also serve as tutoring sessions for anyone who needs support in their coursework. All in the Vanderbilt community are welcome to join any time, and no signup is required. Fall semester Language Tables and tutoring services begin the first week of September.
If you are interested in participating as a co-host or want to ask a question, please contact Professor David Johnson, Language Table Coordinator.
Tutoring and Conversation Hours
The VCL offers both tutoring and conversational opportunity for many languages taught on campus. These sessions are generally held in the VCL office. While tutoring is a more structured and targeted form of help, our conversation hours are a less formal social gathering that gives students an opportunity to practice a language with others. For those sessions that are tutoring and conversation combined, the host will gauge the need of specific attendees.
T = Tutoring only, C = Conversation only, T/C = Both Tutoring and Conversation
Arabic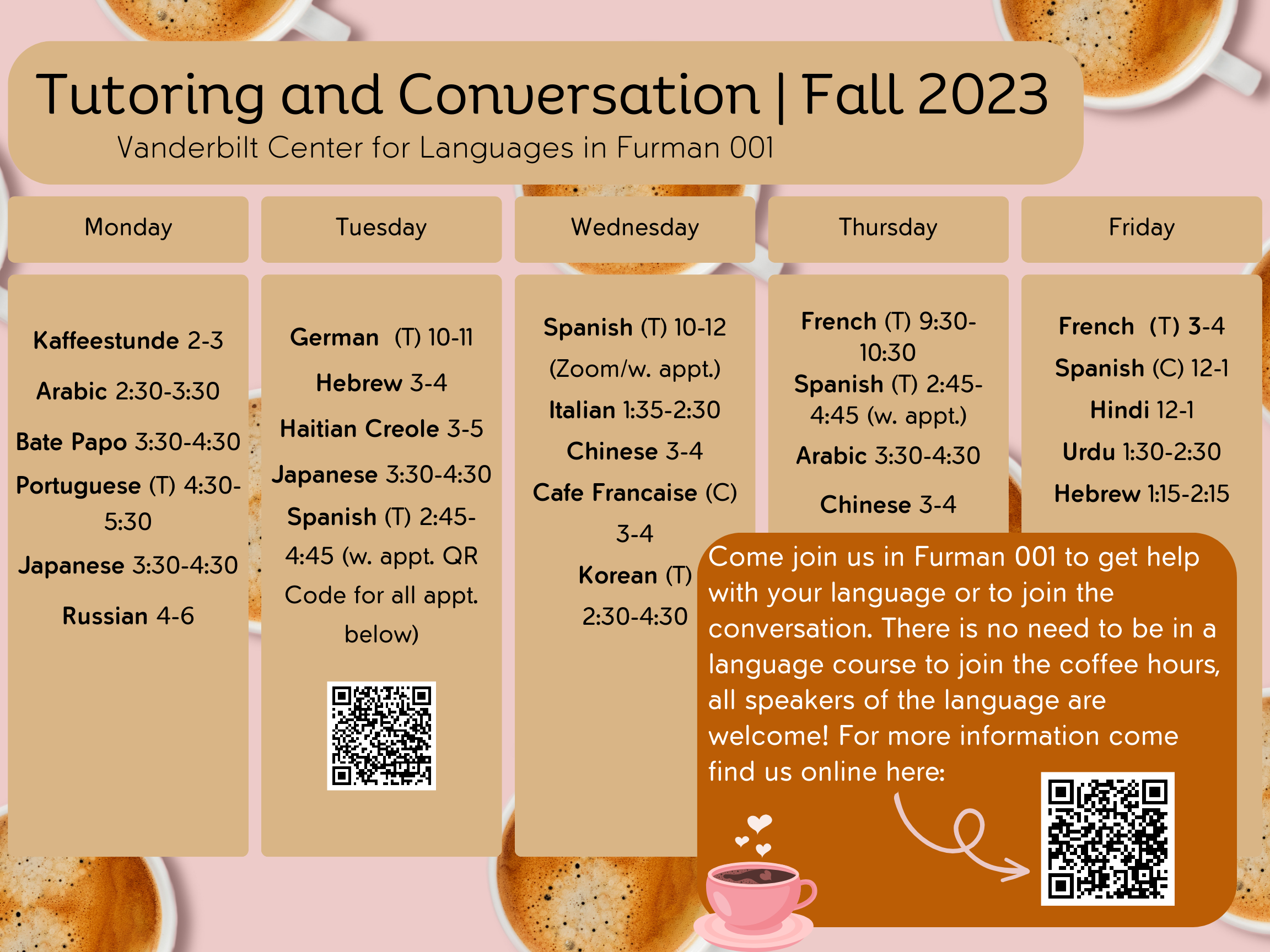 Hosted By: Henry Yusem
Mondays (T/C) (2:30-3:30pm) & Thursdays (T/C) (3:30-4:30pm)
Chinese
Hosted By: Watermelon (Song Yuan Feng)
Wednesdays & Thursdays (T/C) (3:00-4:00pm)
French
Hosted By: Younes Moursal
Thursdays (T) (9:30-10:30am) & Fridays (T) (3:00-4:00pm)
Hosted By: Alexis Finet
Cafe Française Wednesdays (C) (3:00-4:00pm)
German
Hosted By: Courtney Rehkamp
Mondays (C) (2:00-3:00pm) & Tuesdays (T) (10:00-11:00am)
Haitian Creole
Hosted By: Laurent Lochard
Tuesdays (T/C) (3:00-5:00pm)
Hebrew
Hosted By: Zoey Shacham
Tuesdays (T/C) (3:00-4:00pm) & Fridays (T/C) (1:15-2:15pm)
Hindi
Hosted By: Min Kalasikam
Fridays (T/C) (12:00-1:00pm)
Urdu
Hosted By: Shahbano Raza
Fridays (T/C) (1:30-2:30pm)
Italian
Hosted By: Elena Sergio
Wednesdays (T/C) (1:35-2:30pm)
Japanese
Hosted By: Melumo Togashi
Mondays & Tuesdays (T/C) (3:30-4:30pm)
Korean
Hosted By: Ejew Kim
Wednesdays (T) (2:30-4:30pm)
Portuguese
Hosted By: Margaret Kelly
Mondays (C) (3:30-4:30pm) & (T) (4:30-5:30pm)
Russian
Hosted By: Courtney Ellis
Mondays (T/C) (4:00-6:00pm)
Spanish
Tutoring Hosted By: Amarilis Ortiz with appointment only! Click here to schedule.
Tuesdays (T) (2:45-4:45), Wednesdays (T) (10:00-12:00pm), Thursdays (T) (2:45-4:45pm)
Conversation Hosted By: Bear Anthony
Fridays (C) (12:00-1:00pm)