Chemistry Professor Steve Townsend Wins Camille Dreyfus Teacher-Scholar Award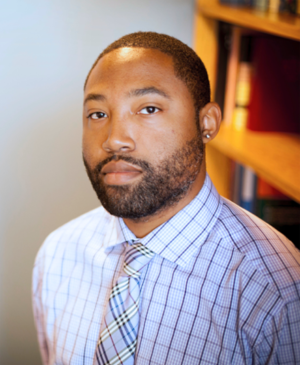 Assistant Professor of Chemistry Steve Townsend has been named to this year's class of Camille Dreyfus Teacher-Scholar Awardees. Every year, the Camille and Henry Dreyfus Foundation supports the careers of a select number of faculty in the chemical sciences who are in the first five years of their academic career, exhibit a strong body of research, and demonstrate a commitment to teaching. Recipients receive an unrestricted research grant of $100,000. This year, the Dreyfus Foundation recognized 14 faculty from top institutions across the nation. Townsend is one of only three Vanderbilt chemists, and the first in 45 years, ever to receive the award.
The award will support Townsend's work in the Vanderbilt Laboratory for Glycoscience (VLG) around two key issues: female contraception and sexually transmitted infection (STI) prevention. In his proposal to the Dreyfus Foundation, Townsend noted that innovations around reproductive and sexual health have not been widely researched in decades. Consequently, the tools and testing that would enable significant progress in contraception have remained underdeveloped.
Townsend's Dreyfus award, along with his funding as a Dean's Faculty Fellow, will allow him to expand his lab's development of contraception that can simultaneously protect against pregnancy and certain STIs. The lab is working to synthesize a compound that possesses both spermicidal and antimicrobial qualities, leading to a new, affordable contraception that eliminates many of the long-term health effects associated with current spermicidal and hormonal birth control methods.
"Everyone could use readily-accessible, affordable, cost-effective contraception and STI control," he said, noting that between 40 and 50 percent of women worldwide—about 200 million women—reported that they would like contraception, but don't have access to it. Considering this statistic and the World Health Organization's estimate that one million STIs are acquired every day, Townsend saw an opportunity to confront two widespread issues in women's health. He hopes his research will make way for a new method of contraception, available in pill form, that will be easily accessible for women around the world. This commitment to tackling global issues has been a consistent characteristic of Townsend's work.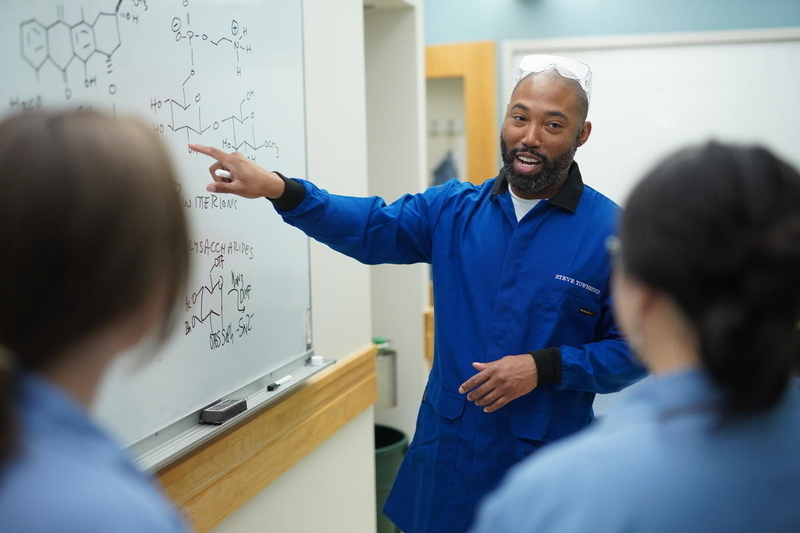 "Professor Townsend is the embodiment of our aspirations for exceptional teaching and research," said John McLean, Chair and Stevenson Professor of Chemistry. "He is an extraordinary innovator, researcher, and educator. This prestigious award recognizes his valuable contributions to our university and the world beyond."
Townsend intends to lean on the supportive community of Vanderbilt researchers as the project grows. He plans to collaborate with Seth Bordenstein, Centennial Chair and Professor of Biological Sciences, on the virology aspects of his research. "He's someone I'm building a new relationship with when it comes to anti-viral work," Townsend said, adding that the ability to work across labs and collaborate with researchers from varying specialties is one of the most valuable aspects of working at Vanderbilt.
Townsend will round out the project with work in the local community, where he hopes to make a more direct impact. He plans to visit the Metro-Davidson County Detention Facility to speak to at-risk youth about parenting, pregnancy, and STI prevention—confronting some of the underlying social issues at the heart of his research, while also providing mentorship and education.
For Townsend, the opportunity to combine education, mentoring, and research is one of the most exciting parts of the Dreyfus award: "This is one of those proposals where I'm equally as excited for the broader impact as I am for the research."
Townsend was selected as the institutional nominee for the Camille Dreyfus Teacher-Scholar Award, which was announced as a Limited Submission Opportunity (LSO). LSOs are external funding opportunities where sponsors limit the number or types of applications Vanderbilt can submit. Research Development and Support, within the Office of the Vice Provost for Research, manages the LSO process by proactively announcing funding opportunities, guiding researchers though a simplified application process, coordinating reviews from experts, and sharing constructive feedback on applications. Learn more about Limited Submission Opportunities and subscribe to the LSO listserv.