Ph.D. Placements
Your Success Story Is Waiting. The six year, fully-funded Ph.D. in English prepares students for academic teaching and research.  Flexible and immersive, with students admitted on a 1:1 faculty-to student-ratio, the program provides personally-tailored mentoring and development for research and pedagogical skills. In addition to a highly successful record for academic job placement, the department excels at placing interested students in alternative-academic and industry career paths.
Ph.D. Alumni Stories
Dr. Thea Autry '20
Thea Autry is the 2020 Medalist for the Vanderbilt Graduate School. Thea's research and teaching focus is on U.S. literature and visual arts of the 19th, 20th and 21st centuries, with emphasis on theories of visuality, race, gender, sexuality and cultural geography. Her grants and scholarships include a student-directed seminar grant from the Robert Penn Warren Center for the Humanities. She is a reviewer for the European Journal of American Culture, and her paper proposals have been accepted at several national and international conferences. While at Vanderbilt, she served as an officer in the English Graduate Student Association and participated in the Tennessee Prison Books Project and college application workshops at a Nashville magnet school. After spending a year in residence at Kenyon College after winning a prestigious Yarbrough Dissertation Fellowship, Thea holds a CAS Postdoctoral Fellowship at Vanderbilt for 2020-21.
Dr. Lucy Mensah '16
Lucy Mensah is Visiting Assistant Professor of Museum and Exhibition Studies at the University of Illinois in Chicago's School of Art & Art History. Prior to this, she was an assistant curator of contemporary art at the Detroit Institute of Arts. Before the DIA, Mensah was an art history fellow at the Metropolitan Museum of Art, where she assisted in acquisition research and collection management. While at the Met, she developed a research project examining the incorporation of West African textile design in Afrofuturist art and fashion. Mensah received a B.A. in English from Bucknell University, an M.A. in Literary & Culture Studies from Carnegie Mellon University, and a doctorate in English from Vanderbilt. She completed a fellowship at the National Museum of American History in the summer of 2013, and worked as a curatorial intern at the Frist Center for the Visual Arts from 2015-2016. At the DIA, she co-curated a show titled Making Home: Contemporary Works from the DIA, a permanent collection show that presents artwork that portray literal and conceptual ideas of home.
Dr. Anne Margaret Castro '16
A native Texan and an alumna of the University of Texas at Austin, Anne Margaret Castro (PhD 2016) is an assistant professor of English at Florida International University. Prior to that, she spent two years at the University of Oxford as the Andrew W. Mellon Postdoctoral Fellow in Literature of the Black Americas. Castro's research explores how authors and artists represent the interactions between abstract belief and material embodiment in the drama and literatures of the America. Her first book, The Sacred Act of Reading: Spirituality, Performance and Power in Afro-Diasporic Literature, was published by the University of Virginia Press in their New World Series in early 2020. She has been developing a second book project is tentatively entitled "Staging Movements: Afro-Diasporic Literatures of Containment."
Dr. Derrick Spires '12
An alumnus of Tougaloo College, Derrick R. Spires is an associate professor of English at Cornell University. Prior to moving to Ithaca, NY, Derrick was an assistant and then an associate professor of English at University of Illinois, Urbana-Champaign (2012-2019), a Mellon Caltech-Huntington Postdoctoral Instructor at the California Institute of Technology (2013-2014), and coordinator of the American Studies Sustainability Project at Vanderbilt (2011-2012).
His book, The Practice of Citizenship: Black Politics and Print Culture in the Early United States (University of Pennsylvania Press, 2019), was awarded the St. Louis Mercantile Library Prize by the Bibliographical Society of America. His current project, tentatively titled "Serial Blackness: Periodical Literature and African American Literary History," asks two interrelated questions: 1) what happens to our narratives of black literary history if we center it on periodical literature and serial narratives (sketches, letters to the editor, pseudonymous writing, comics, etc.) instead of the completed volume (such as the slave narrative, novel, or poetry collection); and 2) what happens to our histories of blackness, if we think of blackness as always defined serially and contextually? The project begins in the late eighteenth century with Phillis Wheatley and will likely conclude with black science fiction published in magazines at the turn of the twentieth century.
Dr. Nafissa Thompson-Spires '06
A prize-winning fiction writer, Nafissa Thompson-Spires is an assistant professor of English at Cornell, where she specializes in fiction writing and television studies. Prior to moving to Cornell in 2019, she was an assistant professor of Creative Writing at the University of Illinois Champaign-Urbana. Her debut book of short stories, Heads of the Colored People (Simon and Schuster, 2018) won the PEN Open Book Award in 2019, an Audie Award for Short Stories/Collections, and was a 2018 finalist for the prestigious Kirkus Prize. Nominated for the NAACP Image Award for Outstanding Literary Work by a Debut Author, it was also longlisted for the National Book Award.
Recent Dissertations
Here are some recent dissertation titles by Vanderbilt PhD Students, as well as some recent books published by Vanderbilt English PhD Graduates:
"Constructing Alternate Identities: Rhetoric and Fantasies of Blackness in Early Modernity" – Willnide Lindor '22, advised by Kathryn Schwarz
"When U.N.I.T.Y. Isn't Enuf: Black Tomboys as Gender-Bending Social Disruptors" – Amanda Wicks '22, advised by Vera Kutzinski
"Respectable Radicalism: The Rhetoric of Black Women's Intellectualism" – Danielle Procope Bell '21, advised by Hortense Spillers
"Writing the Gaze: Race and Visual Poetics in Postwar U.S. Fiction" – Thea Autry '20, advised by Vera Kutzinski and Hortense Spillers
"Victorian Vita Activa: Work Ethics and Prowork Politics" – Kira Braham '20, advised by Jay Clayton and Rachel Teukolsky
"Damaging Intimacy: Reimagining Communities in Early Modern Drama" – Joanna Huh '20, advised by Kathryn Schwarz and Leah Marcus
"The Souls of Black Colleges: Cultural Production, Ideology, and Identity at Historically Black Colleges and Universities" – Magana Kabugi '20, advised by Hortense Spillers
"Storming Hillbilly Heaven: The Young Patriots Organization, Radical Culture, and the Long Battle for Uptown Chicago" – Jesse Montgomery '20, advised by Dana Nelson
"Ethics as Excess in Victorian Literature and Moral Philosophy" – Sari Carter '19, advised by Rachel Teukolsky
"Forms of Estrangement: Speculative Storytelling and the Contemporary Literary Imagination" – Kylie Korsnack '19, advised by Vera Kutzinski
"Representations of Race, Rape, and Consent in Early Modern English Drama" – Kirsten Mendoza '18, advised by Leah Marcus
"The Victorian Posthuman: Monstrous Bodies in Literature and Science" -Wietske Smeele '18, advised by Jay Clayton
"Empathy's Dark Labor: Feeling, Fact, and the Black Subject in Late Nineteenth Century American Narrative" – Hubert Cook '17, advised by Ifeoma Nwankwo
"Adapted Bodies, Adapted Texts: Queer Survival Via Early Modern Drama" – Kristen Navarro '17, advised by Leah Marcus
"To Tell a Black Story of Miami" (University of Florida Press) - Tatianna McInnis, Class of '17
"Shakespeare's Queer Analytics" (Bloomsbury Press) - Donald Rodrigues, Class of '17
"The Race for America: Black Internationalism in the Age of Manifest Destiny" (UNC Press) - RJ Boutelle, Class of '16
"The Sacred Act of Reading: Spirituality, Performance, and Power in Afro-Diasporic Literature" (University of Virginia Press) - Anne Castro, Class of '16
"Reading Underwater Wreckage: An Encrusting Ocean" - Killian Quigley
"Outside Literary Studies: Black Criticism and the University" (University of Chicago Press) - Andrew Hines, Class of '15
"Animal Subjects: Literature, Zoology, and British Modernism" (Cambridge University Press) - Caroline Hovanec, Class of '13
"Translated Nation: Rewriting the Dakhota Oyate" (University of Minnesota Press) - Chris Pexa, Class of '13
"The Practice of Black Citizenship: Black Politics and Print Culture in the Early United States" (University of Pennsylvania Press) - Derrick Spires, Class of '12
Placement Data
The data below reflects job placement for 84 Ph.D. graduates since 2008.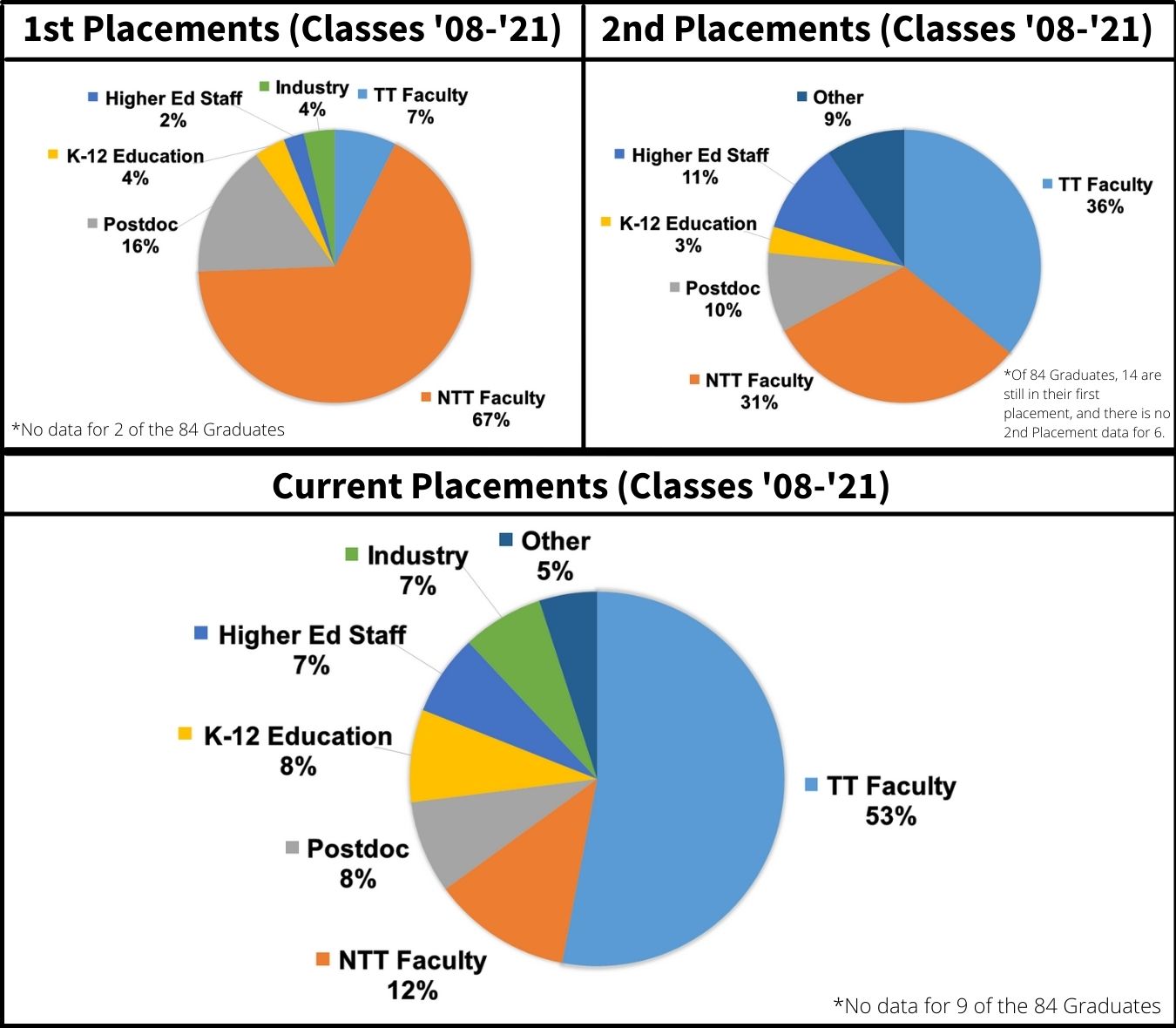 First Job Placements (2008-2021)
67% NTT Faculty
16% Postdoc
7% TT Faculty
4% K-12 Education
4% Industry
2% Higher Ed Staff
Second Job Placements (2008-2021)
36% TT Faculty
31% NTT Faculty
11% Higher Ed Staff
10% Postdoc
9% Other
3% K-12 Education
Current Job Placements (2008-2021)
53% TT Faculty
12% NTT Faculty
8% Postdoc
8% K-12 Education
7% Higher Ed Staff
7% Industry
5% Other