Gertrude C. & Harold S. Vanderbilt Visiting Writers Series
About the Gertrude C. and Harold S. Vanderbilt Visiting Writers Series
The Gertrude C. and Harold S. Vanderbilt Visiting Writers Series is named in honor of Vanderbilt founder Cornelius Vanderbilt's great-grandson and his wife. Each semester, the series brings several professional writers to campus to read from their works and visit classes. This unique and extraordinary program gives English department students and faculty, the Vanderbilt community, and Nashville's citizens a chance to meet and talk with some of the best writers of our day.
For more information about the Visiting Writers Series or to sign up for our e-mail announcement list, contact René Colehour in the Creative Writing program.
Click here for 2021-2022 series poster.
  Fall 2022
Calendar TBA.
  SPRING 2022
♦January 27: Shane McCrae, poetry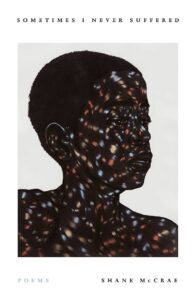 Shane McCrae grew up in Texas and California. The first in his family to graduate from college, McCrae earned a BA at Linfield College, an MA at the University of Iowa, an MFA at the Iowa Writers' Workshop, and a JD at Harvard Law School. McCrae is the author of Sometimes I Never Suffered, In the Language of My Captor, which was a finalist for the National Book Award, the Los Angeles Times Book Prize, and the William Carlos Williams Award; The Animal Too Big to Kill, winner of the 2014 Lexi Rudnitsky / Editor's Choice Award; Forgiveness Forgiveness; Blood; and Mule. His work has also been featured in The Best American Poetry 2010, edited by Amy Gerstler, and his honors include a Whiting Writers' Award and a fellowship from the National Endowment for the Arts. He teaches at Columbia University and lives in New York City.
♦February 3: Kate Daniels, nonfiction | faculty reading
Kate Daniels is the author of six collections of poetry, including A Walk in Victoria's Secret, and In the Months of My Son's Recovery.  She taught at Vanderbilt for 25 years, helping to found the MFA program, and serving as director of creative writing.  She is now the Edwin Mims Professor of English emerita.  She continues to teach writing at the Washington-Baltimore Center for Psychoanalysis.  She will be reading from her new book, Slow Fuse of the Possible: A Memoir of Poetry and Psychoanalysis, a work of creative nonfiction that explores the connections between writing and reading poetry and the experience of clinical psychoanalysis.
www.katedanielspoetryandprose.com
♦February 10: Brandon Taylor, fiction
Brandon Taylor is the author of the novel Real Life, which was a New York Times Editors' Choice and shortlisted for the 2020 Booker Prize, as well as The National Book Critics Circle John Leonard Prize and the 2021 Young Lions Fiction Award. His work has appeared in Guernica, American Short Fiction, Gulf Coast, Buzzfeed Reader, O: The Oprah Magazine, Gay Mag, The New Yorker online, The Literary Review, and elsewhere. He holds graduate degrees from the University of Wisconsin-Madison and the Iowa Writers' Workshop, where he was an Iowa Arts Fellow.
brandonlgtaylor.com
♦February 17: Lisa Russ Spaar, poetry
Lisa Russ Spaar is the author/editor of over twelve books of poetry and criticism, including, most recently, More Truly and More Strange:  100 Contemporary American Self-Portrait Poems (2020) and Madrigalia:  New & Selected Poems (November 2021).  Her debut novel, Paradise Close, will appear in April 2022.  Her honors include a Rona Jaffe Award for Emerging Women Writers, a Guggenheim Fellowship, the Carole Weinstein Poetry Prize, and the Library of Virginia Award for Poetry.  She was a 2014 Finalist for the National Book Circle Critics Award for Excellence in Reviewing and has served as the Beall Visiting Poet in Residence at Baylor University for a week each year since 2018.  Her poems have been recently published in Poetry, The New Yorker, IMAGE, The Yale Review, the Virginia Quarterly Review, The Kenyon Review, American Chordata, and elsewhere.   Her commentaries, reviews, and columns about poetry have appeared or are forthcoming in The Chronicle of Higher Education, the Washington Post, the New York Times, the Los Angeles Review of Books, and elsewhere.  She is a professor in the Creative Writing Program of the Department of English at the University of Virginia, where for many years she directed the MFA program.
https://www.lisarussspaar.com
♦February 24: Margaret Renkl, nonfiction | visiting faculty
Margaret Renkl is the author of Late Migrations: A Natural History of Love and Loss, which was published in July 2019. Her next book, Graceland, At Last: Notes on Hope and Heartache From the American South, was published in September 2021. Renkl is a contributing opinion writer for The New York Times, where her essays appear each Monday. A graduate of Auburn University and the University of South Carolina, she lives in Nashville.
margaretrenkl.com
♦March 17: Rebecca Bernard, fiction & Cara Dees, poetry
Rebecca Bernard's debut collection of stories won the 2021 Non/Fiction prize from The Journal and is forthcoming from Ohio State's Mad Creek Books. Her work has appeared or is forthcoming in Shenandoah, Southwest Review, Juked, Pleiades, and elsewhere. She holds a PhD in Fiction from the University of North Texas and an MFA from Vanderbilt University. Her work received notable mention in the Best American Short Stories of 2018. She is an Assistant Professor in the English department at Angelo State University.  She serves as a Fiction Editor for The Boiler.
https://rebeccaibernard.com
Cara Dees is the author of the debut poetry collection, Exorcism Lessons in the Heartland (2019), selected by Ada Limón for the 2018 Barrow Street Book Prize. She is a Ph.D. candidate in Creative Writing and Literature at the University of Cincinnati, where she is also pursuing a Graduate Certificate in Women's, Gender, and Sexuality Studies. She holds an M.F.A. from Vanderbilt University and a B.A. in English with Comprehensive Honors from the University of Wisconsin-Madison.
Her work appears in journals such as The Atlantic, Best New Poets 2016 and 2019, Crazyhorse, Gulf Coast, Harvard Review, Ploughshares, and Poetry Daily. Exorcism Lessons in the Heartland was also named a finalist or semifinalist for the Brittingham & Felix Pollak Prizes in Poetry, the Lexi Rudnitsky First Book Prize, The Journal/Charles B. Wheeler Poetry Prize, the Saturnalia Books Poetry Prize, the St. Lawrence Book Award, and the Autumn House Rising Writers Prize.
www.caradees.com
♦March 31: Mark Jarman, poetry & Lorraine López, fiction | faculty reading
Mark Jarman was born in 1952 in Mount Sterling, Kentucky. He earned a BA from the University of California, Santa Cruz in 1974 and an MFA from the University of Iowa in 1976. Jarman is the author of numerous collections of poetry, including The Heronry (2017), Bone Fires: New and Selected Poems (2011), Epistles (2007), The Black Riviera (1990), which was awarded the Poets' Prize in 1991, and Questions for Ecclesiastes (1997), which won the Lenore Marshall Poetry Prize and was a finalist for the National Book Critics Circle Award. His many honors include a Guggenheim Fellowship, a National Endowment for the Arts Fellowship, and the Robert Frost Fellowship from the Bread Loaf Writers' Conference.
Jarman lives with his wife Amy Jarman in Nashville, Tennessee, where he is Centennial Professor of English, Emeritus at Vanderbilt University.
www.poetryfoundation.org/poets/mark-jarman
Lorraine M. López is Gertrude Conaway Professor of English, Director of Creative Writing, and Faculty Director of Latino and Latina Studies at Vanderbilt University.  With her retirement effective August 16, 2021, she will become Professor of English, Emerita, and Gertrude Conaway Vanderbilt Chair, Emerita.  For the 2021-22 Academic Year, Lorraine will also serve as Research Professor of English, rounding out 20 years of service to the Vanderbilt community.
In addition to her distinguished teaching career (Harvie Branscombe Distinguished Professor Award, 2016), Lorraine has written seven works of fiction and edited or coedited three essay collections.  Her first book, the  short story collection, Soy la Avon Lady and Other Stories (Curbstone, 2002) won the inaugural Miguel Marmól prize for fiction, and her first novel, Call Me Henri (Curbstone, 2006) was awarded the Paterson Prize for Young Adult Literature in 2007.  Homicide Survivors Picnic and Other Stories (BkMk Books, 2009) was a Finalist for the prestigious PEN/Faulkner Prize in Fiction in 2010 and winner of the Texas League of Writers Award for Outstanding Book of Fiction.  The Gifted Gabaldón Sisters (Grand Central Press, 2008) and The Realm of Hungry Spirits (Grand Central Press, 2011) were Borders/Las Comadres Selections, and López's short story collection, The Darling (University of Arizona Press, 2015) was a finalist for the International Latino Book Award.  Lorraine's latest novel is entitled, Postcards From the Gerund State: Stories (BkMk, 2019).  Her three edited/coedited essay collections are, An Angle of Vision: Women Writers on Their Poor or Working-Class Roots (University of Michigan Press, 2009), award-winning, The Other Latin@: Writing against a Singular Identity (University of Arizona Press, 2011), and Rituals of Movement in the Writing of Judith Ortiz Cofer (Caribbean Studies Press, 2012).  Lorraine's work has appeared in multiple anthologies, journals, and other publications.  She has served on the board of, and as associate editor for The Afro-Hispanic Review, and co-founded, with Professor William Luis, the Latino and Latina Studies Program.  Lorraine is honored to have been the subject of a recent edition of the South Atlantic Review (Spring 2020).  She lives in Nashville, Tennessee, where she is at work on multiple writing projects.
http://www.lorraine-lopez.com
♦April 7: Aimee Bender, fiction
Aimee Bender is the author of six books: The Girl in the Flammable Skirt (1998) which was a NY Times Notable Book, An Invisible Sign of My Own (2000) which was an L.A. Times pick of the year, Willful Creatures (2005) which was nominated by The Believer as one of the best books of the year, The Particular Sadness of Lemon Cake (2010) which won the SCIBA award for best fiction, and an Alex Award, The Color Master, a NY Times Notable book for 2013, and her latest novel, The Butterfly Lampshade, which came out in July 2020, and was longlisted for the PEN/Jean Stein Award. Her books have been translated into sixteen languages.
Her short fiction has been published in Granta, GQ, Harper's, Tin House, McSweeney's, The Paris Review, and more, as well as heard on PRI's "This American Life"and "Selected Shorts".
She lives in Los Angeles with her family, and teaches creative writing at USC.
aimeebender.com
♦April 14: Vievee Francis, poetry
Vievee Francis is the author of Blue-Tail Fly (Wayne State University Press, 2006), Horse in the Dark (Northwestern University Press, 2012), and Forest Primeval (Northwestern University Press, 2016), winner of the Kingsley Tufts Poetry Award and the Hurston/Wright Legacy Award for Poetry. She is an associate professor at Dartmouth College and an associate editor for Callaloo.
www.poetryfoundation.org/poets/vievee-francis
Previous Visiting Writers
Please see below for a list of previous visiting writers by year and genre.