Jonathan Rattner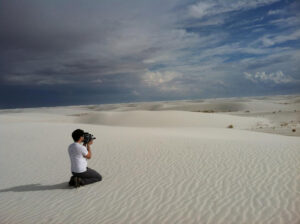 Associate Professor, Cinema & Media Arts and Art
Director of Undergraduate Studies, Cinema & Media Arts
(he / him / his)
Buttrick 003D
jonathan.l.rattner@vanderbilt.edu
Website | CV
Education
MFA – Film and Video Production, The University of Iowa, 2008
MFA – Intermedia Art, The University of Iowa, 2009
Specialization
Documentaries
16mm
Art Cinema
Cinematography
Experimental filmmaking
Biography
Jonathan Rattner is an award-winning filmmaker and artist who primarily produces experimental nonfiction films and videos. In his work he employs a mixture of documentary (found footage, interviews, historical research) and lyrical (soft-focus imagery, collage, jump cuts, non-diagetic sound design, long-duration wide shots) filmic elements. By doing so, he strives to create a cinematic space in which viewers are invited to interact with what they see on the screen and create meaning by reflecting on their own experiences, ideas, and truths.
He holds M.F.A's in Film and Video Production and in Intermedia Art from the University of Iowa and a B.F.A. in Film and Television from Tisch School for the Arts, N.Y.U. From fall of 2005 to the summer of 2009 he acted as the creative director of Iowa City Senior Television, a twenty-year-old station consisting of crewmembers whose ages range from 65 to 89.
Rattner has exhibited works at the Anthology Film Archives, Walker Art Center, The Whitechapel Gallery, Ann Arbor Film Festival, Atlanta Film Festival, Currents New Media Festival, the European Media Arts Festival, as well as at other galleries, microcinemas, festivals, and universities in the United States, Europe, and Australia.  Most recently, his film The Interior won best documentary at the Ann Arbor Film Festival and was acquired by the Walker Art Center's Ruben/Benston Moving Image Collection. Rattner is currently the president of COOP Gallery, Nashville's Longest established, artist-run curatorial collective and holds the position of Associate Professor of Cinema Media Arts and Associate Professor of Art at Vanderbilt University.
Portfolio
Selected Bibliography:
Recent Screenings:
2021

Athens International Film and Video Festival, Athens, OH
Mimesis Film Festival, Boulder, CO
Glasgow Short Film Festival, Glasgow, Scotland
Vienna Short Film Festival, Vienna, Austria

2020

Antimatter, Victoria, BC
Chelsea Music Festival, Online Encores, NYC
Public Space One, Iowa City, IA
Indie Grits, Columbia, SC
Rhizome Microcinema, DC
Manchester Experimental Film Festival, UK
2019

Sightlines Film Festival, RMIT University, Melbourne, Australia
Alternating Current Art Space, Melbourne, Australia
Animalia 2, The Mini Microcinema, Cincinnati, Ohio
International Motion Festival, Nicosia, Cyprus
Grinnell College, Grinnell, IA
CAVE Festival, Celluar Cinema, Minneapolis, MN

 2018

Sarah Lawrence College, Bronxville, NY
New Mexico State University, Las Cruces, NM
Listasumar' Festival, Skagaströnd, Iceland
Indiana University. Bloomington, IN
Rubenstein Arts Center, Duke University, Durham, NC

2017

Filmtheater Cinebergan, The Netherlands
Berwick Film and Media Arts Festival, England
Southern Festival of Books, Nashville, TN
IDEA Center, Spectral Microcinema, Stevens Point, WI
Tisch School for the Arts, N.Y.U.,Chelsea Music Festival, NYC, NY
Seed Space Gallery, Nashville,TN
Haverhill Experimental Film Festival, Haverhill, MA
Centre of Contemporary Arts, Glasgow, Scotland
Kino City 46, 22nd International Bremen Film Conference, Bremen, Germany
Currents New Media Festival, Santa Fe, NM
Ann Arbor Film Festival, Ann Arbor, MI
Aquarium Gallery, Ann Arbor, MI
Walker Art Center Mediatheque, Cave Festival, Minneapolis, MN
Whitechapel Gallery, England
Rhode Island School of Design, Providence, RI

2016

Anchorage International Film Festival, Anchorage, AK
Seed Space Gallery, Nashville, TN
Mixer Gallery, Istanbul, Turkey
Cellular Microcinema, Minneapolis, MN
University of Film and Video Association, University of Las Vegas, NV
Unexposed Microcinema, Durham, NC
Napoleon Gallery, Philadelphia, Pennsylvania
Western Kentucky University, Bowling Green, KY
European Media Arts Festival, Osnabrück, Germany
Minneapolis St. Paul International Film Festival, Minneapolis, MN
Indie Grits, Columbia, SC
Athens International Film and Video Festival, Athens, OH
Atlanta Film Festival, Plaza Theatre, Atlanta, GA
DC Independent Film Festival, Washington, DC
Oneota Film Festival, Decorah, IA
MicroEye Microcinema, North Asheville Library, Asheville, North Carolina
New Filmmakers Winter Series, Anthology Archive, New York City, New York

2015

Cal Marcal Cinema, Llorenç del Penedès, Spain
Heliopolis Gallery, Brooklyn, NY
Legion Arts Gallery, Cedar Rapids, IA
Embodied Place, Holman Arts and Media Center, Sierra Nevada College, Tahoe, Nevada
L'Alternativa Barcelona Film Festival, Center for Contemporary Culture, Barcelona, Spain
Selected Awards and Fellowships:
2021

Artist in Residence, Public Space One, Iowa City

2019

Vanderbilt University Global Research and Engagement Micro-Grant

2018

Individual Artist Grant, Tennessee Arts Commission
Vanderbilt Institute of Digital Learning, MacroGrant

2017

Michael Moore Award, Best Documentary, Ann Arbor Film Festival
Robert Penn Warren Faculty Fellow, Vanderbilt University
Artist in Residence, Chelsea Music Festival

2016

American Turkish Foundation, Moon and Stars Travel Art Grant
Vanderbilt University Summer Research Scholar Grant
Audience Award, Best Documentary, New Filmmakers, Anthology Archives
Juried Documentary Prize, Athens International Film and Video Festival

2015

Vanderbilt University Littlejohn Faculty Fellow
Artist-in-residence at the Centre for Research and Creativity Casamarles, Llorenç del Penedès, Spain
Keynote Speaker and Artist-in-residence, Oneota Film Festival, Decorah, Iowa

2014

Obermann Center for Advanced Studies: Summer Research Fellow

2013

Vanderbilt Summer Research Scholar Grant
Vanderbilt Cumberland Project Faculty Fellow
Artist-in-residence at N.E.S., Skagaströnd, Iceland
Vanderbilt Center for Teaching Junior Faculty Fellow

2012

Director of photography for "The Invisible Being," an NEH funded digital humanities project about contemporary Thai artists/filmmakers.
Artist-in-residence for the Department of Art Enrichment Series at Otterbein University
Artist-in-residence in Ciudad Colón, Costa Rica
Artist-in-residence in Truth or Consequences, New Mexico

2010

Ingram Scholar Faculty Fellow
Imagining America Critical Exchange Grant