Ph.D. in Astrophysics Degree Requirements
Graduate students are also subject to all regulations imposed by the Graduate School found in the Bulletin of the Graduate School and/or on the Graduate School website. The regulations and requirements of the astrophysics Ph.D. degree program are set forth in the Astrophysics Ph.D. Requirements Guide.
Astrophysics Degree Requirements
Completion of the Ph.D. requires:
1. Completion of 28 hours of formal course work including:
Five core courses covering the foundations of astrophysics totaling 16 credit hours

Additional graduate-level courses to make a total of 12 credit hours in any subject relevant to the student's overall program of graduate study and research

Earning a grade of B or higher in each course counted towards these 28 hours
2. Successfully passing the Qualifying Examination to become a doctoral candidate
3. Completion of a sufficient number of research credit hours to meet the total of 72 hours of credit requirement of the Graduate School
See the requirements guide for full details.
Timetable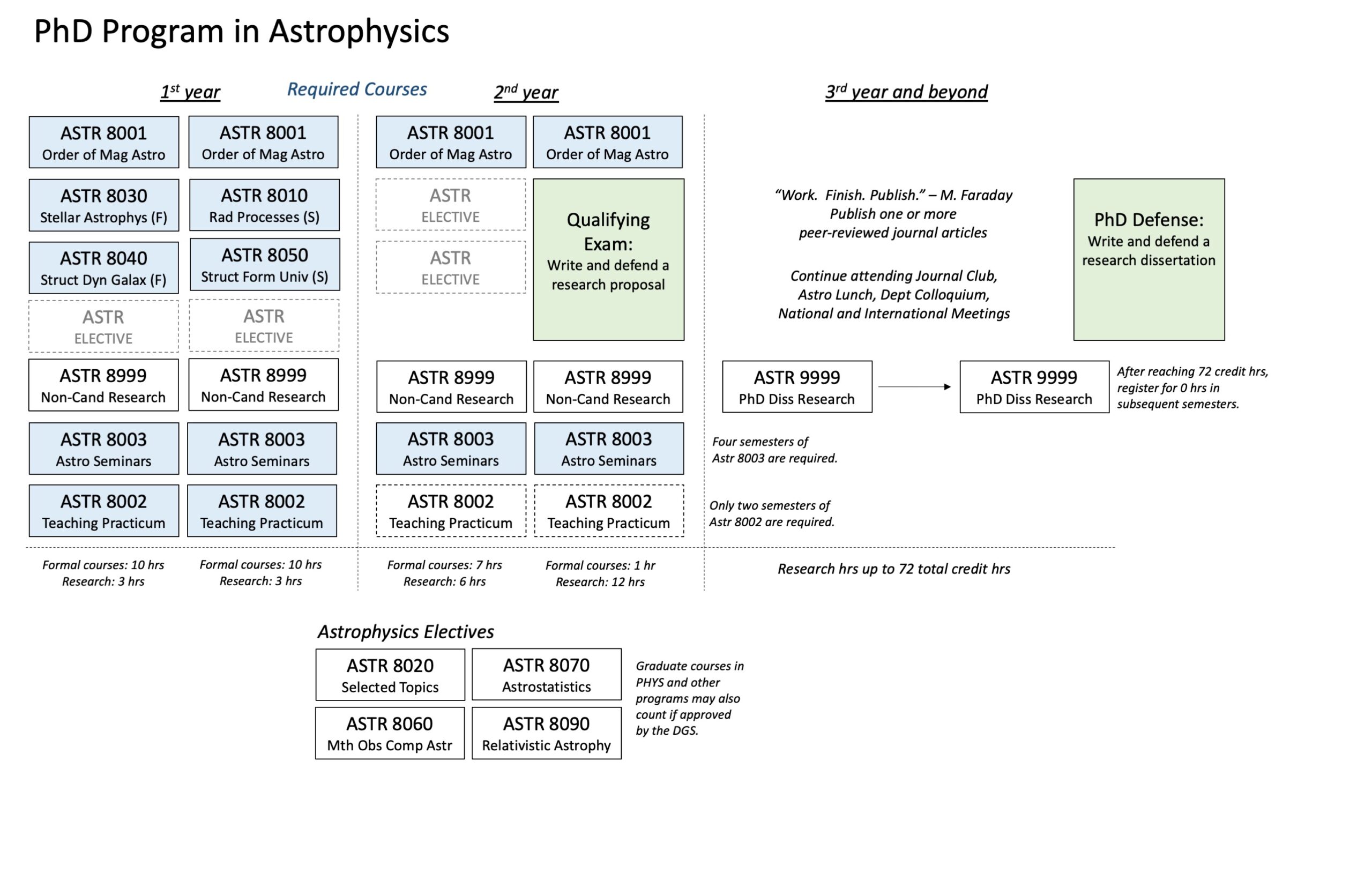 Download PDF version here.
Master's Degree Requirements
The Department of Physics & Astronomy does not admit students seeking a terminal master's degree, but one can be earned en route to the Ph.D.
Non-Thesis Option (for Ph.D. candidates who desire to earn a master's degree en route)
Earn a B average in 42 credit hours of graduate study, four hours of which must be in Physics 8999 or Physics 9999
Pass the Ph.D. Qualifying Exam
Submit a brief report on one's research experience
Thesis Option (an alternative for students who decide not to complete the Ph.D. program)
Complete, and earn a B average or better in, at least 24 credit hours of formal coursework, of which at least six hours must be in a minor field or fields related to the major, and of which at least 9 hours must be coursework above the 8000 level
Complete a research project approved by the department
Submit a thesis on this work, which must be accepted
The degree requires one academic year or its equivalent of residence at Vanderbilt University.