Aid and Awards
Jones Scholarship
The scholarship was established in 1985 by Professor Emeritus Ernest A. Jones; his two sons, Dr. Phillip R. Jones and Dr. Bruce E. Jones; and Mary Slack. Professor Jones taught physics and astronomy at Vanderbilt from 1951 to 1985. The scholarship aims to increase the number of students majoring in physics and astronomy and to strengthen the programs. It may be awarded to a freshman or sophomore who indicates an interest in majoring in physics or physics/astronomy or to a junior or senior who has declared a major in physics or physics/astronomy. Recipients receive a financial award.
The criteria for this award, established by the Undergraduate Program Committee and in order of importance, are:
Emphasis on encouraging students to major in physics
Current freshman or sophomore
GPA in technical courses, particularly physics
Overall GPA
Involvement in research
All students in P1911 or P2255 will automatically be considered; students in other courses will be considered if nominated by a member of the physics faculty. The UPC should have reasonable confidence that the recipient intends to major in physics.
2022 Recipients
Brian R. Campe
Nolan A. McPhaul
Anthony C. Muñoz
William A. and Nancy F. McMinn Honor Scholarship in the Natural Sciences
The scholarship was established in 1993 by Mr. William A. McMinn, Jr., and his wife, Nancy, to benefit outstanding students majoring in natural sciences.
2022 Recipients
Kasie Azie
Kaitlyn Lane
Olivia Ward
Guy and Rebecca Forman Scholarship
In 1986, Professor Guy Forman and his wife Rebecca Forman provided the initial endowment to establish an award at Vanderbilt University to be given annually to recognize outstanding accomplishments in the teaching of physics at the undergraduate level. In addition, this endowment can be used to fund scholarships for undergraduate physics students.
2022 Recipients
Patrick Hu
Sean Collins
Brennan Ferrington
Yaqiong Xu Best Publication
The Yaqiong Xu Best Publication award is for the most outstanding papers or conference presentations.
2022 Recipients
Chenhang 'Henry' Huang, Two electrons in harmonic confinement coupled to light in a cavity, C Huang, A Ahrens, M Beutel, K Varga – Physical Review B, 2021.
Matthew Beutel, Deformed explicitly correlated Gaussians, M Beutel, A Ahrens, C Huang, Y Suzuki, K Varga – The Journal of Chemical Physics, 2021.
Underwood Award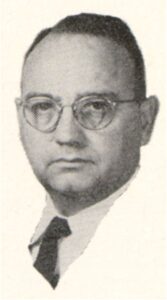 Newton Underwood, who taught physics from 1936 until 1950, established this award in 1961 to honor the memory of his father, Judge Emory Marvin Underwood. A graduate in the class of 1900, he received a law degree in 1902 and served on the Vanderbilt University Board of Trust from 1922 until his death in 1960. In establishing this award, Newton Underwood sought to recognize the most deserving and promising graduating senior or graduate student majoring in physics.
The criteria for this award, as established by the Undergraduate Program Committee and in order of importance, are:
Graduating senior
GPA in technical courses
Overall GPA
Involvement in research
Department service (office in SPS, etc.)
2022 recipients
Hannah Anderson
Luke Bhan
Elijah Sheridan
Larry Ross Cathey Award
Endowed in 1974 in memory of Larry Ross Cathey, BA'66, MA'68, Ph.D. University of Santa Cruz, 1974. It is awarded to an outstanding undergraduate student who has completed the astronomy minor and or a student who has shown evidence of interest and enthusiasm for astronomy. Traditionally this award has been given to a graduating senior. Recipients are provided a financial award.
The criteria for this award, established by the Undergraduate Program Committee and in order of importance, are:
Completion of (or in the process of completing) the astronomy minor or a physics major who will have completed at least three courses in astronomy. These must be 3- or 4-credit hour courses, and at least one of these must be at the 2000 level. In exceptional circumstances, a student who does not meet the above two criteria may be considered for the award. This student must have taken a substantial number of the astronomy course offerings realistically available to him or her, and in any event it must equal or exceed four 3-credit hour courses. Additionally, the student who receives the award without meeting either of the first two criteria must have shown some evidence of interest and enthusiasm for astronomy above and beyond coursework, sufficient to recommend him or her to the committee for this award.
GPA in physics and astronomy
Involvement in research
2022 Recipients
Katharine Cella
Qiaohong 'Joanna' Wang