Vanderbilt announces new program in Asian American and Asian Diaspora Studies
The College of Arts and Science has launched a new undergraduate program in Asian American and Asian Diaspora (AAAD) Studies, including both a major and a minor, in spring 2023. The new program, housed in the Department of Asian Studies, aims to provide students with a more comprehensive knowledge of Asian diaspora and perspectives, Asian and U.S. history, and race relations in the United States.
The program's relevance is paramount in the wake of recent anti-Asian violence and rhetoric during the COVID-19 pandemic. In addition, the Asian American student population at Vanderbilt doubled from 2013 to 2020, growing from 8% to 16% of the total undergraduate population. Due to these factors, students, faculty, and the administration agreed that the university needed an intellectual and institutional space for the study of Asian American histories and issues.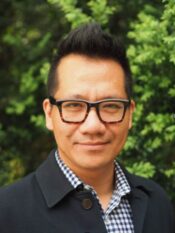 "This program is arriving at a critical time in our history," said Ben Tran, acting chair of the Department of Asian Studies and associate professor of Asian Studies and English. "The advocacy for Asian American studies not only reflects the increased population on campus, and the increased demand on campus, but also the rising political and social significance of the fastest-growing demographic in the United States."
The Atlanta shootings in March 2021 prompted the Vanderbilt community to think deeply about how best to support its Asian American community. Students advocated strongly for increased supports and inclusive spaces for AAPI populations, as well as for a new program and increased course offerings in the field. The college immediately started planning the AAAD Studies major and minor as well as making significant new faculty hires that advance Asian American studies across campus—both efforts which incorporated student participation. Vivian Shaw joined the university in fall 2021 as Mellon Assistant Professor of Asian Studies, teaching innovative courses on sociology, politics, and environmental studies, and leading the AAPI COVID-19 Project. Mark Sanchez was hired as an assistant professor of Asian Studies, with expertise in Asian American history. Assistant Professor of English Huan He will teach Asian American literature and culture beginning fall 2023.
"The new Asian American and Asian Diaspora Studies program fills an important need in the Vanderbilt community," said John G. Geer, Ginny and Conner Searcy Dean of the College of Arts and Science. "The program will connect our campus through promoting interdisciplinary scholarship, teaching cultural competencies, and preparing students for a multicultural and globalized world. The movement—which was impressively led primarily by students—underscores the community's commitment to equity, diversity, and inclusion."
The movement also led Vanderbilt to unveil a number of initiatives supporting the Asian American community, including new affinity groups for alumni and employees, an AAPI Identity Initiative, and an AAPI Racial Justice Toolkit.
Though it's been roughly a year and a half since the initial outpouring of support, the new major and minor were approved in record time, according to Tran. Students will be able to graduate with a major or minor in AAAD as early as spring 2024, due to the fact that all of the courses that satisfy the major are already being offered.
In order to graduate, students must complete 36 total credit hours from the Asian Studies course list—which includes courses in history, diaspora studies, culture, art and literature, science and technology, politics, religion, and many other topical areas. The program has several unique components, the first of which is the requirement to study an Asian language. This allows students to not only gain historical and culture knowledge of Asian America, but also to understand, through the lens of languages, the historical, social, and cultural connections to the Asian American diasporas. The program also uniquely incorporates a comparative approach, including study of African and other Asian diasporas. Additionally, the program incorporates a broad historical angle, providing a comprehensive history of the United States and beyond. For this reason, Tran believes the major will appeal to a wide range of students.
"Every Vanderbilt student can benefit from this program," said Tran. "While it was spurred by tragic events, I believe it will foster greater knowledge, scholarship, understanding, and acceptance among all students. And this is critical, because they are the future leaders who will go out and create positive change in our world."
Watch professor Vivian Shaw discuss the importance of this new major.