Vanderbilt LGBTQ+ Policy Lab founders conduct first research on health effects of legal same-sex marriage
NASHVILLE, Tenn.—Leaders of Vanderbilt's LGBTQ+ Policy Lab have provided the first comprehensive evidence on the effects of access to legal same-sex marriage. Their efforts revealed that marriage access impacted the LGBTQ+ community positively in multiple ways.
The first-of-its-kind study, published last year, analyzed aspects of both marriage and health in same-sex households following the full rollout of marriage equality across the United States. For gay men especially, results revealed an increase in both becoming married and having significantly improved health care access.
"Not only did it increase their health insurance coverage, but it also increased their access to care," said Christopher Carpenter, LGBTQ+ Policy Lab Director, E. Bronson Ingram Chair, and professor of economics. "Insurance coverage is not enough. It's good, but it doesn't get you all the way there. What you need is for people to use that coverage to access physicians. When legal same-sex marriage came to an individuals' state, what we found is that individuals in same-sex households were more likely to say that they sought care and had a doctor."
The study, conducted by Carpenter; Gilbert Gonzales, lab associate director and assistant professor of medicine, health, and society; Tara McKay, lab associate director and assistant professor of medicine, health, and policy; and Samuel Eppink, then a College of Arts and Science graduate student in economics, was published in the Journal of Policy and Management. The findings build upon earlier work done by Gonzales showing that once same-sex marriage became legal in the state of New York, significant increases in health insurance coverage for same-sex couples followed.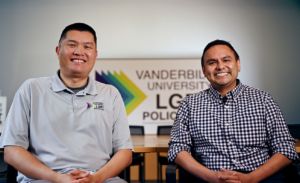 The research also proved that there is demand for marriage among the LGBT community. While it might seem obvious that marriage rates increased for same-sex couples after it became legal, a narrative surfaced during the policy debate telling a story that the LGBT community lacked desire to get married at all—a theory that has since been refuted.
The significance of the research is especially timely considering the national magnifying lens currently aimed at privacy rights. Scrutiny surrounding abortion and contraception puts related privacy rights, like same-sex marriage, in a vulnerable position.
"Many of the major advances in gay rights in the United States came from the Supreme Court, and they came from the Supreme Court explicitly overturning previous decisions of the Supreme Court," Carpenter said. "It's not at all uncommon that precedent is undone, and so it's not crazy to think that same-sex marriage, which came through the Supreme Court at a national level, might also be re-examined."
The relevance of the policy evaluation work is particularly important because it quantitatively suggests that if laws on same-sex marriage were reversed, it would produce the opposite effect to health outcomes.
"It is very plausible that if you take away legal access to same-sex marriage that people would potentially lose health insurance and access to care, and we'd see adverse effects on health, which access to care affords," Carpenter said.
"It is very plausible that if you take away legal access to same-sex marriage that people would potentially lose health insurance and access to care, and we'd see adverse effects on health, which access to care affords."
The LGBTQ+ Policy Lab's work is in high demand. This is partly because the topics they tackle tend to be part of the current national conversation, and partly because much of their research analyzes social issues in a quantitative way—providing critical information that hasn't been available previously. For an entity that strives to make a difference through policy making, bridging this gap in how social issue research is conducted is paramount.
"A lot of our public policies are informed by quantitative research," Gonzales said. "Things like unemployment insurance, or mental health during the COVID pandemic. We only know we're in a mental health crisis right now because we track those data and monitor it quantitatively. That's why it's important to use data and quantitative analysis for LGBTQ policies and people. Without doing so, it would be somewhat erased from the conversation."
Many of the issues the group studies are "hot button topics" on which people have deeply held views.
"So much of the debate is not really based in data and science," Carpenter said. "By bringing to these debates numbers from surveys, administrative data, experiments, sources that are as objective as possible about topics that people have very passionate views about, I think it lowers the temperature in the room and brings everyone together with a shared set of understandings and evidence. We want to be very clear and careful about the things we can and cannot say about the data, and I think that is a hallmark of excellent policy research and something we strive for here in the lab."
The lab, located on the third floor of Buttrick Hall, has grown to include more than a dozen professors, post-docs, and graduate students. In addition to conducting major research in areas of need, multiple undergraduate classes are held directly within the lab. They also host seminars through the year, and leaders lend themselves to speak about their research and LGBTQ issues across campus and beyond.
One of the springboards for the lab was more than $1 million in funding from the Robert Wood Johnson Foundation, a five-year commitment that ends this summer. The study on same-sex marriage was just one of four pieces of research made possible by RWJF grants. The influx of support came at a key moment for the lab, helping them formalize their infrastructure and grow.
"We are incredibly indebted to the Robert Wood Johnson Foundation for their five years of very substantial support at the most critical time of our policy lab experience," Carpenter said. "Their backing has been vital in allowing us to provide policymakers with sound, evidence-based research that has a real and lasting impact on the LGBTQ community."