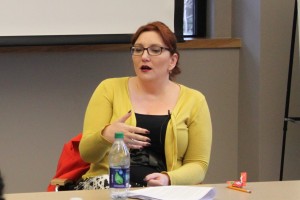 On February 8, 2016, CLAS welcomed Emma Christopher from the University of Technology Sydney to Nashville to present alongside screenings of her critically acclaimed documentary film They Are We. The film highlights the proud members of a small Afro-Cuban ethnic group in Central Cuba, the Gangá-Longobá, and how they became reconnected with their distant relatives and ancestors in Sierra Leone.
CLAS hosted a Black History Month educator workshop for K-16 teachers about integrating film, Afro-Cuban history, culture and identity into the classroom. Teachers attended a screening of They Are We, followed by a dynamic presentation from the filmmaker Emma Christopher entitled "Questions of Memory and History in Cuba and Sierra Leone," which is available through CLAS Podcasts.  Jane Landers, Vanderbilt historian and director of the Ecclesiastical and Secular Sources for Slave Societies Digital Archive (ESSS), shared "Preserving Cuba's African History Digitally." Language Technology Specialist from the University of Oregon and CLAS Advisory Board Teacher, Stephanie Knight, shared free, interactive resources for use in the classroom.
Later that same day, the film was screened at Bishop Joseph Johnson Black Cultural Center Auditorium followed by a reception. This event was sponsored by the Robert Penn Warren Center for the Humanities, Circum-Atlantic Studies Seminar, the Center for Latin American Studies, the Department of History and the Bishop Joseph Johnson Black Cultural Center.