From the Chair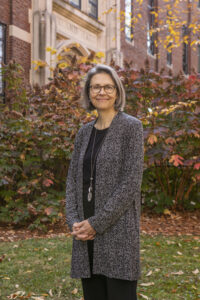 Welcome to Vanderbilt's Department of Sociology! We are a group of diverse and highly engaged faculty and students who are curious about making sense of human behavior in social contexts and understanding—and improving—our rapidly changing world.
We offer two undergraduate majors: one in sociology and the other in environmental sociology. Our courses are organized into four substantive areas:
Culture, institutions, and socialization
Health, environment, population, and migration
Politics, law, and conflict
Race, ethnicity, and gender
Our undergraduate program offers a rich course selection and unique opportunities to get involved in research. Undergraduate sociology majors routinely participate in faculty research projects and a good number of our students pursue independent research with faculty guidance. With foundational knowledge that applies to any number of professional fields, our graduates are prepared to succeed in a wide range of careers.
Our top-ranked Ph.D. program offers personalized instruction and mentorship from faculty who are leading scholars in their fields and are committed to developing the next generation of academic sociologists. We train students in both a) the sociology of health and medicine, and b) social movements, power, and social change. Our intellectually vibrant program offers mentoring that prepares our students for competitive academic jobs, and recent Ph.D.s hold assistant professorships at top universities.
Through their teaching and research, our distinguished faculty provide unique perspectives and expertise in a variety of sociological areas, including:
Culture
Demography
Environment
Health and medicine
Race, ethnicity, and gender
Social movements and political power
Work and occupations
We hope you will find your home in the Department of Sociology. If you have any questions, please don't hesitate to contact us.
Sincerely,

Cornelius Vanderbilt Chair of Sociology
Professor Holly McCammon
Chair, Department of Sociology