New collaborative research project seeks improved treatment for cystic fibrosis
Lars Plate, assistant professor of chemistry and biological sciences, has received a $2.76 million collaborative grant to investigate medical therapy for people with cystic fibrosis. The interdisciplinary project brings together teams with varied expertise in computational structural biology, proteomics, biophysics, and physiology in hopes of improving the quality of life for those afflicted with the genetic disease.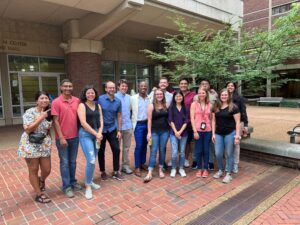 The National Heart, Lung, and Blood Institute, a division of the National Institutes of Health, awarded the four-year grant that pulls together diverse teams of scientists to move key research forward. Plate and Jonathan Schlebach of Purdue University serve as principal investigators on the project, with Jens Meiler, research professor of chemistry at Vanderbilt, and Kathryn Oliver of Emory University Medical School as co-investigators.
"Dr. Meiler and I have already had a very fruitful collaboration over the past five years," Plate said. "We have collaborated on computational structural modeling of the cystic fibrosis transmembrane conductance regulator (CFTR) ion channel protein and mass spectrometry studies to learn how destabilizing mutations that give rise to cystic fibrosis impact protein interactions and the cellular protein folding landscape. This grant will allow us to further expand this project and leverage additional expertise from the Schlebach and Oliver labs."
Cystic fibrosis is a progressive, genetic disease that affects the lungs, pancreas, and other organs. According to the Cystic Fibrosis Foundation, there are around 40,000 children and adults living with cystic fibrosis in the United States.
Cystic fibrosis occurs when the CFTR protein is either not made correctly, or not made at all. By understanding how the protein is produced, assembled, and delivered to the cell surface, scientists have been able to develop treatments that target the protein and restore its function. While several therapeutics have revolutionized the treatment of cystic fibrosis, the optimal combination of drugs for each patient depends on the nature of their specific genetic variations, and the optimal therapeutic combinations have yet to be determined for the hundreds of known cystic fibrosis variants.
Plate and the other labs will work to match medications to the specific CFTR variants, improving treatment for people with cystic fibrosis.
"We are excited about this grant to further solidify the productive collaboration between our labs and make an impact on cystic fibrosis therapies," Plate said. "Our findings have the potential to improve precision medicine for cystic fibrosis patients to better match existing and newly emerging therapeutics with their genetic profile."