Love for health education sends CV Scholar Suman Mohanty to India
Cornelius Vanderbilt Scholar Suman Mohanty, BA'25, spent her winter break doing something she's always dreamed of—supporting a community she loves through teaching and medicine.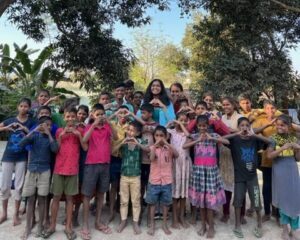 Mohanty, a second-year medicine, health, and society and child development double major, traveled to the Dr. Isac Santra Balniketan Child Care Institution, an orphanage in Sambalpur, India, to teach children about health and hygiene. She created the immersive independent project herself, using her Cornelius Vanderbilt scholarship stipend to pay for the trip.
"This trip is always something I've wanted to do because I'm super invested in health equity," Mohanty said. "As an aspiring pediatrician and global health researcher, I find it critical to devote my time and energy toward advancing health education, healthcare access, and healthcare in general."
Mohanty, who is also minoring in Spanish, spoke to the children in Odia, the principal language of the state of Odisha, where the orphanage is located. She learned Odia as a young child from her grandmother. Children referred to her as "Suman nani," which means elder sister in Odia.
The orphanage is home to nearly 80 children ranging in ages from three to 18. Mohanty taught two lessons each day, and also had the opportunity to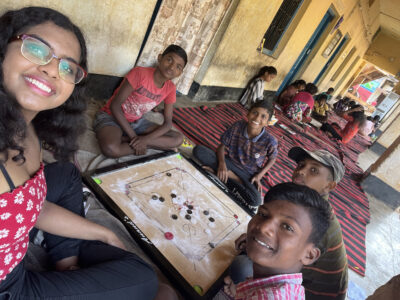 play with the children and learn their traditional games.
Mohanty was able to provide essential medical supplies and toys to the orphanage through money she's earned by working as a medical researcher. Much of what she taught the children revolved around the proper use of the supplies and good hygiene.
"Several kids came up to me and showed me the injuries they had," Mohanty said. "One of my young students even brought his friends to me, asking about the ointments and bandages, as he knew his friends had severe rashes that needed to be taken care of. These moments really highlighted the importance of health education. They just needed to know what they're supposed to do if they're sick or hurt so they could seek out help and get better."
Back at Vanderbilt, Mohanty is deeply invested in her community: she conducts research on Down Syndrome and other developmental disabilities; serves as the president-elect of Health, Education, Advocacy, and Leadership VU (HEAL VU); is vice president of Vandy UNICEF; is a founding board member and treasurer of the Vandy American Medical Student Association (AMSA); serves as the membership program director of the College Scholars Council; and is the community building chair of Vandy Partners in Health Engage.
Through HEAL VU, she organizes fundraisers to support the orphanage, which she hopes to return to soon. In the meantime, technology is helping her keep in touch with the children.
"I'm able to message and video chat with the kids often," Mohanty said. "I talk to them about how their days are going and what they're learning in school. I was able to show them my college dorm and they asked to virtually meet some of my friends, so that was fun. It's just like having a bunch more awesome younger siblings."