Learning Assistants program increases student belonging and interest in STEM fields
Introductory STEM courses can be both large and challenging. At a world-class university like Vanderbilt, the content is rigorous, and students enter with varied levels of knowledge. Some end up feeling lost and as if they are the only ones struggling, and these feelings can be magnified among underrepresented and first-generation students. To address this challenge, several STEM departments have launched an innovative new Learning Assistants program.
Learning Assistants (LAs) are peer educators who work alongside students and faculty in courses they've previously taken. They facilitate students' learning, increase their sense of belonging, reduce their feelings of isolation, and provide them with inspirational role models—with the ultimate goal of maintaining their interest in STEM fields. While TAs typically provide content-oriented support, LAs are focused on the learning process: supporting students as they reflect on what they do and don't understand and helping students uncover their thinking. They might do this by implementing active learning strategies, moderating small-group discussions, or serving as a sounding board for students' ideas. The interdisciplinary and trans-institutional effort is spearheaded by a leadership team consisting of Cynthia Brame (A&S), Kathy Friedman (A&S), Thomas Clements (A&S), Jessica Watkins (Peabody), and Heather Johnson (Peabody).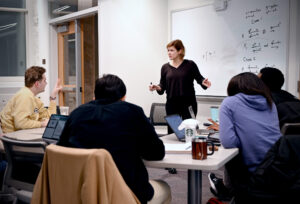 "We've found repeatedly that incorporating LAs increases students' sense of belonging in introductory STEM courses," Brame said, referencing research published in 2022. "And others' work suggests that increasing students' sense of belonging can lead to increased retention of students in STEM pathways."
This is particularly important for improving diversity and representation in STEM, where students might feel more inclined to switch to other fields. Brame, Johnson, and Cristina Zepeda, assistant professor of psychology and human development, recently received a National Science Foundation award that will allow them to identify factors that maximize the impact of the LA program for students in underserved populations.
In addition to practical benefits, Brame emphasizes the inherent value of feeling like part of a community in STEM courses.
"Of course, a sense of belonging is beneficial in its own right," Brame said. "We want students to complete their STEM courses loving science and feeling that it's valuable for them in how they think about the world."
The Learning Assistants program, adapted from a model developed at the University of Colorado Boulder, began at Vanderbilt in fall 2019 with an introductory biological sciences course taught by Clements and Stevenson Chair Todd Graham. That same semester, Watkins developed a pedagogy course to support the LAs in their role. Due to its initial success, and in collaboration with Peabody's Department of Teaching and Learning, the LA program has expanded to courses in physics, chemistry, and Earth and environmental sciences, as well as some intermediate courses in psychology and neuroscience. In fall 2022, more than 80 LAs were at work in science classrooms and approximately 1,300 students were benefitting from LA-supported courses. Efforts are ongoing to expand this coverage to math through the affiliated Course Assistant program, led by Alice Mark, senior lecturer in the Department of Mathematics. In parallel, introductory psychology courses are benefitting from a similar model of peer instruction.
Friedman testified to the impact of LAs on her teaching.
"In the classroom, we can practice science as a way of thinking in a manner that we just couldn't do before Learning Assistants," Friedman said. "I used to expect students to connect concepts on their own while they were sitting in their dorm room, or maybe find a few friends to do it with. Now, with LAs, we give them that structure to do the work together."
Brame agreed, citing the fact that almost all instructors who have worked with LAs have shifted the way they teach to incorporate more active learning and are constantly innovating within their classrooms. Additionally, the LA program has galvanized new faculty collaborations through the LA instructor learning community.
"The use of LAs has been a crystallizing factor for faculty working together," Brame said.
Students who wish to serve as learning assistants must apply, interview, and, once accepted, enroll in a mandatory pedagogy course. The pedagogy course itself incorporates returning, lead LAs as peer mentors, which helps the program support its own growth along a transgenerational path. Students who serve as LAs describe the experience as transformative and rewarding for them, as well, as they see the impact they are having on students—both in the classroom and beyond.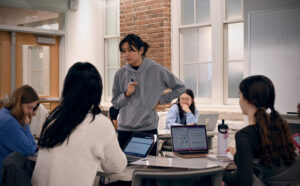 "One of my favorite memories was a student I LA'd for in Intro Bio, who later came up to me in the library and asked, 'Oh, do you think I should apply to this research program?'," said Cassandra Atzrodt, BA'23, an organic chemistry LA who also served as a lead LA in the pedagogy course. "I feel like that's proof of concept for the program right there—giving that student someone to look up to, someone who's a calming presence in the face of STEM stress. Sometimes, in a STEM class, you don't even know what questions you have, but conversations with your learning assistant might reveal them and help you move forward."
This sentiment was echoed by former LA Melissa Goldin, BA'22, who is now enrolled in Vanderbilt Medical School.
"As a student, the LA program taught me how to be okay with being wrong and how to put my thinking out there in a way I might not usually do in a large lecture classroom," Goldin said. "As an LA, I was then able to foster those classroom relationships in a fulfilling way and help people not only succeed academically, but also feel like they have a community in science."
This science community—the bonds formed between students, LAs, and professors—is exactly the intended effect that Brame, Friedman, and others on the leadership team hoped to see from the program. As the Learning Assistants program expands into other departments across campus, the community and the innovation it inspires will only continue to grow.
"Having LAs in the classroom facilitates students working together on challenging problems to better their understanding," said Brame. "And these relationships in the classroom then foster more belonging. When students talk about how that changes for them, it's really heartwarming and eye-opening."