Immersion and Study Abroad
Immersion Is … your opportunity to study German or Russian language, culture, and history up close and allow yourself to be transformed by this unique experience. The Department of German, Russian and East European Studies offers numerous opportunities to study abroad and engage with different cultures on site. Most of these programs can serve students to fulfill the new Immersion requirement.
Student Stories | Study Abroad | Other Immersion Experiences
Student Stories
Yining Ding '22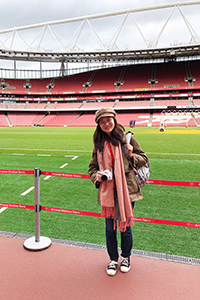 Yining Ding, a cognitive studies major, minor in German studies and computer science, and a resident of the German Hall in McTyeire International House, traveled to England with her professors and classmates to study European soccer culture. There, she visited several soccer museums and stadiums, including the Liverpool arena, where she witnessed the famous phenomenon of fans singing "You'll Never Walk Alone." Along with her class, Ding also got to interview hardcore soccer fans, stadium volunteers, and reporters from sports media, in order to hear their personal stories about soccer. 
"I not only collected some first-hand materials for my [Immersion] project, but I also gained a more comprehensive understanding about soccer and soccer fan culture in England," Yining said
Ding is currently completing an audio-visual project based on her research experience to complete her Immersion requirement.
Taylor Wilson '17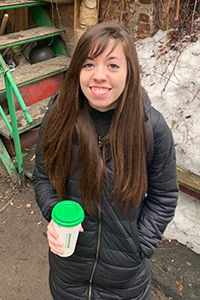 During her time at Vanderbilt, Taylor spent a week in Vladimir, Russia, on an alternative spring break trip. She was a resident of the Russian Hall in McTyeire International House hat Vanderbilt and also studied in St. Petersburg through the CIEE Russian language program. After earning her B.A. in Russian at Vanderbilt, she worked as an ESL teacher for two years at The American Home in Vladimir, Russia. She is currently an M.A. student at the University of Washington in the department of Slavic Languages and Literatures.
"The breadth of my education at Vanderbilt stoked my curiosity to learn more about the world at large and encouraged me to live abroad" Taylor says. "The connections I made at Vanderbilt helped me find my former job in Vladimir, which pushed me to grow personally as well as linguistically."
Study Abroad
The German, Russian, and East European Studies department offers several study abroad programs to enrich students' understanding of German and Russian language, history, politics, and culture. Interested students should contact the Global Education Office for more details.
Spring Semester in Bremen
Students who would like to spend a semester in a German-speaking country can receive Vanderbilt credit for study abroad in Bremen, a historic, midsized city in northwestern Germany. This is a language-based cultural immersion program: the main language of instruction is German, and students may take no more than two courses in English. Participants are fully enrolled at the host university and can become active members of the local and student community. The University of Bremen is particularly strong in Political Science, European Studies, Geoscience, Climate Science, and Health Science. Students live in dormitory style-apartments near the university, participate in excursions, and may complete internships during their stay. Vanderbilt financial aid applies to this program.
Year Abroad in Freiburg
Freiburg is a small, vibrant, historic university city in southwestern Germany. After taking a month-long intensive German language and culture course, students develop their own course of study with a combination of university and program-specific coursework. Students live in dormitories near the university and participate in cultural excursions offered by the program. The main language of instruction is German. Vanderbilt financial aid applies to this program.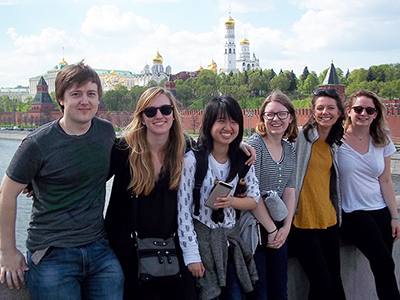 Maymester in Russia
Vanderbilt's popular VISAGE Russia program includes academic study such as basic Russian lessons, interaction with Russian university students who are studying English, and lectures and presentations. The program also provides a variety of cultural experiences, including community service; home stays; excursions to UNESCO World Heritage Sites, Moscow, and St. Petersburg; and weekends at a dacha and in a rural village.
Bard-Smolny in St. Petersburg
One of the most fascinating cities in Russia, St. Petersburg is known for its rich history and its spectacular white nights. This program offers direct credit for summer-, semester- and year-long study in the city. 
Other Immersion Experiences
Soccer: Media, Art, Society
In a series of cross-cultural case studies, this course investigate the game's relationship to issues such as political power, globalization, gender, migration, economic and social inequality, national identity, and transnational commerce. It will discuss the history of the game and the development of its tactics, as much as we will study the particularities of soccer in Germany, Spain, England, and the United States. Funds provided through an Immersion Grant will allow us to take 6-7 students to London and Manchester over spring break to conduct research on soccer on site as part of an ongoing or future Immersion project. (Offered in spring 2020 and fall 2021).