Career Outcomes
Your Success Story Is Waiting. A sustained engagement with another language and culture expands your horizons, opens up your thinking, and creates pathways for creative and compassionate interaction with the world. The study of German or Russian language and culture provides some of the richest and most rewarding cultural experiences the humanities has to offer.
Alumni Stories
Molly Wells, BA '21 (German Studies & Religious studies)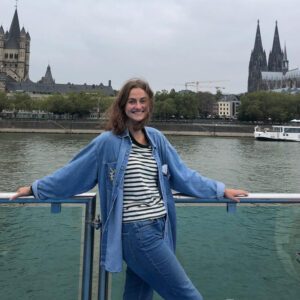 "The German department at Vandy sparked a love for languages which eventually allowed me to graduate with a double major in German Studies. I particularly enjoyed how we could have intellectual discussions about a variety of interesting topics (whether related specifically to German culture or not) in classes in German. I am currently participating in the Congress Bundestag Youth Exchange for Young Professionals, through which I took a C1 language course in Cologne, am now studying at Philipps-Universität Marburg and will begin an internship in February 2022.  My hope is to pursue my master's degree in religious studies in Germany starting in the fall of 2022."
Monika Weisman, BA '16
J.D./M.A. '21, The University of Chicago; Incoming Associate, WilmerHale
"Despite being a native Nashvillian, when I arrived at Vanderbilt, I entered a whole new world—one that, as a first-generation college student, I had no clue how to navigate," Monika says. With the support of faculty mentors and the structured flexibility of the AXLE curriculum, however, she developed confidence, honed her analytical skills, and found her niche at McTyeire International House while taking numerous German Studies courses, studying abroad in Germany, and pursuing a double major in Psychology and European Studies. Now a student at the University of Chicago Law School and Committee on International Relations, Monika credits her time at Vanderbilt with helping her articulate her desire to work at the intersection of international law and policy. 
Devon Akers, BA '15  (Russian studies)
Senior Software Engineer, Capitol One
A Russian Studies and Philosophy major, Devon is now a Washington, D.C.-based software engineer for one of the nation's biggest banks.
"Studying Russian at Vanderbilt gave me so many more skills than just the language. I learned to think critically, and now I can apply a rigorous thought process to solve any problem I come across," he says. "My background in Russian was also very useful as I learned to speak new languages–programming languages. The fact that my education prepared me for my career, even though it seems to be unrelated, speaks volumes about the quality of education I received."
Bonnie Pang, BA '19 (Russian Studies)
ESL Teacher, Japan
For Bonnie, a Russian Studies and English double-major, studying Russian at Vanderbilt was about more than just learning a foreign language. It was also a chance to look at language, communication, and culture through a new lens.
"I gained a greater awareness of how I was using English to express myself and convey ideas," Bonnie says. "I also gained exposure to and a better understanding of a country that I knew very little about before university. These insights have served me well as I teach English abroad."
Mark Pettus, BA'00 (Russian studies)
Ph.D.'09, Princeton University; Lecturer, Princeton University 
As a first-year Vanderbilt undergraduate, Mark signed up for a seminar on the Russian novelist Fyodor Dostoevsky out of sheer curiosity. He was so impressed by this first encounter with Russian literature that he was determined to read it one day in the original. The following semester, he signed up for Russian 101.
Ultimately majoring in German and History, Marked also earned a minor in Russian. He won a coveted Fulbright Fellowship, which enabled him to spend a year in St. Petersburg after graduation, and went on to earn his Ph.D. in Slavic at Princeton University. He wrote his dissertation on Dostoevsky, of course.
After two years working as a translator in Russia, Mark joined the Princeton faculty in 2011. He teaches Russian, Czech, and Polish language courses, with a heavy emphasis on literature, culture, and history. He has also written a series of Russian language textbooks. He says that the appreciation he learned at Vanderbilt for both Slavic and Germanic languages and literatures, and the wonderful professors who taught him there, continue to inspire his own teaching today.