Jacquelyn Olson, BA'20: Exploring German and Austrian Culture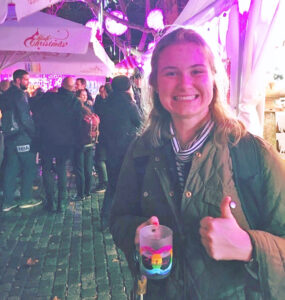 Jacquelyn Olson–a German Studies and Law, History, and Society double major–began studying German her first year at Vanderbilt and lived on the German hall at McTyeire International House. Now a Fulbright scholar in Vienna, Austria, she says her language skills have been crucial in helping her navigate a new country. Even more important? The confidence and sense of adventure she learned through cultural experiences in the German, Russian and East European Studies department.
From crafting a punny costume for the department's Halloween party (she and a friend went dressed as Jackie O. and a pastry, respectively, to reference John F. Kennedy's 1963 "Ich bin ein Berliner" speech) to presenting her research at the biannual German Graduate Conference, she found community and encouragement to enjoy her studies and reach for her highest ambitions.
"McTyeire and the GREES department were my two closest communities during my time at Vanderbilt," she says. "I am so fortunate that these two tight-knit families played such a profound role in my life. I'm looking forward to seeing where I go, thanks both to my German skills and to the other lessons I gained during my time at Vanderbilt. "