Prof. Oster: New technique unlocks ancient history of climate and wildfires recorded in California cave rocks
Data gained could help with fire activity predictions and environmental planning
NASHVILLE, Tenn. — A newly developed technique is revealing how prehistoric climate change shaped fire activity in California. The new data suggest that increased climate whiplash—change between extreme wetness and dryness—occurred at the same time as increases in fire activity in the region. Recent extreme weather events in California, including record-breaking rainfall in some areas in the past few weeks, raise the question of how ongoing climate uncertainty will translate to increased fire risks. Researchers hope the new information on climate patterns will inform future environmental planning.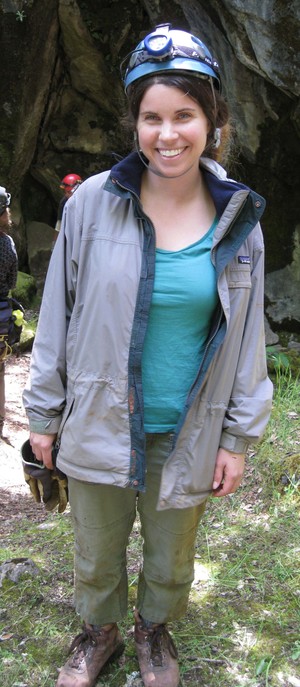 Jessica Oster, associate professor of Earth and environmental sciences, worked with scientists at Johannes-Gutenberg University of Mainz, Germany to develop and apply a new technique that allows researchers to reconstruct fire activity above caves based on chemicals trapped in stalagmites as they grow from water dripping from the soil and rocks above. With this new advancement, scientists can now measure unique chemicals in stalagmites to reveal fire activity from tens to hundreds of thousands of years ago. Previously, records of fire activity have mainly come from fire scars on tree rings, which can only show activity a few thousand years into the past, and charcoal in lake sediments, which are more difficult to reliably date than stalagmites.
"It's a unique fingerprint of fire activity," Oster said. "Our results are exciting because they not only demonstrate a method for investigating fire activity in stalagmite records, but they also link precipitation volatility and fire in a sensitive ecosystem. Understanding the relationship between climate change, vegetation, and fire in multiple climate states is important. If we don't have paleoclimate records such as these, we're limited to an understanding gleaned only from historical record. This opens a wide range of time periods and climate states that we can investigate."
The new method combines measurements of levoglucosan, a sugar molecule produced during the burning of vegetation, and lignin oxidation products which can tell researchers what kind of vegetation existed above the cave where the stalagmite grew. The stalagmite, collected from a cave in the coastal mountains near Santa Cruz, California, provided a combined picture of precipitation volatility, fire activity, and the vegetation community from around 8,200 years ago.
"We found that precipitation volatility increased, vegetation shifted to a woodier community, and fire activity increased at a time when other parts of the world were seeing abrupt decreases in temperature and changes in monsoons," Oster said. "Climate at that time was interesting. Melting ice sheets released fresh water into the North Atlantic, leading to ripple effects across the world. In particular, a 150-year-old cold snap affected the North Atlantic region. In California, we see this interval not as a cold period, but a time of volatile precipitation and increased fire. "
Oster notes that it is necessary to investigate records of abrupt climate change in the past.
"These results are important because increases in rainfall volatility and fire activity are predicted in California as a result of human-driven climate change. Our results highlight the link between climate change and fire, melting of ice sheets, and releases of meltwater into the North Atlantic. Today we are also seeing melting of ice sheets in the far northern latitudes due to human-driven climate change."
Researchers from Vanderbilt's Oster Lab, Johannes Gutenberg University of Mainz in Germany, and Northumbria University in the U.K. collaborated on the project with results recently published in Nature Communications. The teams plan to continue investigating climate-fire relationships from stalagmite records.
"We're hopeful these results can be useful for environmental planners and offer recognition of how fire activity can change with climate change," Oster said.
This work was supported by funding from NSF (AGS1554998) and the National Geographic Society (NGS-39815) to J.L.O. and the Karst Waters Institute to C.B.d.W. J.H. acknowledges financial support by the Max Planck Graduate Center Mainz. We thank Mike Davies and Bruce Rogers of the Western Cave Conservancy for guidance in the field and Susan Petrie of the Peninsula Open Space Trust for cave access.