Placements
Your Success Story Is Waiting. The Earth and Environmental Sciences graduate programs produce well-trained students who produce important research and go on to successful careers in their fields. Our students present their results at national and international meetings and publish their work in major journals.
Alumni Spotlight
Tamara Carley, MS'10 and phd'14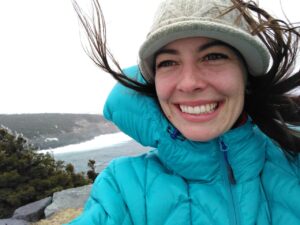 Dissertation: The generation and evolution of silicic magma and juvenile crust: Insight from the Icelandic zircon record
Associate Professor of Geology, Lafayette College
Tamara Carley studied environmental sciences as a Whitman College undergraduate and became interested in the Earth and Environmental Sciences Ph.D. program after meeting professor Calvin Miller at a Geological Society of America conference. A star researcher, Tamara won grants from the NSF, GSA, IBM, and more to further her studies of supervolcano destabilization, Icelandic rhyolites, and early Earth crust construction under the mentorship of Miller and Guil Gualda. 
"I always knew I wanted to become a geology professor at a liberal arts college like Whitman, and Vanderbilt was the perfect place for me to prepare for that career," Tamara says. By pairing her work in EES with fellowships at the Vanderbilt Center for Teaching, she was able to complete both the scientific and pedagogical training she needed to land her dream job. Now an associate professor in Lafayette College's Department of Geology and Environmental Geosciences, Tamara teaches classes in mineralogy, petrology, and geochemistry; leads field research in Iceland; and mentors her department's RUMBLE (Research Unit for Magma, Bedrock, Lava and Eruptions) research group.
Where Are They Now?
| Year Graduated | Current Position |
| --- | --- |
| 2020 | Post-doctoral fellow, University of Toronto Mississauga |
| 2019 | Research Scientist, U.S. Army Engineer Research and Development Center |
| 2019 | Assistant Professor, Wofford College |
| 2018 | Post-doctoral fellow, University of Florida |
| 2017 | Assistant Professor, Radford University |
| 2016 | Clastics Geologist, Shell Corporation |
| 2015 | Assistant Professor, Illinois State University |
| 2014 | Research Associate, Oklahoma Museum of Natural History |
| 2014 | Assistant Professor, Stanford University |
| 2014 | Assistant Professor, Hanover College |
| 2014 | Associate Professor, Lafayette College |
| 2013 | Associate at Abt Associates |
| 2013 | Assistant Professor, East Carolina University, Coastal Studies Inst. |
| 2012 | Post-doctoral fellow, NASA Lunar Planetary Institute |
| 2011 | Senior Lecturer, Vanderbilt University |
| 2010 | Assistant Professor, California State University, Fresno |
| 2007 | Senior Research Scientist, Arizona State University |
| 2006 | Tenured Professor at University of Edinburgh |