Placements
Your success story is waiting. A Vanderbilt political science Ph.D. opens doors. Our alumni obtain placements in some of the most prestigious universities and institutions across the U.S. and around the world. Scroll through this page to learn more about where our recent graduates have landed.
Fast Facts
In the first two years after graduating from Vanderbilt, political science Ph.D's have secured the following appointments (graduates since 2015): 43% Tenure-Track Appointments 41% Non-Profit or Government Research Positions 16% Other Appointments Since 2018, Vanderbilt Ph.D. students have published 41 papers in peer-reviewed political science journals:
19 students published while doing their graduate studies
21 articles were co-authored with Vanderbilt faculty members
15 articles were solo-authored by the student
14 articles are published in the top general journals of the discipline
Meet our 2022-23 Job Market Candidates
Alumni Spotlight
Michael Shepherd '21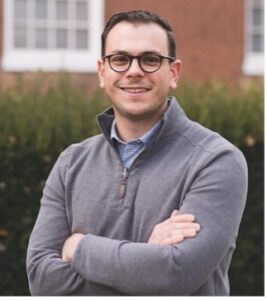 Assistant Professor of Political Science, affiliated with the Health and Society Program, University of Texas at Austin
Michael's research focuses on questions of political and economic inequality, with a special focus on the experiences of the poor with government and the representation of the interests of the poor in policymaking. His dissertation combines these interests into a study of rural individuals' attitudes and experiences in the realm of health care.  His work has appeared in the American Political Science Review, the Election Law Journal, Political Science Research & Methods, and the Proceedings of the National Academy of Sciences. 
Darrian Stacy '21
Assistant Professor, Department of Political Science, U.S. Naval Academy
Darrian's research explores the prevalence and consequences of economic inequality within the U.S. Congress. Contrary to conventional wisdom, members of Congress are not always drawn from the highest economic strata nor are they consistently and exorbitantly wealthier than the average citizen. In fact, members in the bottom quintile of wealth are more similar to typical Americans than they are to most other Representatives. He finds that it is only the wealthiest members in the top wealth quartile who are distinct from most of their constituents and colleagues alike. These inequalities among Representatives have important implications for their electoral strategies, legislative activities, and representation.
More broadly, his research examines how political elites engage in policymaking and other activities through political institutions, incorporating both formal and quantitative methods to develop and test new theories. His other ongoing projects investigate the causes and consequences of bureaucratic decision-making, presidential power and communication, and the impact of congressional committees on legislators' career paths and legislative effectiveness.
Mollie Cohen '16
Assistant Professor, Department of International Affairs, University of Georgia
Mollie studies elections, public opinion, voting behavior, and political representation, especially in the Latin American region. Much of her work focuses on the individual and contextual factors that fuel voters' decisions to cast blank or spoiled ballots. She also examines elite responsiveness to protest voting, the measurement of electoral behavior, and the effects of democratic and health crises on public opinion.
Her research is published or forthcoming at the American Journal of Political Science, The Journal of Politics, Political Analysis, and Political Behavior, among other outlets, and has been generously supported by the National Science Foundation. She has also written several reports as part of LAPOP's Insights series and contributed to The Monkey Cage Blog and Mischiefs of Faction.
Previous Placements