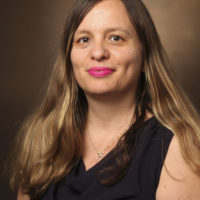 Assistant Professor of the Practice of Hebrew Language Instruction
B.A. (Tel Aviv University 2005)
M.A. (Tel Aviv University 2010)
Ph.D. (New York University 2019)
Mazalit Haim is an Assistant Professor of the Practice of Hebrew Language Instruction at Vanderbilt. She directs the program of Hebrew Studies and teaches Hebrew language and Israeli culture and literature. Currently, she is also working on a book project, which examines the manifestations of hope and despair in Israeli culture and literature. This project focuses on the ways in which the emotional underpinnings of Israeli literary and artistic works question and recast Jewish and Zionist notions of hope and despair. Her publications include articles on the Hebrew poet Leah Goldberg's plays, which explore her transition from lyrical poetry informed by Russian symbolism to drama informed by realism. Professor Haim's research interests are modern Hebrew literature, language pedagogy, affect theory, psychoanalysis, theory of the lyric, performance and queer studies.
You can reach her in her office, Buttrick Hall 145, or at mazalit.haim@vanderbilt.edu.
Professor Haim teaches HEB 1101, 1102, 2201, 2202.