Our Building
The Cohen Memorial Building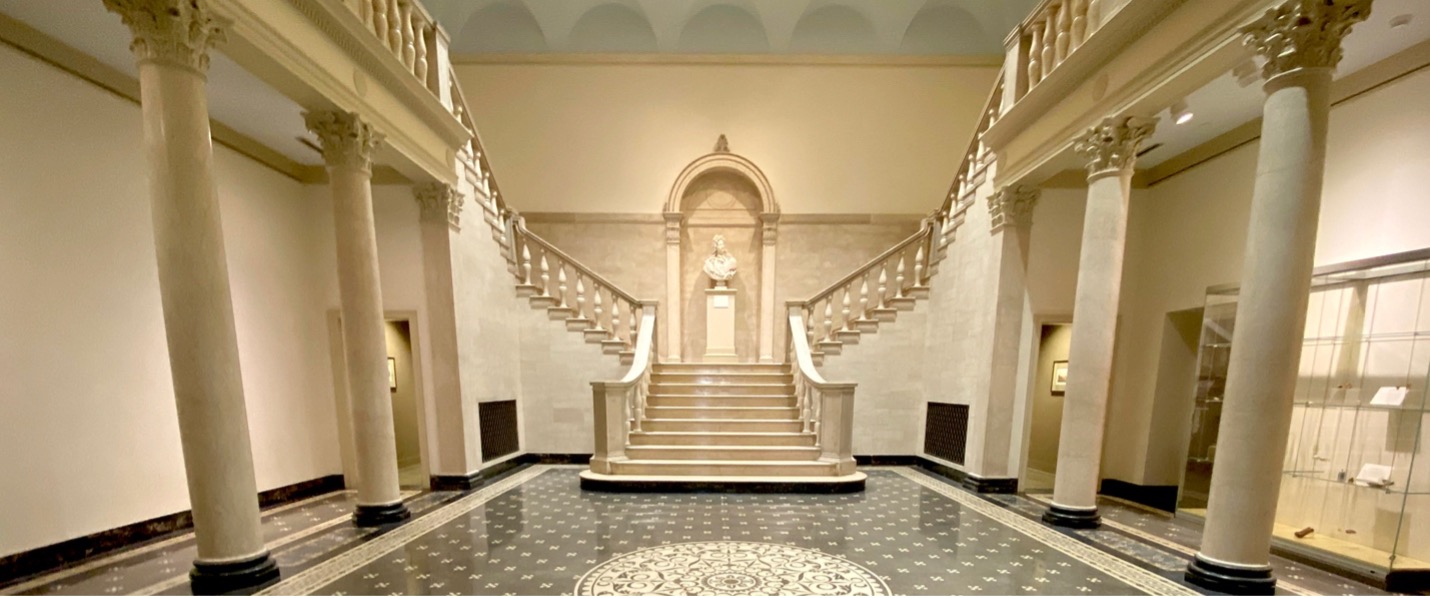 The Department of Classical and Mediterranean Studies is located on the second and third floors of the Cohen Memorial Building, which faces the Peabody Esplanade from the west.
The construction of Cohen was made possible through a gift to the George Peabody College for Teachers from Mrs. George Etta Brinkley Cohen in 1926. The new building, dedicated to the fine arts, was designed by the renowned New York firm McKim, Mead, and White and erected by Hegeman-Harris Company, Inc. in 1927-1928. See the full history of the building in the archives of the library.
This historic structure, with its refined neoclassical features, has provided a fitting home for our faculty and students since 2009. The main façade on the east recalls an austere Greek temple with its Doric colonnade and frieze in limestone. The atrium recalls an opulent Roman villa with its marble Corinthian columns and its monochrome mosaic in the Italian style. Overlooking this Greek and Roman pastiche, at the landing of the grand stair, is the late Baroque portrait bust of the Grand Dauphin, attributed to Giovacchino Fortini at the beginning of the 18th century. The Cohen Building's layered display of art and architecture is an apt metaphor for our intellectual community, crossing the centuries to reveal antiquity as much as its medieval and modern legacies, distortions, and renewals.
The department is fortunate to have a seminar room (Cohen 309), which houses a small library and artifact collection for use by faculty and students. The library contains around 3,000 books that have been variously donated over the decades, most recently by David Wasserstein and Barbara Tsakirgis. These include all basic reference works in the field of classics, as well as introductory works on history, philosophy, religion, and art and archaeology; scholarly texts and commentaries; and corpora. The artifact collection was compiled by faculty and alumni chiefly during the 1920s-1960s. The objects, including pottery and lamps, metal, and lithics, some authentic and some replicas, appear to have been collected during travels to Italy, Greece, and the Middle East.