Immersion and Study Abroad
Immersion Is … studying languages, literature, and culture. The Department of Spanish and Portuguese offers many points of entry into a deeper dive of the subjects you find compelling. Our dynamic faculty represent many areas of expertise in the culture of Spain and Portugal, Latin America, the Caribbean, and the Latinx community in the United States. An Immersion experience that includes courses and/or projects in Spanish and Portuguese will help you deeply explore the cultural and literary phenomena that help us understand our world through individual projects that inspire your creativity, intellectual growth, and sense of connection to these communities locally and globally. You will design your own Immersion experience as a combination of courses and an individual project (go to the Immersion Hub to get started). Our faculty in the Department of Spanish and Portuguese can help guide you once you are ready to define your project. Talk to us! We can help you plan your Immersion project through the courses you take in the Department of Spanish and Portuguese.
Immersion Stories
Below are recent Immersion projects completed by students taking classes in the department.
Netra rastogi '22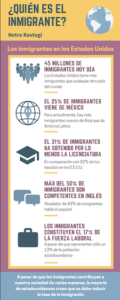 Infographic Series
¿Quién es el inmigrante? Una exploración de la verdad tras las experiencias y los orígenes de los inmigrantes en los Estados Unidos (Who is the Immigrant?  An exploration of the truth behind the experiences and origin of immigrants in the United States)
Netra was inspired by her interviews with staff at Tennessee Justice for Our Neighbors (TNJFON), a non-profit organization that provides "free or low-cost immigration legal services to low-income immigrants, refugees, and asylum seekers." She now volunteers with TNJFON. 
Carly Maskowitz '21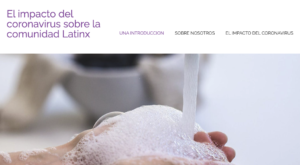 El impacto del coronavirus en las comunidad latinx (The impact of coronavirus on the Latinx community)
Carly used her design skills to create a website that reveals the impact of COVID-19 on the Latinx community in the early days of the pandemic.  She focused her work on health disparities and workplace challenges, providing a highly accessible, visual depiction of essential information and statistics to help the viewer understand what is at stake.
Frances Burton '20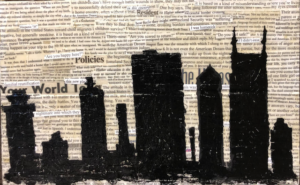 Collage
Perfil de Nashville (Nashville profile)
Inspired by a piece of art that hung in our classroom (in the African American Diaspora Studies suite), Frances created an original depiction of some of the challenges our Latinx neighbors face in Nashville.  Drawing from texts we read in class, Frances fashioned the actual words from Latinx writers—in English and in Spanish—into a collage in the shape of the iconic Nashville skyline.
Monica Gallagher '20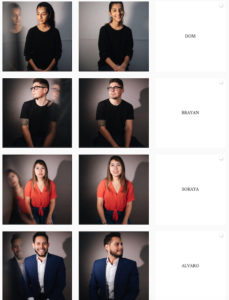 Refracción (Refraction)
Monica combined her skills as a photographer and her friendships with members of the Latinx community to explore notions of identity.  In her interviews, Monica's questions invited participants' reflection on what it means to be part of the Latinx community at Vanderbilt; she then illustrated their comments through refracted photographs in a photo essay.
Sarah Mariott '20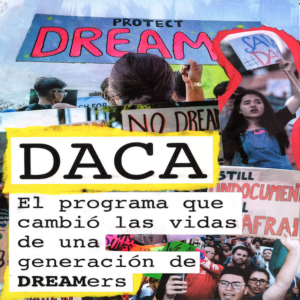 Deferred Action for Childhood Arrivals
Sarah thoroughly researched the timeline of this important immigration policy to create a visual trajectory of its tumultuous history.  Sarah illustrates, with a colorful and widely divergent collection of images and taken from magazines and other print journals, accompanying quotes from individuals to show the consequences of the various stages of DACA legislation on their daily lives.
Megan Mitchell '20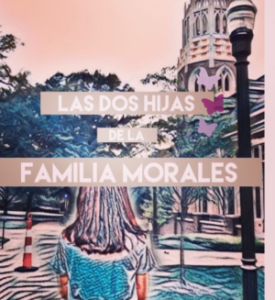 Short Story
Las dos hijas de la familia Morales (The Morales Family's two daughters)
Megan merges her love of writing and her interest in the challenges of growing up between two cultures.  Her short story explores the themes of identity and acceptance in a highly original and compelling way, modeled after the tradition in Latinx writings evident in course readings. 
Study Abroad
The Department of Spanish and Portuguese, through Vanderbilt University's Global Education Office, offers a wide range of study abroad opportunities in Spain and Latin America including Brazil.
Programs administered by Vanderbilt University:
Programs administered by CIEE/CIDE:
ARGENTINA
BRAZIL
CHILE
DOMINICAN REPUBLIC
SPAIN