STEM Transition And Retention (START) Programs
Are you a first- or second-year student interested in learning more about biomedical research as a career while getting to know other students and faculty? Read more to find out if joining a START advisory group is right for you.
START Biomedical Research Career Advisory Groups
Vanderbilt is committed to the academic success of all students in the sciences through START. We invite any interested freshmen or sophomores, especially students from under-represented groups in the sciences, to join a START advisory group. Advisory groups will meet a few times each semester to learn about research opportunities at Vanderbilt, to discuss career paths in the biomedical sciences, and to foster research participation. We anticipate that START cohorts formed this fall will continue to meet throughout next year.
START Summer Research Fellowships
We also offer competitive START Summer Research Fellowships for rising sophomores interested in contributing to diversity and inclusion in STEM. START Summer Scholars will receive mentorship and funding to participate in a 9-week intensive summer research experience in a Vanderbilt biomedical research laboratory for the summer between their first and second years.
Applications
Applications will open around December 2023. For questions, please contact VandyMARC@vanderbilt.edu.
2022-2023
For Summer 2022, ten Vanderbilt rising sophomores from diverse backgrounds successfully engaged in 9 weeks of intensive summer research, mentoring, and career development.  Projects ranged from cetacean biology to neurochemistry to cosmology (really!), and START students engaged with the Vanderbilt Summer Science Academy, the Vanderbilt MARC Scholars, and the HPAO, MSTP program, and Career Center.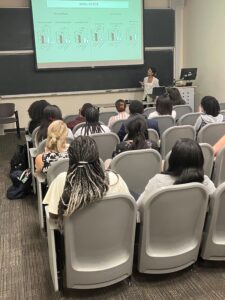 The end of the summer MARC/START Summer Symposium was a highlight with more than 20 student presentations, as well as a perspective from BSCI graduate student and MARC mentor Christiana Chavez, and a keynote from Professor Digna Velez Edwards, Director of Women's Health Research at VU OB/GYN and co-director of the Vanderbilt IMSD Graduate Program. All in all, a terrific and impactful experience.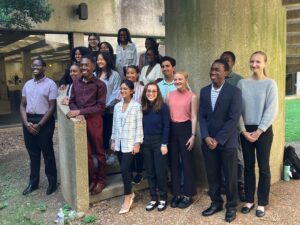 In November of 2022, five START Summer Research Fellows traveled along with the MARC Scholars to Anaheim, CA to attend the Annual Biomedical Research Conference for Minority Students (ABRCMS) conference, the largest undergraduate research meeting on the United States.  There, they presented their research, attended lectures by Nobel Laureate Carolyn Bartozzi PhD and space shuttle astronaut and physician Mae Jemison MD, met with representatives of graduate and professional programs from myriad universities, and networked with faculty and students from across the country.

For more information or to apply, please contact  VandyMARC@vanderbilt.edu