MARC Program
National Institutes of Health-funded Undergraduate Program
MARC Scholarship Program
Vanderbilt University is proud to host a National Institutes of Health-funded Maximizing Access to Research Careers undergraduate program (MARC at Vanderbilt). The overarching goal of the Vanderbilt MARC Scholars program is to increase the number of individuals in biomedical research from under-represented groups in the *biomedical sciences by preparing undergraduate students for successful application to and graduation from Ph.D. and M.D./Ph.D. biomedical training programs, aligning fully with Vanderbilt's mission of inclusive excellence across all disciplines.

Benefits of the MARC Program
Engagement with a diverse and welcoming community of scientists
Mentored full-time research in top Vanderbilt University labs
24 months of stipend support
Summer stipend support for two summers of research
Career development and student panels on graduate school and the M.D./Ph.D.
Personalized training in scientific presentation
Presentation of research at national conferences
Students can identify their interest in biomedical research and their future goals of training as a Ph.D. or M.D./Ph.D. as early as the first semester of their freshman year. In doing so, students begin participation in pre-MARC program activities such as START, which includes professional skill development activities, career roundtables, and meetings with nationally recognized biomedical scientists who are guest speakers in the Vanderbilt MARC Scholars seminar series. START and MARC scholars engage in academic year and summer biomedical research, both at Vanderbilt University and nationally, including with scientists at other major research universities.
Applying to MARC
Students apply in the spring of their sophomore year for MARC Scholar funding, which provides a 24-month stipend to permit continued research engagement during the academic year and summers, as well as tuition support. MARC Scholars share their research findings at national meetings of biomedical scientists in their research area, as well as participating in career and professional development training to help prepare them for successful entrance into Ph.D. and M.D./Ph.D. programs following graduation. *To be eligible for NIH MARC support, students must be U.S. citizens or permanent residents and major in one of the sciences or engineering fields related to biomedical science. Applications will open around December 2023. For questions, please contact VandyMARC@vanderbilt.edu.

2022 MARC Summer Research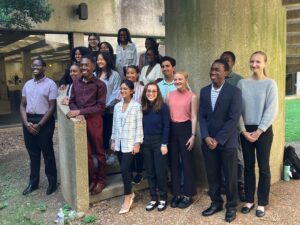 For Summer 2022, twelve Vanderbilt MARC Scholars from diverse backgrounds successfully engaged in 9-10 weeks of intensive summer research, mentoring, and career development with Vanderbilt faculty mentors, and at other institutions including UCLA and JAAN Pharmaceuticals in San Diego.  In addition to intensive research MARC students engaged with the Vanderbilt Summer Science Academy, the Vanderbilt START Scholars, and the HPAO, MSTP program, and Career Center.
The end of the summer MARC/START Summer Symposium was a highlight with more than 20 student presentations, as well as a perspective from BSCI graduate student and MARC mentor Christiana Chavez, and a keynote from Prof. Digna Velez Edwards, Director of Women's Health Research at VU OB/GYN and co-director of the Vanderbilt IMSD Graduate Program. All in all, a terrific and impactful experience.
2022 Meeting Presentations
For 2022, Vanderbilt MARC Scholars were supported to travel and present their research at the Annual Biomedical Research Conference for Minority Scientists (ABRCMS, the largest undergraduate research conference in the United States), the American Institute of Chemical Engineers conference, the Southeast Medical Scientist Symposium, and the Society for Vertebrate Paleontology conference.
In November of 2022, nine MARC Scholars and five START Summer Research Fellows traveled to Anaheim, CA to attend the annual ABRCMS conference. There, they presented their research, attended lectures by Nobel Laureate Carolyn Bartozzi PhD and space shuttle astronaut and physician Mae Jemison MD, met with representatives of graduate and professional programs from myriad universities, and networked with faculty and students from across the country.

2022 MARC Scholar Outcomes
Congratulations to our first graduating class of MARC Scholars who matriculated in PhD programs at Rockefeller University, Icahn School of Medicine at Mt. Sinai, Georgia Tech/Emory, the MD program at University of Mississippi, and a postbac program in Austria!
MARC Preceptors
View the current list of preceptors, lab information, availability, and project descriptions.
Recent Articles
National Institute of General Medical Sciences – Catching Up With ReMARCable Vanderbilt Graduates
National Institute of General Medical Sciences – Making a MARC at Vanderbilt
University Partners
The Vanderbilt MARC Scholars program partners with Fisk University and Tennessee State University MARC U*STAR programs, and with graduate programs at Fisk and Vanderbilt Universities, to provide MARC Scholars with a large cohort of peers and role models similarly interested in a career that contributes to better human health through research.
Read the program's description on the NIH website.
FAQs
Please contact VandyMARC@vanderbilt.edu to apply or request for information.