Nashville Education Program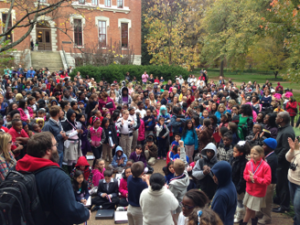 Free Speech: The Movement, through the Nashville Elementary and Middle School Debate Consortium, is an education program designed to teach students critical thinking and communication skills through the use of academic debate. The program was founded in 2011 by Vanderbilt Debate in conjunction with two Metro Nashville teachers: Adrienne Neal and Kenisha Hawthorne. Due to the program's success, the number of participating schools has grown yearly.
With minimal guidance from teachers, students are expected to work with each other to construct an opening and closing statement. Questions and a rebuttle statement are made in response to the other team's arguments. On tournament day, students from different schools compete against each other to prove that their side of the argument is the side to support.
For more information, contact M. L. Sandoz, director of forensics.
Participating Schools