Black Queer and Trans Anthropocenes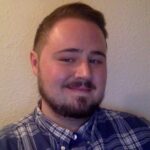 Cameron Clark is a 2022-23 Graduate Student Fellow from the Department of English. 
The Anthropocene has come to define a corpus of accumulated threats to species life, ranging from global warming and climate change; to environmental toxicity and pollution; to extinctions, loss of biodiversity, and the subsequent collapse of various ecosystems across the planet. Yet, such ecological and climatological emergencies only appear novel if we do not acknowledge the long durée of transatlantic slavery and coloniality that originates this geological epoch.
Consider, for example, what has been identified as the "Orbis Spike," which indexes a significant drop in carbon dioxide levels in the year 1610 made legible in the very sedimented layer of the earth. As environmental scientists and historians have shown, this geological inscription is the result of the violent exchange and extraction of various plants, animals, and peoples across continents for the purposes of monoculture plantation farming. It also denotes the harrowing genocide of indigenous peoples in the Americas from an estimated population of 54 to 61 million in 1492 to approximately 6 million by 1650. The "Orbis Spike" thus marks the first instance in which human activity altered the entire planet's ecosystem.
If the physical surface of the earth proves that climate change is inextricable from the legacies of racial capitalism, (settler) colonialism, and imperialism, then to what extent do these same enterprises continue to shape our economic and sociopolitical realities today? Might the survivors of previous land dispossessions or environmental disasters posit solutions to present environmental struggles? And, if we consider the specificity and plurality of such vantage points, does that mean—as geologist Kathryn Yusoff suggests—that there are multiple anthropocenes? If so, how should scholars narrate both the long durée of the Anthropocene and its more localized events? And, most importantly, what resources are available to imagine and enact futures beyond destruction?  
My dissertation Black Queer and Trans Anthropocenes contributes to this broad critical inquiry by turning to forms of Black queer and trans survival for their politico-ethical insights into contemporary environmental justice debates. Through the aesthetic practices of Black women's diasporic literature and poetry, and HIV/AIDS documentary and trans experimental cinemas, I locate sites of embodied knowledge that simultaneously express specific extensions of colonial modernity and articulate new epistemological ruptures brought on by the sheer scope and magnitude of planetary climate change.
These emergent ruptures call into question familiar understandings of agency, sovereignty, belonging, and intimacy in ways that distinguish such notions at the very threshold of discursive intelligibility or visual legibility. I read such moments as attempts to make sense of ecological destruction and environmental transformation, writ large. In fact, what I find repeatedly in my primary and critical sources are expressions of vulnerable and diminishing life-worlds that are nevertheless limned with energy and possibility directed toward futures that may support the wellbeing of the earth and all of its inhabitants. Black Queer and Trans* Anthropocenes is thus at its core a study to rethink pivotal debates in Anthropocene studies from the ground up precisely because our collective futures depend on it.  
Cameron Clark is a joint PhD candidate in English and Comparative Media Analysis and Practice at Vanderbilt University. He received his MA from Michigan State University in 2017 with a specialization in film, visual culture, and digital media. His research interests are at the intersections of gender and sexuality studies, theories of de/coloniality, global film history, and the environmental humanities. His dissertation "Black Queer and Trans Anthropocenes" reads post-1970s Black queer and trans studies, aesthetics, politics, and modes of affiliation for their insights into various ecological and climatological crises.