Thinking in Language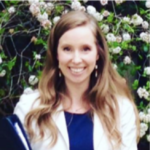 Meet Laura Carter-Stone, a 2021-2022 RPW Center Environments Graduate Student Fellow. She is a PhD student in the Teaching, Learning, and Diversity program at Peabody College. Her research explores how the performing arts–especially the art of dramatic improvisation–can create emotionally engaging and collaborative language and literacy learning environments.
What is your research about and why does it matter? 
Broadly, my research explores how English language and literacy education might become more socially and ecologically just. For my Environments Fellows project, I am analyzing English-language lesson plans and other educational materials about environmental topics to explore how the English language itself can perpetuate harmful ways of thinking about and relating to the natural world. I plan to continue learning from Lakota scholars, activists, language teachers, and writers to investigate how these anti-environmental ways of thinking, writing, and speaking might be identified and challenged.
Describe a discovery or a moment in your research that excited you.
When I had just started to learn about the ways that different languages (specifically Lakota versus English) suggest different ways of thinking about the environment, I encountered the writings of Dr. Edward Valandra (Sicangu Titunwan). His work helped me better understand that the Lakota Water Protectors' movement against the Dakota Access Pipeline was not only an activist effort to ensure access to clean water, but reflected a commitment to the Mni Oyate (the Water Nation), whom many Water Protectors consider to be a "blood relative" of their own nation. I reached out to Dr. Valandra, and, even though we had never met before, he graciously agreed to Zoom with me— several times— to grow my thinking and help me with my project. Thanks to his mentorship, feedback, and encouragement, I was able to present on my project at an international (virtual) conference this year.
What was your first job and what did you learn from it? 
My first job was working in my College's Dining Hall ("D-Hall"), which remains one of the most formative experiences of my adult life. Many of my former D-Hall Supervisors— I remember especially the relentlessly-kindhearted late Lyle Bauman— were not only patient and empathetic bosses, but often treated college student employees as if we were their nieces, nephews, or friends. They modeled for me the power of caring relationships to sustain and humanize a group of people tasked with difficult work. It also demonstrated for me just how hard minimum-wage and other jobs can be, and the failure of our current economic systems to pay many workers enough for their energy and time.
I am both touched and troubled by the memory of a Friday night when I and a few other college students were working a shift that would end around 9 pm. That night was also the first campus-wide dance party of the year. Our supervisors surprised us by offering to take over our tasks for the night, even though many of them had been working since the early morning hours. Even still, they insisted that we leave our shifts early enough to go dance.  After this and related experiences provoked me to think more deeply about class and power, I strive to continue deepening my understanding of economic inequality and other forms of injustice in my current educational research. 
Laura Carter-Stone is a fourth year PhD student studying how the performing arts–especially the art of dramatic improvisation–can create emotionally engaging and collaborative language and literacy learning environments. Her career in education began while teaching public school students in rural settings where issues of social, educational, and environmental injustice are intertwined. One of her current projects explores how students and teachers might develop harmful ways of thinking about the natural world as they learn to read, write, and speak the English language, and the related importance of Indigenous languages learning and revitalization.