News & Notable
Department Chair Laurel Schneider has received a Wabash Grant on "Queering Pedagogy" and will take part in and invited Roundtable on the subject in May 2023 in Chicago.
Issam Eido is a Research Fellow with Program in Islamic Law PLI at Harvard Law School and a Global Academy Scholar in partnership with the Middle East Studies Association (MESA) 2021-2022: https://pil.law.harvard.edu/researchers/
---
Religious Studies Major, Jaret Rushing, publishes undergraduate research on the Islamic mystical concept of the "Perfect Human."
See his publication here: https://read.alifreview.com/al-insa%CC%84n-al-ka%CC%84mil-western-ethics-and-the-akbarian-perfect-man-e1c11b42f59c
The paper has also recently been translated into German: https://islamische-zeitung.de/ueber-westliche-ethik-und-den-vollkommenen-menschen-von-schaikh-al-akbar/
Congratulations Jaret!
---
Habib University on Thursday evening held as part of its ongoing web series an online talk on 'The critical edge of tradition: understanding Ghalib as Wali in contemporary Delhi'. Anand Vivek Taneja, an assistant professor of Religious Studies, Islamic Traditions of South Asia, College of Arts and Science at Vanderbilt University was the main speaker.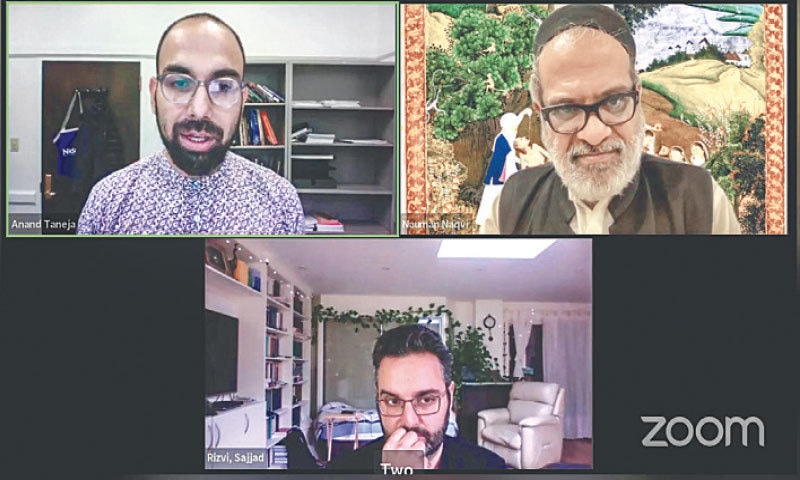 ---
Molly Wells contributes to the Undergraduate Religious Studies Association Symposium at Indiana University
The symposium's central aim is interdisciplinary conversation about religion. As such, undergraduate students from across the humanities—Anthropology, Area Studies, English, Comparative Literature, History, Philosophy, Religious Studies, Sociology, etc.—are participating in the symposium and will be presenting their papers.

Molly Wells will be presenting her paper "Liturgical Dance, Performativity, and the Body".
---
 Richard McGregor recieves US Department of State, Bureau of Educational and Cultural Affairs, CAORC Research Fellowship at the American Research Center in Egypt, 2021-2022
In the study of Islamic religious history, a divide has persisted between approaches focused on daily lived practices and others that explore documentary and written expression. This divide often parallels the distinction between anthropology and literary studies. This project will explore the overlap of these dimensions of religious practice in the medieval period, focusing on the manuscript archives of Islamic Cairo. The research will survey a series of hand-written texts, in order to recover evidence of ritual and devotional interactions with the texts as devotional objects. The practice of bodily interaction with texts in fact took many forms. Not only were illustrations representing, for example, the Prophet's tomb in Medina rubbed and kissed, but honored names could be similarly treated. Improvised devotional comments, including poems, were at times added to the margins. Tracings of the Prophet's sandal were made added to manuscripts, being representations of actual sandal relics.
Figure 1: Tracing of the Prophet's Sandal from al-Maqqari, Fath al-Muta'al. Al-Azhar University Library, Cairo, manuscripts section (Al-Maghariba, raqam khass 6299).
Figure 2: Marginalia from Bastami, Sharh Hizb al-Bahr. Süleymaniye Library, Istanbul, manuscripts section.
                                                                                 *     *     *     *     *
M. Issam Eido Wins 
MESA Global Academy Fellowship/Award
The MESA Global Academy (https://mesana.org/advocacy/global-academy) is an interdisciplinary initiative of the Middle East Studies Association of North America designed to sustain essential research collaborations and knowledge production among MENA-focused academics by providing competitive scholarships to displaced scholars from the MENA region currently located in North America. The MESA Global Academy is a project of the Middle East Studies Association of North America in partnership with the City University of New York and other university partners, with generous support from the Carnegie Corporation.
*     *     *     *     *
Anand V. Taneja designated as Humanities Fellow of the Robert Penn Warren Center
Anand Vivek Taneja, Assistant Professor of Religious Studies, has been chosen as a Faculty Fellow for the 2019-2020 Robert Penn Warren Center Seminar on "Borders and Belonging". During his tenure as a fellow he will be working on a book on Muslim ethics in India in the era of resurgent Hindu nationalism. 
                                                                                    *     *     *     *     *
Richard McGregor Awarded Fulbright Scholar Grant
Created by the US Congress in 1946, the Fulbright Program offers a variety of overseas research and teaching opportunities.Professor McGregor will spend 2019-2020 as a Fulbright research scholar at the American University in Cairo. His work explores the medieval religious life and rituals of Islamic Egypt, focusing on festivals, shrines, and parades. He is also developing a project on Sufism and environmental ethics.
                                                                                 *     *     *     *     *
The Department of Religious Studies has appointed Adeana McNicholl beginning in Fall 2019
The Department of Religious Studies is pleased to announce the appointment of Adeana McNicholl beginning in Fall 2019.

Adeana McNicholl joins the department as Assistant Professor of Buddhist Traditions of South and Southeast Asia. She is a recent graduate of Stanford University, receiving her PH.D in Religious Studies, specializing in Buddhism, with a research focus on the relationship between religion and the body and embodied identities, including race, gender, and sexuality.
*     *     *     *     *
Anand V. Taneja receives a Research Scholar Grant from Vanderbilt University
Vanderbilt University has chosen Dr. Taneja to receive funds in support of his work, From Dams to Temples: Infrastructure, Ecology, and the Religious Landscapes of Delhi.
*     *     *     *     *
Anand V. Tanja receives the Joseph W. Elder Prize in the Indian Social Sciences
The American Institute of Indian Sciences has chosen to support Dr. Taneja's forthcoming work, Jinnealogy: Tome, Islam, and Ecological Thought in the Medieval Ruins of Delhi. The book is set to be published by the Stanford University Press, 2017.   
*     *     *     *     *
The Department of Religious Studies has appointed
Laurel Schneider and Anand Taneja beginning in Fall 2013
The Department of Religious Studies is pleased to announce the appointment of Laurel Schneider and Anand Taneja beginning in Fall 2013.

Laurel Schneider joins the department as Professor of Religion and Culture. She taught at the Chicago Theological Seminary for the last fourteen years as Professor of Theology, Ethics, and Culture. Laurel brings with her an expertise in gender theory, sociology of religion, and Native American religious traditions.

Anand Taneja will join the Religious Studies faculty in the fall as Assistant Professor in the Islamic Traditions of South Asia. He is currently working on his Ph.D. in Anthropology at Columbia University. Anand specializes in historical and contemporary Islam in South Asia, the anthropology of religion, and film studies.

Their unique skills make them an asset to the future of the department and we look forward to all they have to offer.
*     *     *     *     *
Dr. Daniel Patte to retire at the end of academic year
After forty-two years of service to Vanderbilt University, Dr. Daniel Patte will retire at the end of the  2012-13 academic year. Dr. Patte joined the Department of Religious Studies at Vanderbilt University in 1971, the first year of the department. During his time at Vanderbilt, he functioned in many roles, including serving as Chair of the Department, from 1977 to 1998. Over the years, Dr. Patte specialized in two areas: New Testament Studies with an emphasis on the history of Reception and Hermeneutics/Semiotics, with which the Patte name is widely recognized, and in recent years, the ethics of interpretation. For the latter, he is currently preparing a survey of the field for the Oxford Encyclopedia of Ethics. He is also working on a commentary on the interpretation of Romans, a long-term project which will become his primary focus post-retirement. The Department of Religious Studies is grateful to Daniel for his years of service, and we wish him and his wife, Aline, the best in the years to come.
*     *     *     *     *