Research
Faculty in the Department of Religious Studies are internationally recognized for their scholarship. Faculty research dives into the history of religious traditions through the study of texts, archives, and artifacts. Faculty also explore lived religion through fieldwork and contact with contemporary religious communities. Students are trained in methods and theories of religion, allowing them to sharpen their own research capacities and interests.
Faculty Research Spotlight
Anand Taneja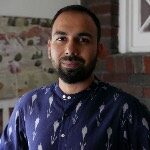 Associate Professor of Religious Studies
Jinnealogy: Time, Islam, and Ecological Thought in the Medieval Ruins of Delhi (2017)
What do minority politics look like in a time of majoritarian nationalism? What do Muslim ethics look like when confronted by the rise of violent and discriminatory Hindu nationalism in India? The meme/image of Rosie the Riveter in a hijab, flexing her biceps, and saying "We Read We Lead" outside an impromptu open-air library is probably not the image that first comes to mind. But this image captures much of the spirit and vibrancy of Indian Muslim responses to the establishment of a Hindu right-wing government in power since 2014, and the subsequent exponential increase of violence and discrimination against Indian Muslims. Rather than responding with violent jihad in the face of oppression, as common stereotypes would have it, Indian Muslims have responded with patience, creativity, and a deepening engagement with the empowering potentials of post-colonial democracy. Based on ethnographic engagement with Indian Muslims between 2018 and 2020, Professor of Religious Studies and Asian Studies Anand Taneja's forthcoming book, TITLE, shows us the profound dynamism of the religious, cultural, and political life of Indian Muslims, enabled in part through new networks created by social media. In the process it casts new light on minority politics, Muslim ethics, and the transformative potentials (and limits) of social media.
See more faculty publications.
Student Research Spotlight
Jaret Rushing, BA'23
2022 Nichols Humanitarian Fund award
The month-long summer project contributed to the Shurafa Shrine Conservation project in Cairo, Egypt. This 14th or 15th century building has been structurally restored, thanks to the work of Dr. May al-Ibrashi, the Athar Lina Initiative, and the financial support of the Antiquities Endowment Fund (American Research Center in Egypt). The history of the site and the function of the built environment remain unclear. In a land rich in archeological treasures, a small and threatened shrine like this is vulnerable to neglect and even destruction in the name of urban renewal and economic modernization of the neighborhood.
Many undergraduates have completed Honors projects and presented their research at student conferences on topics such as:
Religion and modern dance
Indic influences on Islamic philosophy
Buddhist nationalism and Islamophobia in Myanmar
Islam in Central Asia
Religion and contemplative studies
American pop culture and religious practice