"Soil Your Undies" Challenge
Join Our "Soil Your Undies" Challenge!
What is the challenge?
We challenge you to join our scientists, test how "alive" your soil at home is and help us learn about the effects of different urban soil management practices via your undies results and a short survey. Together we will learn about our community's environment, discover factors and benefits of healthy soil, and identify the best yardscaping practices.
To allow for standardized comparisons, we ask our community to plant white, 100% cotton undies (Fruit of the Loom Men's Briefs) in their yards across Nashville to identify who has the most organically rich, fertile, and climate resilient soil that is full of biological activity! You can get an undies planting kit (undies and instructions) conveniently mailed to your door by donating to the TN Environmental Council following the "Participate" link below.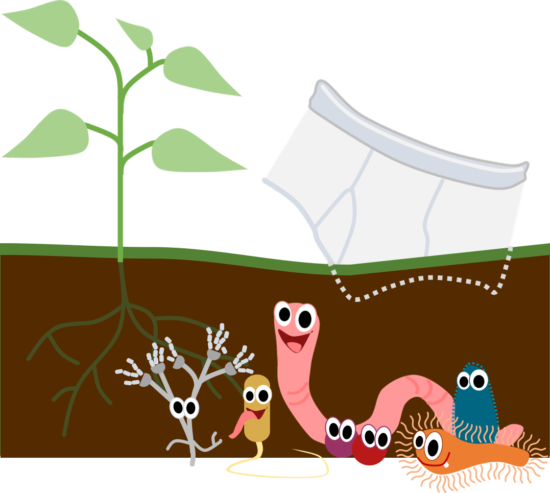 What is the goal?
The goal of the challenge is to develop a community understanding of the interactions between soil microbes, land management practices, and carbon sequestration toward healthy and resilient soils.
Who is involved?
The 'Soil-Your-Undies Challenge' at Vanderbilt is spearheaded by Prof. Chris Vanags and is a collaboration between the ASCEND Initiative at Vanderbilt University and the Tennessee Environmental Council. It is based on the successful campaign by Oregon farmers, their local Soil and Water Conservation Districts, and the Natural Resources Conservation Service and has been widely adopted in agricultural settings around the globe.
With your help, our team is working to bring a "Soil Your Undies Challenge" to an urban setting.

How can I participate?
To participate, please register via our partner organization link at the Tennessee Environmental Council:
https://www.flipcause.com/secure/cause_pdetails/MTE1MTU2
You can download the instructions to plant your undies from the registration page in the link above and will receive an email with the link to our REDCap survey  when it is time to harvest them.
Your undies will need to remain in the soil for 60 days. To finalize your submission of this community science experiment, we ask that you please complete our survey where you will be able to upload the "before" and "after" pictures and provide additional details for the location(s) you selected. Our team at the Tennessee Environmental Council will email all participants a link to the survey when it's time to harvest!
Why does it matter?
Healthy soils are rich in organic matter, full of diverse soil life, and support healthier plant growth. But soils rich in organic matter are also able to absorb rain faster and store more moisture making them not only more resilient to extreme weather events such as flash flooding and droughts, but also help minimize runoff pollution that would otherwise wash chemicals into our watersheds and drinking water. On top of all that, this type of soil also has a greater ability to take carbon from the atmosphere and store it in plant growth or below ground.
Read this interesting article "'A poor man's rainforest': why we need to stop treating soil like dirt" published earlier this year in The Guardian.
Do you have learning resources related to soil health?
Yes, we do! Our ASCEND Undergraduate Student team has assembled a variety of useful resources that will help you better understand "soil health" and how it connects with climate resilience, human health, and carbon storage. Click on one of the topics below to start learning.
Do you have other at-home science kits?
We have additional real-world research options for students at home that are related to soil health! "Discover the Microbes Within! The Wolbachia Project" is an award-winning science project that lets you learn more about and conduct experiments with the bugs that you found in the soil (or elsewhere in the garden) when you planted your undies! Get started today!

What does Vanderbilt do to create healthy soil on campus?
The Vanderbilt Grounds Maintenance team has taken many steps to create a more resilient, climate friendly, and sustainable campus environment. Below is a list of some of the fantastic actions the team has already implemented.
Let grass grow longer to allow for longer roots to establish, leave grass clippings and shredded leaves on the lawn, and mulch beds to add organic matter content.
Higher organic matter content leads to faster rain absorption, better soil fertility, and greater moisture retention during droughts.
Grass clippings and shredded leaves become a natural fertilizer, so additional fertilizer applications can be minimized and save costs.

Incorporate compost in ornamental planting beds helps moisture retention for climate resilience during droughts, faster rain absorption, and minimal runoff pollution.
Good compost with the right mixture of "brown" (carbon-containing) vs. "green" (nitrogen-containing) of approximately 4:1 does not smell bad, provides many different nutrients all at once, is full of soil life (i.e., beneficial bacteria and fungi), and difficult to overapply.

Have "mixed" lawns with grasses, clovers, and "weeds".
Clover for example fixes nitrogen from the atmosphere and deposits it in the soil, which grass can utilize to grow reducing the amount of nitrogen fertilizer additions needed to maintain a lawn.
"Weeds" provide valuable habitat and food for beneficial insects.

Utilize Integrated Pest Management (IPM) to create diverse landscapes that support biological pest control by providing habitat for beneficial insects (pollinators and predators).
Select plants suitable to the region, soil, sun exposure, and those bred for higher disease resistance.
Provide good growth conditions for more resilient plants by monitoring soil health.
Use physical pest controls (e.g., netting barriers or traps) as additional alternative to chemical applications.

Use organic-certified fertilizers when possible and soil amendments with mycorrhizae and other biologic enhancers to help quickly establish new planting areas.
Low application of natural and slow-release fertilizers also minimizes runoff pollution during heavy rains.
This prevents chemicals and money from washing down the storm drains.

Set up intelligent irrigation systems that monitor weather data, rainfall, and soil moisture
This avoids wasting water during rainfall events and minimizes runoff-pollution by overwatering.