Career Outcomes
Your Success Story Is Waiting. The major in climate studies and the minor in environmental and sustainability studies provide a critical and foundational knowledge of climate and the environment, preparing students for a wide range of career options including:
Law and policy. One prominent pathway is to pursue a career in environmental law and policy. Jobs include working in law firms, in government and regulatory positions, in elected offices, and on the staff of elected officials. Vanderbilt's Law School has a strong group of environmental law and policy faculty, and there are events every semester that are open to undergraduates. If you are interested in receiving notifications for these events, please let Professor David Hess know and he'll add you to the list.
Business and management. Another prominent pathway is to work in environmental management in the private sector. Many businesses, even if they are not in the green sector, have environmental management offices and sustainability initiatives. There are also green businesses, which need employees in all areas of the enterprise, from marketing and personnel to finance and strategy. Green businesses are particularly prominent in the renewable energy, energy efficiency, food, recycling, transportation, and finance industries. There are also many consulting companies focused on environmental issues. Students interested in this area often join the organization Net Impact.
Health. Some students choose to work at the interface of environment and health. This career can go in the direction of the natural sciences, such as the study of toxicology, or toward public health careers, such as a Master of Public Health degree.
Advocacy and education. Students interested in advocacy may end up in the nonprofit sector working for an environmental organization, or they may work in secondary or college education. Vanderbilt's Peabody College has a number of resources for students interested in an education career.
Alumni Stories
Caroline saunders '16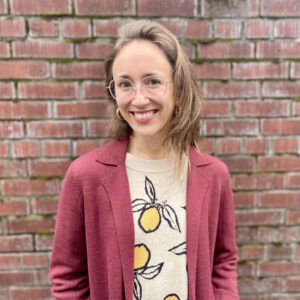 Interdisciplinary Environmental Studies and English
Caroline Saunders majored in Environmental Studies (Interdisciplinary) and English, using the combination of her fields to look at food and climate change from a variety of angles. A Cornelius Vanderbilt Scholar, Caroline took classes in philosophy, poetry, economics, journalism, geosciences, and culture to get at a big question: how is food changing as our environment changes? (She's still working on that question.) After graduation, Caroline moved to Seattle where she worked at the climate magazine Grist for several years, most recently as Chief of Staff. She's currently in Paris developing her practical food skills, earning her Pastry Diploma at the culinary institute Le Cordon Bleu. She is the author of a book on sustainable steak and the creator of a narrative podcast about baking in the era of climate change.