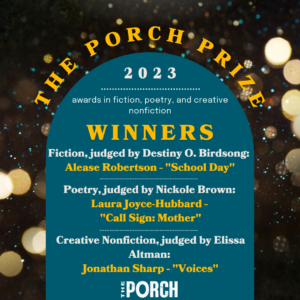 We are pleased to present the winners of the 2023 Porch Prize. Judges in the three categories for 2023 were as follows: Destiny O. Birdsong (Fiction), Elissa Altman (Creative Nonfiction), and Nikole Brown (Poetry).  For information on the 2024 Porch Prize, please visit porchtn.org in Fall 2023 for updated information.
---
2023 Porch Prize in Poetry Winner:
Laura Joyce-Hubbard, "Call Sign: Mother"
Poetry Judge: Nikole Brown
Judge's Remarks: "What first lured me into "Call Sign: Mother" was that fresh verb for luck—"cloverleafed"—"We cloverleafed into love:". . . and all that follows the colon that lands that first line delivers on its promise of such a story, and it's a story deftly told, muscled with language that gives an in-the-cockpit view of flying planes pressurized with subtext. And just when you think the poem is risking a kind of Top Gun romance, it veers unexpectedly to the plotline of the beloved's desperate but failed attempt to rehabilitate wild rabbits, bringing into the mix an entirely new palette of images. What results is a holographic experience of two completely different worlds held at once—one of the two pilots "pushing the needle past Mach one," the other of milk fed through an eyedropper, of the struggling rabbits burrowing for warmth into the leg of a flight suit. It's so unexpected, in fact, that the reader too begins to fall in love, or at least fall in love with such a story, and well, if anyone's tried and tried to write a love poem and has failed, you know just how hard it is to pull off such a feat. From the first line to the last, this poem is carefully crafted with exquisitely tight lines and marvelous little surprises hidden in the breaks. I've read it five times over and keep finding more to admire."
Nickole Brown received her MFA from the Vermont College, studied literature at Oxford University, and was the editorial assistant for the late Hunter S. Thompson. Her first collection, Sister, a novel-in-poems, was published in 2007 with a new edition reissued in 2018. Her second book, a biography-in-poems about her grandmother called Fanny Says, came out from BOA Editions in 2015 and won the Weatherford Award for Appalachian Poetry. To Those Who Were Our First Gods, a chapbook, won the 2018 Rattle Prize, and her essay-in-poems, The Donkey Elegies, was published by Sibling Rivalry Press in 2020. She has received grants from the National Endowment for the Arts, the Kentucky Foundation for Women, and the Kentucky Arts Council. Currently, she teaches periodically at a number of places, including the Sewanee School of Letters MFA Program, the Great Smokies Writing Program at UNCA, and the Hindman Settlement School. She lives with her wife, poet Jessica Jacobs, in Asheville where she periodically volunteers at a three different animal sanctuaries.
---
2023 Porch Prize in Fiction Winner:
Alease Robertson, "School Day"
Fiction Judge:  Destiny O. Birdsong
Judge's Remarks: "I love this coming-of-age story that doesn't announce itself as such, but merely tells the reader what a fifteen-year-old sees and comes to understand through her mother's troubled, but lasting relationship with Simon, a ne'er do well with a heart of gold (maybe brass is a better description). I love how it begins with despair over being "ugly," but ends in the triumph of both mother and daughter: the mother has kept her man along with her job, her money, and her relatively good life, and her daughter has come to appreciate their resemblance and the possibilities it opens up for them both, in spite of the haters. Also, the descriptions of the people, the town, the dialogue–it's all spot on, and this piece accomplishes in ten pages what might take another writer several chapters to achieve. Truly remarkable work."
Destiny O. Birdsong is a poet, novelist, and essayist whose work has appeared in the Paris Review Daily, African American Review, and Poets & Writers, among other publications. Destiny has won the Academy of American Poets Prize and has received support from Cave Canem, Callaloo, Jack Jones Literary Arts, Pink Door, MacDowell, The Ragdale Foundation, and Tin House. Her debut poetry collection, Negotiations, was published in 2020 by Tin House and was longlisted for the 2021 PEN/Voelcker Award. Her debut novel, Nobody's Magic, was published in February 2022 from Grand Central Publishing, was longlisted for the Center for Fiction's First Novel Prize, a finalist for the Ernest J. Gaines Award for Literary Excellence, and won the 2022 Willie Morris Award for Southern Fiction.. During July 2022, she was the Hurston-Wright Foundation's inaugural Writer-in-Residence at Rutgers University-Newark, and she now serves as a 2022-24 Artist-in-Residence at the University of Tennessee in Knoxville.
---
2023 Porch Prize in Creative Nonfiction Winner:
Jonathan Sharp, "Voices"

Creative Nonfiction Judge: Elissa Altman
Judge's Remarks: "Voices is the kind of essay that does from the beginning what Colum McCann once wrote about: A first line should open up your rib cage. It should reach in and twist your heart backward. It should suggest that the world will. never be the same. This is exactly what happened for me. The writing here is stunning in its gorgeous mundanity; it is quietly sensual and powerful, and the use of language and narrative rhythm pull the reader through the piece in a way that makes it impossible to put down. There was nothing here that I didn't love. I'd gladly read the author's grocery list if given the chance."
Elissa Altman is an award-winning author of literary memoir, essay, and food narrative, who writes from the place where sustenance, the power of the human spirit, and the promise of renewal converge. Her first book, Poor Man's Feast: A Love Story of Comfort, Desire, and the Art of Simple Cooking, was published in 2013 by Chronicle Books and declared by the New York Times Book Review "the finest food memoir of recent years." Its critically-acclaimed prequel, Treyf: My Life as an Unorthodox Outlaw, was published by Berkley Books in 2016. Motherland: A Memoir of Love, Loathing, and Longing, was published in hardcover by Ballantine Books in 2019, will be released in paperback in 2020, and was a 2020 Lambda Award finalist. Altman has spoken on stage at The Public in New York, the New School, and gave a TEDx talk in 2017 on the moral obligation to bring senior citizens to our national conversation about food and nurturing. She teaches the craft of memoir at Fine Arts Work Center in Provincetown, 24 Pearl, 1440 Multiversity, the Loft Literary Center, Literature and Larder in Ireland, and Maine Publisher's and Author's Alliance.