Vanderbilt in Berlin 2006
WHAT STUDENTS SAY ABOUT VANDERBILT IN BERLIN 2006
Bertolt Brecht's "Mann ist Mann"
at the Berliner Ensemble
Thank you Galy Gay!

Vanderbilt students go to the theater!
Christopher Nell in his Galy Gay hat with his best fans at the Berliner Ensemble
Rachel and Jeff at Schloss Sanssouci

Sanssouci Palace on an excursion during the first week's course, "History and Culture of Berlin"
Party time in Berlin
Thanks for a wonderful party!
Jeff at the Stäv Restaurant on the Spree River

Jeff Garcia:
"Vanderbilt in Berlin was the perfect choice to spend my summer.
I'll never forget the first week with Peggy touring the city.
The stay was not long enough and "Ich lernte ein bißchen Deutsch!"
Meredith and Mary at the Sanssouci Palace in Potsdam
Meredith Pender:
"Berlin is a wonderful city with so much to do.
The six weekends were not nearly enough time to experience it all."
But then there is dessert ...
Aaron and Lindsay and Gelato

Aaron Stannard:
"In Berlin I met my one life's love... Döner Kebop."
Patrick (thinking of his next one-liner)

Patrick Fischer:
"Being in Berlin with Peggy is like being in the Garden with Eve
and getting a first chance to experience life."
Vivian already has the key!


Vivian Finch:
"Berlin is just such a fabulously diverse and culturally rich city.
I think I may have found my next home!"


Michele and Lindsay at the S-Bahn Friedrichstrasse
Michele Slotke:
"This experience has been one of the best I have had at Vanderbilt.

The combination of our group, this fabulous city,
and Peggy as our guide has been absolutely amazing.
These past seven weeks have been unforgettable and I have certainly fallen in love with Berlin.
I couldn't have asked for a better trip!!!"

P.S. "Bring your turtle closer."
Rachel on the Spree
Rachel Unger:
"Peggy is my second mom...
Definitely a world-cup-tastic way to spend the summer!"
Mary, Meredith, and Aaron

Mary Hughes:
"The best part about Vanderbilt in Berlin was that I really felt like I lived there, not just like a visitor.
Studying abroad is definitely an experience that everyone should have."


Lisa, Lindsay, and Jacklyn getting ready to sing at karaoke

Jacklyn Becker:
"Such an amazing city with wonderful people to spend my last summer
before graduating and getting a real job!"
Matt and Lisa at the Ishtar Gate of Babylon
Pergamon Museum
Matthew Cowan:

"Berlin is such a cultural Mecca.
If you're open-minded and looking for adventure, then this is the place for you."
Megan and John at the Biergarten on our bike trip
Megan Hines:
"If you're even just thinking about going to Berlin, do it!
You will learn so much German and meet plenty of interesting and fun people.
It's a great way to spend the summer."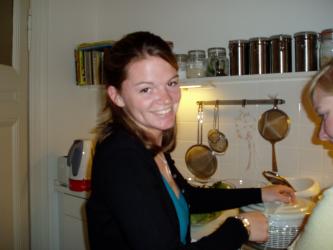 Lisa at the cooking party


Lisa Hayes:
"This trip made me fall in love with Vanderbilt."
Jen at the glamorous black and white cafe


Jennifer Janes:
"I had the best summer ever with Peggy and the best people I ever could have asked for to be with for seven weeks here.
I've never learned so much, yet had so much fun – I couldn't have asked for a better experience."
John at Bebelplatz on our bike tour
John Ling III:
"There couldn't have been a greater group of people or a better time to experience the culture, history, and people of Berlin with.
I was also given an amazing opportunity to see the world cup quarter final game. Stimmt!"
Lindsay and the book

Lindsay Beach:

"The Berlin program allowed me to meet a lot of new people and have a lot of great experiences.
I wish I could go every summer!"
Matt and Michael in 2006: You never really leave Berlin!
Michael Cannamela (Vanderbilt in Berlin 2004):

"I haven't been in this program for three years, but somehow I'm still here."


Matt Lockaby (Vanderbilt in Berlin 2005):

"I must have gotten really lost last year because I've been wandering around Berlin all this time waiting for Peggy to get back!"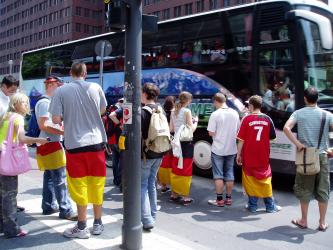 Fussball, flags, and new people to meet

Who will ever forget that 2006 was WM-Sommer?
Why did he always kick the ball so high...
The ones with the best painted faces

And first place goes to ...