Vanderbilt in Berlin 2005
WHAT STUDENTS SAY ABOUT VANDERBILT IN BERLIN 2005
Sarah and Jackie

Jacqueline Wachsman:

"So many of my greatest memories of Berlin come from our first orientation week.

With Peggy and the other students in the Vanderbilt group, we explored so much of the city and shared
unforgettable moments. Berlin offers a double dose of history, culture, and entertainment."

Sarah, Bryan, Tricia
Patricia Troendle:

"I'm so grateful that I had the opportunity to learn about all the German history & culture.
I gained a more international perspective of the world by living and studying in Berlin for the summer."


Christina and Tricia


Christina Thompson:

"I had such a great summer - this program taught me so much about Germany, German culture and the language.
Wish I could have stayed longer.
Great times in a great city with great new friends!"


Bertolt Brecht and Taylor


Taylor Smith:

"One cannot ask for a better study abroad program than "Vanderbilt in Berlin."
It was a wonderful city in Berlin and a wonderful school in the Free University.
Regardless of your interest or knowledge of Berlin, it will soon become one of your favorite cities after studying there."

Audrey and Sarah

Sarah Fowler:

"I now love Berlin and want to live here later!"
"P.S. Peggy, thank you for a wonderful summer - you taught me so much about the culture here!"

Taylor and Bryan

Bryan Reyes:

"I had an amazing time in Berlin and would do anything to do over again.
I met the greatest group of people, learned so much, and had the time of my life. It was awesome."

Christina and Matt

Matt Lockaby:

"Peggy puts a lot of effort and excitement into all her courses, and this was no exception. She had a great plan for us to see Berlin,
but she was always flexible to let us suggest new things. Berlin is a fantastic city, and Peggy really helped us to get to know it.
I've always been partial to Bavaria, but Berlin certainly redeems Prussia to a certain degree..."
Christina and Audrey

Audrey Gaynor:

"Berlin is awesome!
They have a scene for everyone, you can drink beer in pubs, rave in clubs, or look at old Roman tubs.
Spending the summer in Berlin is a great way to meet new people and have a super summer doing it!!!!"
Welcome dinner at the Litehouse near our apartments
Welcome to Berlin!

Jackie, sorry your suitcase still had not arrived yet,
but you had fun with us on our first night out in Berlin.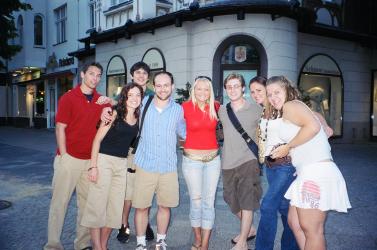 Taylor, Christina, Bryan, Matt, Sarah, Michael, Tricia, Audrey

After our welcome dinner, we decided to pick up Jackie and explore Berlin.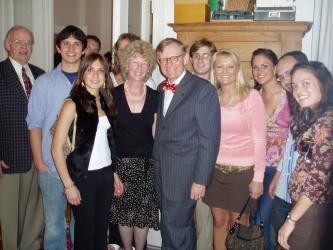 Reception in Berlin with Chancellor Gee & Dieter Sevin, May 2005

Vanderbilt in Berlin at reception in Berlin, May 2005 with Chancellor Gee and Professor Dieter Sevin, German Department Chair.

left to right:
Dr. Dieter Sevin, Bryan, Taylor, Jackie, Audrey, Peggy, Chancellor Gee, Michael, Sarah, Tricia, Matt, Christina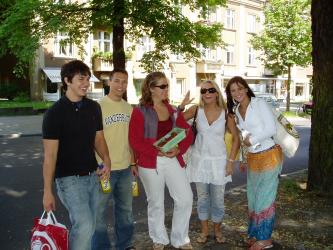 Grocery shopping near our apartments

Bryan, Taylor, Audrey, Sarah, Tricia on Drakestrasse.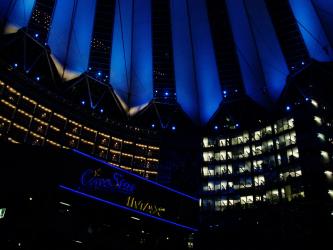 Potsdamer Platz at night is unforgettable

Nighttime Potsdamer Platz glitters.
Postmodern architecture constructed in the vast empty space
where the wall used to run through Berlin.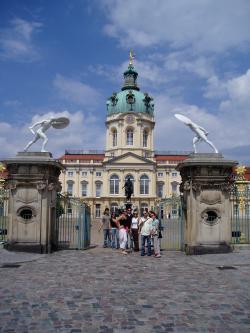 Schloss Charlottenburg

Vanderbilt at Schloss Charlottenburg during the first-week course: Culture and History of Berlin (294a)
Memorial to the Murdered Jews of Europe

We were among the first to visit Peter Eisenman's Memorial to the Murdered Jews of Europe, completed shortly before we arrived in May 2005.
At the Reichstag (Parliament Building)

Vanderbilt in Berlin students under the dome of the German Parliament (Reichstag):
Taylor, Audrey, Tricia, Sarah, Bryan, Jackie, Matt, Christina
Christopher Street Day

At Berlin's Gay Pride Parade on Christopher Street Day in June 2005.
Vanderbilt in Berlin 2005 says farewell to Berlin

Farewell dinner at the Litehouse, July 2005: Audrey, Bryan, Tricia, Taylor, Matt, Peggy, Christina, Jackie.
Sarah, sorry you had to leave the dinner early - your place is still there between Audrey and Taylor!
The kiss goodbye - Tricia and Bryan