Global Feminisms Guests
2008 visit of Jane Bennett
Jane Bennett is a founding member and current Acting Director of the African Gender Institute at the University of Cape Town, South Africa. She holds a doctorate in Applied Linguistics from Teachers College, Columbia University and has taught literature, linguistics, social studies and women's and gender studies at numerous universities in Africa and the U.S. In addition to supervising research on improved justice for survivors of sexual violence in the criminal justice system of South Africa, she has co-coordinated national and regional (Southern Africa) on developing policy to prevent social violence. She has worked across the African continent conducting training and workshops on topics related to LGBTI and human rights, gender-based research methodology, gender-based violence, and South African discourses of race, gender and class.

During her visit she gave three public talks during her visit to Vanderbilt:


Sexuality and Citizenship in the New South Africa: An African Feminist Perspective
Jane Bennett of the African Gender Institute at theUniversity of Cape Town, South Africa
Thursday January 31st, Buttrick 306 at 4:10 pm
Co-sponsored by Global Feminisms Collaborative, Office of Active Citizenship and Service, Center for Ethics, Vanderbilt International Office, Women's and Gender Studies, Political Science, Carpenter Program in Religion, Gender and Sexuality, the Program in African American and Diaspora Studies, Medicine, Health and Society

A conversation about Pedagogies of Sexuality, Race and Gender in the 21st Century
With Jane Bennett of the African Gender Institute, University of Cape Town South Africa
Friday, February 1, 8-9:30 am
Center For Teaching, Calhoun 116
A light breakfast and coffee will be provided
Sponsored by the Center for Teaching and Global Feminisms Collaborative

Tea and Conversation about South Africa, HIV/AIDS and Sexuality
With Jane Bennett; Friday, February 1, 3-5 pm; Margaret Cuninggim Women's Center Gallery
Sponsored by Office of Active Citizenship Studies and Vanderbilt Feminists
2007 visit of Kum Kum Bhavnani
Kum-Kum Bhavnani is a scholar, writer, and cultural critic who has worked periodically with broadcast media in the UK in the 1980s, before coming to the USA in 1991. She created radio programs for her trade union organizations interviewing organizers such as Arthur Scargill (Leader, Mineworkers Union).
She was also the initiator and billed as researcher for Resist and Survive (30 minutes: directed by Dee Dee Glass and broadcast on Channel Four on 16th February 1983). That program followed three black women's groups in Manchester who worked on economic (employment co-operative), health (challenging white-defined notions of sickle cell anemia) and cultural/sexual (hair and sexuality) aspects of black women's daily lives in the UK.

During her visit she discussed the film with graduate and undergraduate students and met with the GFC to discuss ethics in research on and documentation of struggles for justice.
2007 visit of Joanna Kerr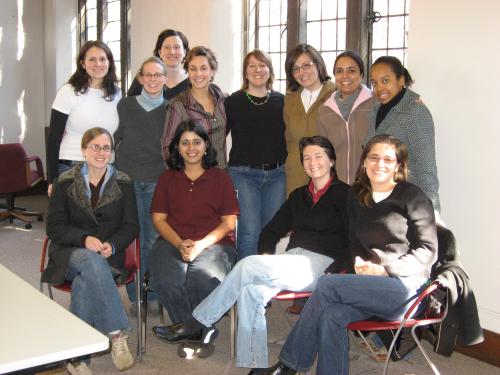 Joanna Kerr is the former Executive Director of the Association for Women's Rights in Development (AWID) in Toronto, Canada. AWID is an international membership organization connecting, informing and mobilizing almost 7000 people and 200 organizations committed to strengthening the voice, impact and influence of women's rights advocates, organizations and movements internationally. From 2000 to the end of 2006 she worked to transform AWID into an international, multigenerational, feminist, agenda-setting, creative, future-oriented membership organization working for women's rights and economic justice.

She gave two talks, "Young Women in the Women's Movement Today" and "State of Global Feminisms and Women's Movement" and met with undergraduate groups in addition to consulting the GFC on possibililities for collaboration between academics and movement activists on developing a research agenda that works for global justice.

2007 visit of Bina D'Costa
Bina D'Costa
. Professor D'Costa is the Convener of the Bachelor Program in Security Analysis and a lecturer with the Faculty of Asian Studies, Australia National University. She was previously the post-doctoral research fellow on poverty, inequality and development in post-conflict states, at the University of Otago, Dunedin, New Zealand, and the John Vincent Fellow in the Department of international Relations of the Research School of Asian and Pacific Studies at Australian National University, where she earned her PhD in 2003. Her research interests are in postconflict peacebuilding, governance, gender and conflict, gender and development, and the role of civil society and social movements.
She gave a talk, "NGO's and Civil Society: Strategies on Truth and Reconciliation in Asia" and met with undergraduates to discuss ways of being active locally and globallly.
She shared with the GFC her knowledge of academic-movement research partnerships.