Curriculum Resources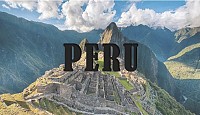 Peru
Peru is a country in South America that's home to a section of Amazon rainforest and Machu Picchu, an ancient Incan city set high in the Andes mountains.
Lesson Guides and Classroom Activities
Peru Culture Box CLAS is committed to supporting cultural awareness among K-12 students. Culture boxes consist of materials and curriculum from different countries to create a stimulating, hands-on experience for students. To learn more about what is inside each culture box, click here.
CLAS Lending Library Resources