Curriculum Resources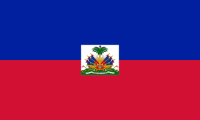 Haiti
Haiti, in the West Indies, occupies the western third of the island of Hispaniola, which it shares with the Dominican Republic. About the size of Maryland, Haiti is two-thirds mountainous, with the rest of the country marked by great valleys, extensive plateaus, and small plains.
Lesson Guides and Classroom Activities:
Poto Mitan: Haitian Women, Pillars of the Global Economy Lesson Plan
Grade Levels: 5–8, 9–12, College
Subject Area(s): Social Studies (Economics, Geography, Human geography, Sociology)
In Poto Mitan, each of the five women's personal story explains neoliberal globalization, how it is gendered, and how it impacts Haiti: inhumane working/ living conditions, violence, poverty, lack of education, and poor health care. This lesson has been designed to use this 45-minute documentary Poto Mitan as a case study for in-depth discussion on: Globalization; Indicators of economic development: GDP, Gini coefficient, CPI, inflation, etc; Economic concepts including but are not limited to: Reaganomics, Neoliberalism, and Structural Adjustment; Individual- level, national- level, and international- level facts and policies about Haiti's economy.
Their Eyes Were Watching God: Students Researching through Fieldwork and Fiction
Grade Levels: 9–12
Subject Area(s): Language Arts
In this lesson, students will briefly learn about Zora Neale Hurston's work as a social scientist who studied folklore and culture in the black diaspora across the U.S. and Latin America. Students will discuss the major questions Hurston addressed in her research on the African Diaspora, and how they might have impacted her while writing Their Eyes Were Watching God during a research trip in Haiti. They will then use this framework to develop a research question about folklore, experience, and culture that they will trace through the novel.
CLAS Lending Library Resources