Curriculum Resources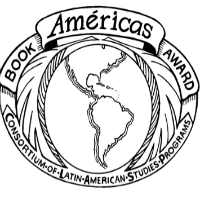 Américas Award
CLASP founded the Américas Award in 1993 to encourage and commend authors, illustrators and publishers who produce quality children's and young adult books that portray Latin America, the Caribbean, or Latinos in the United States, and to provide teachers with recommendations for classroom use. CLASP offers up to two annual book awards, together with a commended list of titles. Read more about the Americas Award here: http://www.vanderbilt.edu/clas/outreach/americas-award/
Lesson Guides and Classroom Activities
Funny Bones: Posasa and his Day of the Dead Calaveras Educator Guide
Grade Levels: K–4, 5–8
Subject Area(s): Art, Spanish, Social Studies
Funny Bones

tells the story of how the amusing calaveras—skeletons performing various everyday or festive activities—came to be. They are the creation of Mexican artist José Guadalupe (Lupe) Posada (1852–1913). In a country that was not known for freedom of speech, he first drew political cartoons, much to the amusement of the local population but not the politicians. He continued to draw cartoons throughout much of his life, but he is best known today for his calavera drawings. They have become synonymous with Mexico's Día de los Muertos (Day of the Dead) festival.

This educator's guide provides Commom Core standards-driven suggestions for teaching Funny Bones: Posasa and his Day of the Dead Calaveras.
Grade Levels: 5–8
Subject Area(s): Language Arts
This lesson uses Margarita Engle's Silver People: Voices from the Panama Canal and the oral storytelling project, Voices from Our America, to give students a more nuanced understanding of the people of the Panama Canal. Silver People presents various fictional and historical voices from the Panama Canal in poetic prose while Voices from Our America gives students a chance to interact with real voices from the Panama Canal. Ultimately, these resources allow for classroom discussions pertaining to race relations, power struggles, and the differences between race, nationality and ethnicity. What does it mean to be Spanish, Caribbean, American, Tennesseean, Nashvillian, etc.?
CLAS Lending Library Resources