From the Chair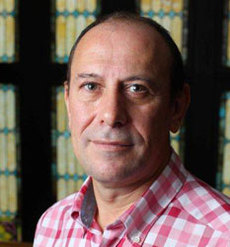 When I was little, growing up in a small town in La Mancha, Spain, the world around me was incredibly tiny, comforting and reassuring, monotonous, and utterly devoid of risks and opportunities. Occasionally, very occasionally, a foreigner passed through and when we heard talk in a language not our own, the only one we possessed in our general cultural and economic poverty, it was dismissed as somebody not talking "in cristiano," not talking "in the Christian tongue." This was the heartland of dictatorial Spain in the 1960s, and both kinds of destitution, economic and cultural, oftentimes go hand in hand.
But the real world, nowadays more than ever, is "vast and alien," to borrow from the title of a novel by the Peruvian writer Ciro Alegría, exhilaratingly vast and splendidly alien, which is tantamount to seeing it as a treasure-trove of new things to learn, of new lands to know, and of new people to meet. There are many ways to explore that wondrous world, to explore it to be awed or to fall in love, to do business or attempt political endeavors, to gain knowledge or be humbled by the sudden consciousness of our own ignorance, to enjoy oneself or to become healthily perplex. None however matches the process of learning the language, and thus the culture, of the places intended to be discovered and hopefully visited. Sometimes those places, as is the case in many towns and cities of the United Sates, are actually a few neighborhoods south or east of us. But they are certainly also far away, as far as the Strait of Magellan in the southernmost point of the American continent. Of course, distance is not only measured in miles, and if, on top of English, you know Spanish (here comes my pitch), you can walk from Nashville to that far away Strait of Magellan without having to say, "I am sorry, I do not understand your language." In fact, even within the confines of the United Sates, knowing Spanish would allow you to converse more effectively or affectionately with a substantial amount of your patients (even bilinguals, like me, tend to ache in their first language), your customers, your clients, your employees and employers, and your neighbors a critically short distance away from you.
The Department of Spanish and Portuguese at Vanderbilt University has a long and prestigious tradition of opening up an entire world of knowledge and possibilities to thousands of undergraduate students that have become better doctors, lawyers, teachers, politicians, businesspersons, or even simply persons, because of that journey of discovery and acquisition. That tradition also extends to the tailormade   education of our students to prepare them to achieve the same at other prime institutions of learning or to succeed in any kind of professional venture that favors (and which one does it not?) those in possession of a genuine amount of global cultural capital.
You are welcome to come in and join us. Quien no aventura no ha ventura ni pasa la mar.
Andrés Zamora
Chair, Department of Spanish and Portuguese